BALI, INDONESIA, Oct 14, 2016 - (ACN Newswire) -

The collaborative dance performance between the participants of International Folk Dance Fetival (IFDF) and a number of Indonesian artists stunningly amazed the participants of World Culture Forum (WCF) 2016 at the end of the gala dinner held at Plenary Hall in the Bali Nusa Dua Convention Center on October 13. The dance entitled "Hamemayu Hayuning Buwana" is developed by a leading Indonesian choreographer, Bimo Wiwohatmo. In the Javanese culture, Hamemayu Hayuning Buwana symbolizes the core value of life, roughly interpreted as "to embellish the world".

WCF 2016 has been running since October 4, through a number of preceding events dedicated to Youth, such as IFDF and International Youth Forum. Starting from October 10, WCF 2016 featured a series of cultural and environmental symposiums, bringing a number of expert speakers from around the world to discuss the most demanding issues in terms of the harmonization between culture and development amid modernization and globalization:

Symposium 1 emphasized the role of culture in safeguarding nature and villages from destructive harm caused by development. Symposium 2 discussed the importance of water as a mechanism of social growth and sustainable development. Highlighting the theme "Water for life: Reconciling Socio-Economic Growth and Environmental Ethics", Symposium 3 took up the integration between history and culture for sustainable development. Symposium 4 examined the opportunity and benefit of conserving and implementing culture through the perspective of technology. Symposium 5 came up with the points of concern in light of harmonizing culture and development; including driving solidarity in society, implementing the local wisdom, embracing marginalized groups, stopping wars and carrying out the dialogue to solve problems. Symposium 6 discussed cultural diversity for responsible development, featuring three experts; Din Syamsuddin (the Indonesian Council of Ulama Advisory Council Chairman), Ahmad Fedyani Saifuddin (Professor of Anthropology, University of Indonesia), and Moncef Ben Abdeljelil (Dean of Faculty of Letters and Human Sciences, University of Sousse, Tunisia).

In addition to the symposium series, WCF 2016 also saw multilateral agreements sealed among Indonesia, New Zealand and Iran.

Indonesian Minister of Education and Culture Muhadjir Effendy commented on the results of the WCF 2016 that will contribute to strengthening a national identity and support national development. "Together, the government, private sector, NGO, and IGO as well as society, will strive to ensure that the World Culture Forum will be a regular event for the future of human, culture, and nature," stated the Minister.

Director General of Culture, Indonesian Ministry of Education and Culture, Hilmar Farid, asserted that WCF is designed to be a dialogue platform, enabling culture to be an integral part of development and promoting a 'glocal' society to live in harmony.

For further information, please contact:

Ministry of Education of Culture, Republic of Indonesia
Jalan Jenderal Sudirman Senayan, Jakarta 10270
Phone: +62 21 5711144
Website: www.kemdikbud.go.id


Oct 14, 2016 19:00 HKT/SGT
Topic: Trade Show or Conference
Sectors: Daily News
http://www.acnnewswire.com
From the Asia Corporate News Network



Copyright © 2018 ACN Newswire. All rights reserved. A division of Asia Corporate News Network.



Multimedia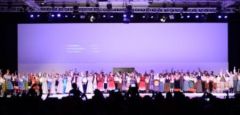 The collaborative dance performance by the participants of International Folk Dance Festival (IFDF) at the end of the Gala Dinner held at Plenary Hall, Bali Nusa Dua Convention Center, Bali, Oct.13. (World Culture Forum 2016)
View Image
Indonesian Ministry of Education and Culture
Oct 14, 2016 21:00 HKT/SGT
World Culture Forum 2016 Concludes with the 'Bali Declaration'
Oct 13, 2016 21:00 HKT/SGT
World Culture Forum 2016 Officially Inaugurated
Oct 12, 2016 20:30 HKT/SGT
World Culture Forum 2016: Water, the Source of Life
Oct 12, 2016 20:20 HKT/SGT
Festival of Diversity at the Cultural Carnival, World Culture Forum 2016
Oct 12, 2016 19:10 HKT/SGT
Iran, Indonesia and China Share Spirit for Preserving Cultural Heritage
Oct 12, 2016 18:50 HKT/SGT
World Culture Forum 2016 Takes Culture to a Higher Level while Contributing to National Development
Oct 11, 2016 15:00 HKT/SGT
World Culture Forum 2016 Kicks off with Cultural Visit to Indonesia's World Heritage Site
Oct 5, 2016 22:00 HKT/SGT
World Culture Forum 2016 to be held in Bali, Indonesia 10-14 October
June 25, 2013 16:10 HKT/SGT
Indonesian Government Launches Twelve Years Universal Education Program
More news >>