| | |
| --- | --- |
| Monday, 17 October 2016, 11:48 HKT/SGT | |


Source: Denso



TOKYO, Oct 17, 2016 - (JCN Newswire) -

DENSO Corporation and Toshiba Corporation have reached a basic agreement to jointly develop an artificial intelligence technology called Deep Neural Network-Intellectual Property (DNN-IP), which will be used in image recognition systems which have been independently developed by the two companies to help achieve advanced driver assistance and automated driving technologies.

DNN, an algorithm modeled after the neural networks of the human brain, is expected to perform recognition processing as accurately as, or even better than the human brain.To achieve automated driving, automotive computers need to be able to identify different road traffic situations including a variety of obstacles and road markings, availability of road space for driving, and potentially dangerous situations. In image recognition based on conventional pattern recognition and machine learning, objects that need to be recognized by computers must be characterized and extracted in advance.In DNN-based image recognition, computers can extract and learn the characteristics of objects on their own, thus significantly improving the accuracy of detection and identification of a wide range of objects.

Because of the rapid progress in DNN technology, the two companies plan to make the technology flexibly extendable to various network configurations. They will also make the technology able to be implemented on in-vehicle processors that are smaller, consume less power, and feature other optimizations.

DENSO has been developing DNN-IP for in-vehicle applications. By accelerating the process to commercialize DNN-IP through the joint development and incorporating DNN-IP in in-vehicle cameras, DENSO will develop high-performance, advanced driver assistance and automated driving systems, and continue to contribute to building a safe and secure automotive society for people around the world, not just for drivers and pedestrians.

In addition to its conventional image processing technologies, Toshiba will partition this jointly developed DNN-IP technology into dedicated hardware components and implement them on its in-vehicle image recognition processors to improve their image processing performance and enable them to process images using less power than image processing systems with digital signal processors (DSPs) or graphics processing units (GPUs).

Concept of image recognition using DNN-IP

Upper: Actual traffic situation
Lower: Identified objects using DNN-IP
http://www.acnnewswire.com/topimg/Low_DensoToshiba1017.jpg


About Denso

DENSO Corporation, headquartered in Kariya, Aichi prefecture, Japan, is a leading global automotive supplier of advanced technology, systems and components in the areas of thermal, powertrain control, electronics and information and safety. Its customers include all the world's major carmakers. Worldwide, the company has more than 200 subsidiaries and affiliates in 38 countries and regions and employs nearly 140,000 people. Consolidated global sales for the fiscal year ending March 31, 2014, totaled US$39.8 billion. Last fiscal year, DENSO spent 9 percent of its global consolidated sales on research and development. DENSO common stock is traded on the Tokyo and Nagoya stock exchanges. For more information, go to www.globaldenso.com, or visit our media website at www.densomediacenter.com.

Contact:

Sadayoshi Yokoyama, Toshiko Watanabe 
DENSO CORPORATION 
Phone: 81-566-25-5594 
Fax: 81-566-25-4509 
sadayoshi_yokoyama@denso.co.jp 
toshiko_watanabe@denso.co.jp


Oct 17, 2016 11:48 HKT/SGT
Source: Denso
Topic: Press release summary
Sectors: Automotive
http://www.acnnewswire.com
From the Asia Corporate News Network
Copyright © 2018 ACN Newswire. All rights reserved. A division of Asia Corporate News Network.
Multimedia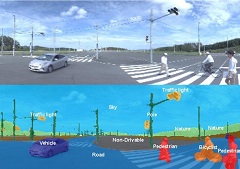 Concept of image recognition using DNN-IP
View Image
Denso
Jan 19, 2018 13:47 HKT/SGT
DENSO Undertakes Demonstration Project to Advance Manufacturing Industry in Thailand
Jan 15, 2018 14:54 HKT/SGT
DENSO, Toshiba Digital Solutions, and Toshiba Information Systems Conclude a Capital Alliance Agreement
Jan 8, 2018 10:08 HKT/SGT
DENSO Leads AI-Powered Fleet Management Technology Company ActiveScaler's Seed Funding Round
Jan 5, 2018 08:36 HKT/SGT
DENSO and Kyoto University Startup FLOSFIA will Develop Next-Gen Power Semiconductor Device for Electrified Vehicles
Dec 15, 2017 07:52 HKT/SGT
DENSO Acquires InfiniteKey, Inc. to Advance Keyless Automotive Experience
Dec 14, 2017 10:17 HKT/SGT
DENSO and BlackBerry Partner to Develop World's First Integrated Automobile HMI Platform
Dec 14, 2017 08:00 HKT/SGT
DENSO and Toyota Tsusho to Conduct a Test Applying a Quantum Computer to Analyze IoT Data with a Commercial Application
Dec 12, 2017 19:52 HKT/SGT
DENSO to Demonstrate Latest Connected and Autonomous Vehicle Innovations at CES 2018
Dec 5, 2017 10:48 HKT/SGT
DENSO to Integrate Business with ASMO Co., Ltd.
Nov 29, 2017 13:25 HKT/SGT
DENSO and NEC Establish a Joint Venture to Develop Essential Connectivity Technologies for Cars of the Present and Future
More news >>