Promoting Social Innovation Business through a new collaborative creation space



TOKYO, Nov 30, 2016 - (JCN Newswire) -

Hitachi, Ltd. (TSE: 6501) today announced the establishment of an open-laboratory within the Yokohama Research Laboratory (YRL) to conduct prototyping and proof-of-value with customers - a part of the collaborative creation process - to realize open innovation. Operation will begin from December 2016. The open-laboratory is composed of three laboratories to develop new application technologies for specific business areas, and two laboratories to develop platform technologies that cut across different business areas. And it is equipped with cutting-edge technologies and development environments for the respective fields. Through collaborative creation in the open-laboratory, Hitachi will develop advanced technologies to resolve challenges in society, and thus promote the expansion of Social Innovation Business.

http://www.acnnewswire.com/topimg/Low_HitachiLab1130.jpg

Hitachi is promoting collaborative creation whereby the challenges faced by customers are shared and innovative solutions to resolve those issues are created together. In October 2015, a co-creation space was opened within the Global Center for Social Innovation - Tokyo, located in Akasaka, to promote collaborative creation based on NEXPERIENCE - a systematized customer collaborative creation process with unique methodologies, tools, and spaces to foster the collaborative creation process using design thinking in the process of customer co-creation.

In the collaborative creation space, co-creation is conducted from upstream including the discovery of future business opportunities and analysis of management issues. In contrast, the newly established open-laboratory will conduct prototyping of application or platform technologies and verify value once the business or the challenge has been specified. The open-laboratory is composed of five laboratories: (a) Open Automation, (b) System Modernizing, (c) Transportation Analytics, (d) Data Analytics Platform, and (e) Security Operation, and is equipped with cutting-edge technologies such as artificial intelligence, analytics, robotics, IoT and security and development environments necessary for the respective fields, enabling customers to experience first-hand the benefit of Hitachi's cutting-edge technologies, as well as being able to jointly pursue its integration into actual systems and operations. Hitachi will pursue technology development in applications and platforms contributing to the creation of future-oriented innovations including the resolution of future societal issues by prototyping and verifying value together with co-creation partners.

As well as resolving the challenges faced by customers or society, the cutting-edge technologies and innovations developed at the open-laboratory will be integrated on Hitachi's IoT platform "Lumada" with the aim of providing them to a range of customers.

Outline of the open-laboratory
http://www.acnnewswire.com/topimg/Low_HitachiLabTable1130.jpg


About Hitachi, Ltd.

Hitachi, Ltd. (TSE: 6501), headquartered in Tokyo, Japan, delivers innovations that answer society's challenges with our talented team and proven experience in global markets. The company's consolidated revenues for fiscal 2014 (ended March 31, 2015) totaled 9,761 billion yen ($81.3 billion). Hitachi is focusing more than ever on the Social Innovation Business, which includes power & infrastructure systems, information & telecommunication systems, construction machinery, high functional materials & components, automotive systems, healthcare and others. For more information on Hitachi, please visit the company's website at www.hitachi.com.

Contact:

Hitachi Ltd
Corporate Communications
Tel: +81-3-3258-1111


Nov 30, 2016 13:00 HKT/SGT
Source: Hitachi, Ltd.
Hitachi, Ltd. (TSE: 6501)
Topic: Press release summary
Sectors: Electronics, Security/Biometrics, Engineering
http://www.acnnewswire.com
From the Asia Corporate News Network
Copyright © 2018 ACN Newswire. All rights reserved. A division of Asia Corporate News Network.
Multimedia

Interior view of the open laboratory (From left: Open automation, System modernizing, Security operation laboratories)
View Image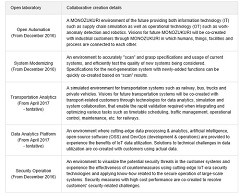 Outline of the open-laboratory
View Image
Hitachi, Ltd.
May 17, 2018 11:54 HKT/SGT
Hitachi Automotive Systems to Exhibit Mobility Technology Including Autonomous Driving System Technology at the Automotive Engineering Exposition 2018 Yokohama
May 16, 2018 16:49 HKT/SGT
Solomon Power and Hitachi Conclude MoU on Resolving Energy Issues Leveraging Internet of Things
May 14, 2018 11:16 HKT/SGT
Hitachi and Toray Commissioned by NEDO to Implement 'Demonstration Project for Energy Saving Seawater RO System in Saudi Arabia'
May 10, 2018 09:00 HKT/SGT
NEDO and Hitachi Develop and Install Cloud-Based Integrated Distribution Management System in Slovenia
Apr 26, 2018 10:24 HKT/SGT
Penske Corporation and Hitachi Begin Collaborative Creation to Improve Vehicle Performance Using IoT
Apr 18, 2018 12:27 HKT/SGT
Hitachi Automotive Systems to Introduce Its Technology at the 2018 Beijing International Automotive Exhibition (Beijing Motor Show)
Apr 18, 2018 07:30 HKT/SGT
Hitachi Power Solutions Launches Knowledge Base Analytic Solution for Prescriptive Maintenance
Apr 11, 2018 09:20 HKT/SGT
Hitachi Announces to Form Hitachi MGRM Net
Apr 4, 2018 12:55 HKT/SGT
Taiwan's First Heavy Ion Therapy System to be Supplied by Hitachi to Taipei Veterans General Hospital
Apr 3, 2018 11:33 HKT/SGT
Hitachi and UMC Electronics Reach a Basic Agreement on Collaboration for Strengthening Manufacturing
More news >>