| | |
| --- | --- |
| Thursday, 1 December 2016, 19:50 HKT/SGT | |


Source: HKTDC
Golden Jubilee - Golden Partnerships



HONG KONG, Dec 1, 2016 - (ACN Newswire) -

More than 1,000 government officials, business leaders and industry representatives joined a cocktail reception this evening to celebrate the 50th anniversary of the Hong Kong Trade Development Council (HKTDC). Over the past five decades, Hong Kong has evolved from a manufacturing base into Asia's business hub, regional trendsetter and international financial and investment centre. The HKTDC has always moved with the times, providing fresh initiatives to help Hong Kong SMEs overcome challenges and to capture new opportunities.

Entrepreneurial spirit

In his welcoming remarks, Vincent HS Lo, Chairman of the HKTDC said: "In the past 50 years, the HKTDC has been partnering with many of you to create opportunities both at home and abroad. Looking at our city's achievements today, I must thank you all for putting your trust in us, and for spreading the benefits of our partnership to the wider SME community."

He added that Hong Kong's entrepreneurial spirit should be carried forward by future generations. "To do so, we need to build a business-friendly and diverse community. This community should foster a global outlook to help us seize new opportunities like the Belt and Road Initiative. We should also encourage innovation and creativity."

Top Hong Kong officials and business leaders attend

Officials attending the grand reception included Chief Secretary for Administration Carrie Lam and Secretary for Commerce and Economic Development Gregory So, as well as Qiu Hong, Deputy Director, Liaison Office of the Central People's Government in the HKSAR and Tong Xiao Ling, Deputy Commissioner, Office of the Commissioner of the Ministry of Foreign Affairs. Former HKTDC Chairmen Peter Woo and Jack So, former HKTDC Executive Directors Michael Sze and Fred Lam as well as HKTDC Council Members were among other guests. The international business community also gathered to support the Council's work in promoting global business over the past five decades.

Twin exhibitions

A 50th anniversary exhibition emphasising the HKTDC's "Golden Jubilee - Golden Partnerships" theme has been mounted from 1 to 3 December at the Hong Kong Convention and Exhibition Centre in Wan Chai alongside the World SME Expo. Featuring historic photos and success stories of Hong Kong's entrepreneurs, the exhibition charts the city's economic transformation, and covers stories of business succession, industrial transformation, new market exploration and success in the knowledge economy.

Concurrently, a three-day "Hong Kong Story" photo exhibition (1-3 December) features works by renowned Hong Kong photographers, Simon Yam, Stanley Wong (anothermountainman) and Kelvin Yuen, showcasing different scenes of the city.

Scaling new heights together

Another highlight of the evening was the unveiling for an installation work entitled "Fly Together" created by celebrated Hong Kong artist Simon Ma in collaboration with 500 children who took part in an Art Jam event in July. Symbolising the HKTDC's logo, the work reflects the aspirations of our future generation to soar to new heights.

Related Websites
HKTDC 50th Anniversary Website: http://50.hktdc.com/
Photo Me: http://photome.hktdc.com/
Success Stories: http://50.hktdc.com/tc/success_stories/

Media Registration:
Media may register on-site with their business cards and/or media identification.

To view press releases in Chinese, please visit http://mediaroom.hktdc.com/tc


About HKTDC

Established in 1966, the Hong Kong Trade Development Council (HKTDC) is a statutory body dedicated to creating opportunities for Hong Kong's businesses. With more than 40 offices globally, including 13 on the Chinese mainland, the HKTDC promotes Hong Kong as a platform for doing business with China, Asia and the world. With more than 50 years of experience, the HKTDC organises international exhibitions, conferences and business missions to provide companies, particularly SMEs, with business opportunities on the mainland and in international markets, while providing business insights and information via trade publications, research reports and digital channels including the media room. For more information, please visit: www.hktdc.com/aboutus. Follow us on Google+, Twitter @hktdc, LinkedIn.
- Google+: https://plus.google.com/+hktdc
- Twitter: http://www.twitter.com/hktdc
- LinkedIn: http://www.linkedin.com/company/hong-kong-trade-development-council

Contact:

HKTDC
Communication and Public Affairs Department
Joe Kainz
Tel: +852 2584 4216
Email: joe.kainz@hktdc.org

Dec 1, 2016 19:50 HKT/SGT
Source: HKTDC
Topic: Trade Show or Conference
Sectors: Trade Shows, Retail/eCommerce, Daily Finance, Daily News
http://www.acnnewswire.com
From the Asia Corporate News Network
Copyright © 2018 ACN Newswire. All rights reserved. A division of Asia Corporate News Network.
Multimedia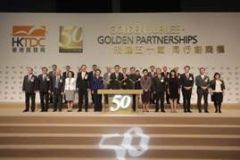 More than 1,000 government officials, business leaders and industry representatives joined a cocktail reception on December 1 to celebrate the 50th anniversary of the Hong Kong Trade Development Council.
View Image
HKTDC
May 18, 2018 20:30 HKT/SGT
Record 18,300+ Visitors Attend 10th Entrepreneur Day
May 17, 2018 18:30 HKT/SGT
HKTDC Entrepreneur Day Opens
May 17, 2018 18:00 HKT/SGT
HKTDC Entrepreneur Day Opens
May 14, 2018 15:30 HKT/SGT
Czech Republic Showcased as Medical Devices Innovator
May 11, 2018 12:00 HKT/SGT
HKTDC Entrepreneur Day helps Start-ups to Scale Up
May 10, 2018 20:30 HKT/SGT
HKTDC April Fairs draw 230,000 Buyers, up nearly 3%
May 9, 2018 19:00 HKT/SGT
Hong Kong International Medical Devices and Supplies Fair Concludes
May 9, 2018 05:00 HKT/SGT
The 10th HKTDC Entrepreneur Day opens next Thursday
May 9, 2018 02:00 HKT/SGT
Top Hong Kong Films to be Screened in Cannes
May 7, 2018 18:00 HKT/SGT
Largest-ever HKTDC Hong Kong International Medical Fair Opens
More news >>