TOKYO, May 9, 2017 - (JCN Newswire) -

Fujitsu today announced that it has systematized its support services for increasing the competitiveness of manufacturers in Japan, and this is to be available on a platform known as Fujitsu Manufacturing Industry Solution COLMINA, a place for connecting all kinds of digital manufacturing information, from design to production and maintenance.

COLMINA links data on the location of people and products, on factory equipment, and all systems and know-how throughout the manufacturing process, as well as data among companies in the supply chain.

As the services underlying this solution, there is the Fujitsu Manufacturing Industry Solution COLMINA Service, a suite of a variety of operational services for manufacturing, the Fujitsu Manufacturing Industry Solution COLMINA Edge, which collects and processes sensor data, such as on equipment operations, the vital signs of people, and the location of products, and the Fujitsu Manufacturing Industry Solution COLMINA Platform, which brings together the COLMINA Service and the COLMINA Edge. Sales will begin in Japan in phases starting in July 2017.

Going forward, Fujitsu will offer standard interfaces between the COLMINA Platform and other companies' solutions and platforms. Because this enables data on everything from design to production to be linked throughout the entire supply chain, it will facilitate the digital transformation of all manufacturing work.

It also helps manufacturing companies share their skilled workers' knowledge relating to design, production, and maintenance, as well as identify talented workers and match them to appropriate positions, and promote collaboration and co-creation with other companies.

COLMINA will be exhibited at Fujitsu Forum 2017, to be held May 18-19 at Tokyo International Forum.

Background

Amid a rapidly changing market environment, with a diversification of customer needs, many companies are using digital technologies, such as IoT and AI, to work on digital transformation initiatives in order to generate innovation and strengthen their competitiveness.

In manufacturing, with the advance of the fourth industrial revolution, Japan's Ministry of Economy, Trade and Industry (METI) and Germany's Ministry for Economic Affairs and Energy in March 2017 signed a joint statement, the "Hannover Declaration," on cooperation in IoT / Industrie 4.0 initiatives. METI also announced its "Connected Industries(2)" policy concept to create its vision of a "Society 5.0(1)" super-smart society.

Over many years, Fujitsu has been raising the efficiency of its operations through "virtual manufacturing," which makes use of its manufacturing experience and simulations. Incorporating this manufacturing expertise, COLMINA seeks to be a manufacturing platform that will also bring about a Society 5.0 super-smart society.

About COLMINA

In addition to the solutions and services for the manufacturing industry that Fujitsu has been offering for over 30 years, COLMINA is a place where Fujitsu delivers a manufacturing solution that links together all kinds of information relating to manufacturing, from design to production and maintenance.

http://www.acnnewswire.com/topimg/Low_FujitsuCOLMINAFig1.jpg
Figure 1: Structural diagram for the manufacturing digital solution COLMINA

1. COLMINA Service

COLMINA Service encompasses a variety of operational services for everything from design to production and maintenance.

Under the COLMINA Service umbrella, Fujitsu plans to provide 150 different services over time, including the existing services it is providing to the manufacturing industry. In the first batch, the 25 services below will be rolled out in phases in Japan from July 2017.

http://www.acnnewswire.com/topimg/Low_FujitsuCOLMINAFig2.jpg
Figure 2: COLMINA service at a glance

2. COLMINA Platform

COLMINA Platform is a platform that connects all kinds of companies' manufacturing front lines, people, and things through data, and generates new services for the manufacturing industry.

Big data technologies that collect and analyze a variety of equipment data and standardized data formats defined through the activities of such organizations as the Robot Revolution Initiative and the Industrial Value Chain Initiative will be incorporated for use through APIs(5). In the future, Fujitsu also plans to provide APIs for Fujitsu Zinrai AI technologies through this platform.

3. COLMINA Edge

COLMINA Edge is a feature that collects a variety of equipment data, converts it into an optimal data format, and links it with data from each type of service on COLMINA. To link with machinery, a system is provided to link with edge platforms provided by other companies.

Future Plans

With COLMINA, Fujitsu is also planning to offer services such as consulting services aimed at factory automation, and personnel services including matching people and companies. In addition, Fujitsu will also provide a development environment so that start-ups and other companies can develop services on COLMINA. Through these measures, Fujitsu aims to not stop at providing solutions and services, but also to provide a place for innovation in COLMINA, where a variety of expertise is available.

Endorsement

Comment from Tomoaki Kubo, Robot Revolution Initiative

Industry in Japan aims to provide new added value through a variety of connections with Connected Industries. At the Robot Revolution Initiative, we support activities by partner companies to make Connected Industries a reality.

Pricing and Availability
http://www.acnnewswire.com/topimg/Low_FujitsuCOLMINAPricing.jpg

Sales Target

Revenue of 200.0 billion yen in COLMINA-related business by fiscal 2020.

(1) Society 5.0
A series of initiatives promoted by the Japanese government aimed at sharing the vision of and bringing about a future "super smart society," in which cyberspace and physical space (the real world) are fused to a high degree.
(2) Connected Industries
A policy concept aimed at building a new industrial society using Japan's technological and manufacturing capabilities together with connections from digital technology, with a fundamental conception of an industrial society that can create new value through a variety of connections.
(3) Virtual Big Room
Offers a system that manages experience related to product development, including design information, analysis results, and the content of discussions with manufacturing departments, and in which necessary information can be called up at any time when using a computer. Fujitsu also plans to add voice coordination going forward.
(4) Triage
Rescheduling production plans based on a real-time understanding of current status on the ground when temporary stoppages occur. Fujitsu offers a system that displays response priorities in order to resume production without delay.
(5) API
Application Programming Interface. Code establishing methods and file formats to enable outside programs to call on the functions and data handled by a computer program (software).


About Fujitsu Ltd

Fujitsu is the leading Japanese information and communication technology (ICT) company, offering a full range of technology products, solutions, and services. Approximately 132,000 Fujitsu people support customers in more than 100 countries. We use our experience and the power of ICT to shape the future of society with our customers. For more information, please see www.fujitsu.com.

This release can be found at https://www.fujitsu.com/global/about/resources/news/press-releases/2019/.


Contact:
Fujitsu Limited
Public and Investor Relations
Tel: +81-3-3215-5259
URL: www.fujitsu.com/global/news/contacts/


May 9, 2017 12:03 HKT/SGT
Source: Fujitsu Ltd
Fujitsu Ltd (TSE: 6702)
Topic: Press release summary
Sectors: Enterprise IT
http://www.acnnewswire.com
From the Asia Corporate News Network
Copyright © 2019 ACN Newswire. All rights reserved. A division of Asia Corporate News Network.
Multimedia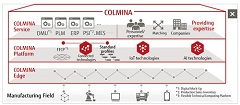 Figure 1: Structural diagram for the manufacturing digital solution COLMINA
View Image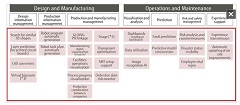 Figure 2: COLMINA service at a glance
View Image

Pricing and Availability
View Image
Fujitsu Ltd
Aug 22, 2019 10:13 HKT/SGT
Fujitsu and Qualcomm Complete 5G Data Calls in Sub-6 GHz and mmWave Spectrum Bands
Aug 16, 2019 13:15 HKT/SGT
Fujitsu Develops AI Disaster Mitigation Technology to Predict River Flooding with Limited Data
Aug 9, 2019 10:27 HKT/SGT
Fujitsu Initiates Year-Round Recruitment
Aug 8, 2019 08:00 HKT/SGT
Fujitsu RunMyProcess Joins Google Cloud Partner Program
Aug 5, 2019 10:25 HKT/SGT
Fujitsu Launches Latest Version of its VPS Digital Production Preparation Tool, Supporting Improved Manufacturing Productivity
Aug 2, 2019 10:26 HKT/SGT
Fujitsu's Encryption Technology for Biometric Information Provides Safer Authentication in Open Environments
July 31, 2019 10:17 HKT/SGT
Fujitsu Delivers Complete Set of 5G Base Station Products to NTT DOCOMO for Commercial 5G Service
July 29, 2019 09:17 HKT/SGT
Fujitsu to Deliver Australia's Most Powerful Supercomputer to Help Solve Complex and Pressing Global Challenges
July 19, 2019 10:40 HKT/SGT
Fujitsu Harnesses Quantum-Inspired Digital Annealer Technology to Optimize Output Efficiency in Power Generation for Renewable Energy Devices
July 19, 2019 10:09 HKT/SGT
Fujitsu Completes Survey of Business Leaders across 9 Countries on the Global State of Digital Transformation
More news >>