| | |
| --- | --- |
| Friday, 27 April 2018, 18:30 HKT/SGT | |


Source: HKTDC
Providing a One-stop Sourcing Platform with Concurrent Printing & Packaging Fair at AsiaWorld-Expo



HONG KONG, Apr 27, 2018 - (ACN Newswire) -

The 33rd Hong Kong Gifts & Premium Fair opened today at the Hong Kong Convention and Exhibition Centre. The four-day fair (27-30 April), organised by the HKTDC, features a record 4,360 exhibitors from 35 countries and regions, making it the world's largest fair of its kind. The 13th Hong Kong International Printing & Packaging Fair, held in parallel with the Gifts & Premium Fair, opened today at the AsiaWorld-Expo. Jointly organised by the HKTDC and CIEC Exhibition Company (HK) Ltd, the Printing & Packaging Fair showcases a wide spectrum of quality packaging and printing products and services.

Debut of the World of Camping & Outdoor Goods Zone --

"The HKTDC launched the 'World of Camping & Outdoor Goods' Zone at this year's Gifts & Premium Fair in response to growing popularity of hiking and camping," said HKTDC Deputy Executive Director Benjamin Chau. "The zone features more than 90 exhibitors from around the world that offer a variety of professional and casual climbing packs, daypacks, diving goods, camping gear and sports items. To generate greater business opportunity, the HKTDC invited more than 170 buying missions, comprising over 9,400 companies, to visit the Gifts & Premium Fair and Printing & Packaging Fair."

Hong Kong has long been a cradle for entrepreneurs. Recognising the rise of entrepreneurial activities, the Startup Zone was launched last year at the Gifts & Premium Fair to encourage innovative ideas and entrepreneurial spirit, which is a driving force for the economy. Returning this year, the zone promotes more than 30 start-ups including first-time participants from Indonesia and Vietnam. Start-ups from around the world will be able to expand their networks and uncover business opportunities through the Fair.

Four major zones under The Hong Kong Exporters' Association Pavilion --

Hong Kong's gifts industry is renowned for outstanding design and excellent quality - a favourite highlight for buyers at the Fair. The Hong Kong Exporters' Association has set up four major zones, "Isle of Originality", "Brand Oasis", "Smart Design Village" and "Trendy Gifts", to show quality and premium gifts from Hong Kong companies to global buyers. To further underscore the strength of Hong Kong design, winning pieces from the Hong Kong Smart Design Awards are on display at the fairground. These include the functional anti-theft backpack, which won the Judge Award (Gold), and the bacteria cleaner key chain, which won the Technology Award (Bronze).

Branded products in Hong Kong --

As there is a growing awareness in the importance of brand effect, the "Hall of Fine Designs" is displaying more than 130 brands from local and overseas companies, including B.Duck from Hong Kong, Sanrio from Japan, German writing instruments' brand Kaweco and Italian stationery brand Moleskine.

Besides the "Hall of Fine Designs", thematic zones are based on product categories to improve sourcing efficiency. Other main attractions range from the "World of Gift Ideas", "Beauty, Health & Wellness", "Fashion Accessories", "Figurines & Decorations" and "Licensed Gifts" to "Travel Goods & Umbrellas", "Startup Zone" and "Tech Gifts". There are also group pavilions set up by different countries and regions, including the Chinese mainland, Korea, India, Italy, Taiwan, Thailand and the United Kingdom, which exhibit their own distinctive products.

Concurrent Printing & Packaging Fair at AsiaWorld-Expo --

The 13th Hong Kong International Printing & Packaging Fair has attracted more than 480 exhibitors from six countries and regions. Pavilions representing the Graphic Arts Association of Hong Kong, Hunan and Shenyang from the Chinese mainland, and Korea made their debut this year, bringing an array of professional book printing and digital printing solution providers, as well as packaging design manufacturers and service providers.

The market continues to attract customers through diverse product expositions, and this year the returning "Innovative Retail Display Solutions Zone" presents a wide array of exhibits and eye-catching marketing solutions. The "Printing & Packaging Solutions for Fashion & Accessories" zone is also back with state-of-the-art printing and packaging solutions for the fashion industry.

The "De Luxe Zone" highlights a variety of high-end printing and packaging solutions catered for different products and service industries such as food & beverage, cosmetics, jewellery & watches, and general merchandise. Green Printing & Packaging Solutions zone covers added product categories, such as recyclable materials, sustainable products and services. Other thematic zones include Digital Printing & 3D Printing and Food & Beverage Packaging Solutions.

Value-adding seminars --

Seminars at the Gifts & Premium Fair include "Top 5 Global Digital Consumer Trends in 2018", where the Global Head of Digital Consumer Research of Euromonitor International shares her market insights, the Director of Sales & Marketing at Pantone APAC will discuss how colours impact design, and the US's Promotional Products Association International will offer advice on capturing opportunities in the American market.

Printing & Packaging Fair seminars include "How Hong Kong's Graphic Arts Industries Embrace the Cultural & Creative Opportunities in Greater Bay Areas" and "New Development and Application of Digital Printing". To help buyers access the fairs easily, free shuttle buses run between the HKCEC and the AsiaWorld-Expo at regular intervals.

Gifts & Premium Fair
27-29 April (Fri-Sun), 9:30am-6:30pm
30 April (Mon), 9:30am-5pm
Media Registration:
Hall 1E Concourse, Harbour Road Entrance, HKCEC
HKTDC Media & Webcast Centre, Expo Drive Entrance, HKCEC
Fair Website: http://hkgiftspremiumfair.hktdc.com/

Printing & Packaging Fair
27 April (Fri), 10:30am-5:30pm
28-29 April (Sat-Sun), 9:30am-5:30pm
30 April (Mon), 9:30am-3:30pm
Media Registration: Room 105, AsiaWorld-Expo
Fair Website: www.hkprintpackfair.com

A free shuttle bus service links the two fair venues. For details, please visit http://bit.ly/2pMg2it

Photo Download: https://bit.ly/2r5zdGd


About HKTDC

The Hong Kong Trade Development Council (HKTDC) is a statutory body established in 1966 to promote, assist and develop Hong Kong's trade. With 50 offices globally, including 13 in Mainland China, the HKTDC promotes Hong Kong as a two-way global investment and business hub. The HKTDC organises international exhibitions, conferences and business missions to create business opportunities for companies, particularly SMEs, in the mainland and international markets. The HKTDC also provides up-to-date market insights and product information via trade publications, research reports and digital news channels. For more information, please visit: www.hktdc.com/aboutus. Follow us on Twitter @hktdc and LinkedIn.

Contact:
HKTDC Communications & Public Affairs Department -
Katherine Chan, Tel: +852 2584 4537, Email: 

[email protected]


Sunny Ng, Tel: +852 2584 4357, Email: 

[email protected]



Apr 27, 2018 18:30 HKT/SGT
Source: HKTDC
Topic: Trade Show or Conference
Sectors: Trade Shows
http://www.acnnewswire.com
From the Asia Corporate News Network
Copyright © 2019 ACN Newswire. All rights reserved. A division of Asia Corporate News Network.
Multimedia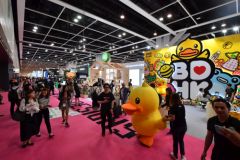 The 33rd Hong Kong Gifts & Premium Fair opens today at the Hong Kong Convention and Exhibition Centre (HKCEC). The four-day fair (27-30 April) features a record 4,360 exhibitors from 35 countries and regions, making it the world's largest fair of its kind
View Image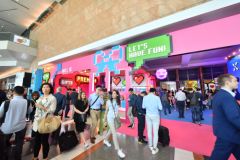 View Image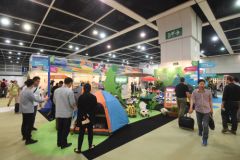 The World of Camping & Outdoor Goods Zone is exhibiting for the first time at the Gifts & Premium Fair, presenting outdoor sports items
View Image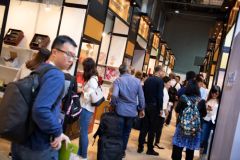 The De Luxe Zone features an exciting variety of high-end printing, and packaging products and solutions for buyers looking for printing and packaging for high-end products in food & beverage, cosmetics, jewellery & watches and general merchandise
View Image
HKTDC
June 25, 2019 20:00 HKT/SGT
3rd Sports and Leisure Expo to run alongside Book Fair
June 25, 2019 19:00 HKT/SGT
30th Hong Kong Book Fair opens next month
June 11, 2019 20:00 HKT/SGT
YDC award-winning footwear collection goes on sale
June 10, 2019 18:00 HKT/SGT
HKTDC Export Index 2Q19 revises 2019 export growth forecast to 2%
June 3, 2019 18:00 HKT/SGT
New Chairman of Hong Kong Trade Development Council Peter K N Lam Meets with Management Team
May 29, 2019 17:00 HKT/SGT
Experts highlight start-up opportunities in Greater Bay Area
May 28, 2019 15:00 HKT/SGT
Start-ups share tips on funding and business development
May 21, 2019 15:00 HKT/SGT
Three HKTDC Initiatives Boost Local Start-up Ecosystem
May 21, 2019 15:00 HKT/SGT
Three HKTDC initiatives boost local start-up ecosystem
May 17, 2019 17:00 HKT/SGT
Local biotech start-ups begin to target mass market
More news >>