| | |
| --- | --- |
| Thursday, 7 April 2011, 12:30 HKT/SGT | |


Source: HKTDC
Press Conference Spotlights New Fair Sourcing Applications



HONG KONG, Apr 7, 2011 - (ACN Newswire) -

More than 3,650 exhibitors will take part in three international trade fairs, including Asia's largest spring electronics show, 13-16 April, at the Hong Kong Convention and Exhibition Centre (HKCEC).

The concurrent events, including the Hong Kong Electronics Fair (Spring Edition), the International ICT Expo and the Hong Kong International Lighting Fair (Spring Edition), are organised by the Hong Kong Trade Development Council (HKTDC).

Sourcing Made Easier

The fairs will also introduce new HKTDC sourcing applications for iPad and iPhone mobile devices. In a press conference yesterday, HKTDC Deputy Executive Director Benjamin Chau offered a preview of the apps, which have been designed to help buyers locate suppliers and products at the fair more easily.

"The software for HKTDC Product Magazines offers interactive features such as a search function to find exhibitors, as well as bookmarking, notes, voice recording, multimedia product presentations and more," said Mr Chau, describing the sourcing tools available for free download at Apple's App Store.

Rising Electronics Demand

Now in its eighth edition, the Electronics Fair will bring together more than 2,400 exhibitors, including first-time participants from Monaco, Sweden and Ukraine. "Responding to growing market needs, we are launching two new product display zones at the fair - Silver Market and eAccessories," Mr Chau said.

Another highlight at the electronics event will be the Hall of Fame, a premium section dedicated to nearly 500 leading brands, including Coby, Desay, Foryou, Goodway, Haier, Hanvon, Hyundai, Motorola, Philips and Tunbow.

Other theme zones will focus on Audio Visual Products, Digital Imaging, Personal Electronics, Home Appliances, In-Vehicle Electronics and Navigation Systems, Solar Photovoltaic Technology, and Telecommunications Products.

New ICT Products

The eighth ICT Expo will welcome some 570 exhibitors, with newcomers from Poland and Russia. "The fair's new Smartphone & Tablet Zone showcases the latest mobile communications products, while the Digital Living & Multimedia focuses on must-have ICT items for 21st century homes," said Mr Chau.

Adding glitz to the fair is the Home-grown Innovation zone, which presents state-of-the-art exhibits from local educational institutions.

A popular attraction at the expo is the SME IT Clinic, which provides SMEs with complimentary professional consultation on ICT systems and solutions to help them improve their business efficiency.

Green Tech Lights the Way

The third edition of the Lighting Fair is expected to welcome about 650 exhibitors, a 70 per cent increase over last year. A full array of lighting products, ranging from domestic to commercial and architectural, will be on display. Exhibitors from Macau, the Netherlands and Spain will make their debut at the fair.

"Technology has enhanced development of the lighting industry, especially in the field of green lighting," said Mr Chau. "The fair will welcome twice as many exhibitors in the LED Lighting and Green Lighting zones, reflecting fast-growing demand for environmentally friendly lighting products."

Another fair focus will be the Decorative Lighting zone, showcasing festive and decorative pieces. Other theme zones include Lighting Accessories, Parts & Components and Technical Lighting.

Tracking Industry Trends

More than 20 conferences and seminars will be held during the fairs, providing SMEs with the latest information on topics such as global safety requirements for electronic products, smartphones and tablet computers, ICT technology for the retail industry, e-logistics, and new materials and technology for lighting.

Financial Secretary John Tsang will deliver a keynote speech at the ICT Award Presentation Ceremony on 15 April. And, for the first time, the World Summit Awards and related events will take place during the fair period.

Fair Websites

Hong Kong Electronics Fair (Spring Edition) - http://www.hktdc.com/hkelectronicsfairse

International ICT Expo - http://www.hktdc.com/ictexpo

Hong Kong International Lighting Fair (Spring Edition) - http://www.hktdc.com/hklightingfairse

New Products

Electronics and ICT - http://202.64.102.92/hktdc/download.php?fid=_php4nZQVp

Lighting - http://202.64.102.92/hktdc/download.php?fid=_phpeIfNP8


About HKTDC

Established in 1966, the Hong Kong Trade Development Council (HKTDC) is a statutory body dedicated to creating opportunities for Hong Kong's businesses. With more than 40 offices globally, including 13 on the Chinese mainland, the HKTDC promotes Hong Kong as a platform for doing business with China, Asia and the world. With more than 50 years of experience, the HKTDC organises international exhibitions, conferences and business missions to provide companies, particularly SMEs, with business opportunities on the mainland and in international markets, while providing business insights and information via trade publications, research reports and digital channels including the media room. For more information, please visit: www.hktdc.com/aboutus. Follow us on Google+, Twitter @hktdc, LinkedIn.
- Google+: https://plus.google.com/+hktdc
- Twitter: http://www.twitter.com/hktdc
- LinkedIn: http://www.linkedin.com/company/hong-kong-trade-development-council

Contact:

HKTDC
Corporate Communication Department
Joe Kainz
Tel: +852 2584 4216
Email: joe.kainz@hktdc.org 



Apr 7, 2011 12:30 HKT/SGT
Source: HKTDC
Topic: Trade Show or Conference
Sectors: Trade Shows
http://www.acnnewswire.com
From the Asia Corporate News Network
Copyright © 2018 ACN Newswire. All rights reserved. A division of Asia Corporate News Network.
Multimedia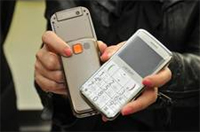 Asia's Largest Spring Electronics Fair Opens Next Week
View Image
HKTDC
June 20, 2018 20:00 HKT/SGT
Hong Kong Q2 2018 Exports Index at 7-year High
June 14, 2018 12:30 HKT/SGT
Third Belt and Road Summit to Spotlight Regional Investment Opportunities and Hong Kong Services
May 31, 2018 18:30 HKT/SGT
Third Belt and Road Summit to be Held in Hong Kong Next Month
May 31, 2018 15:00 HKT/SGT
HKTDC Signs Cooperation Agreement with Veronafiere S.p.A.
May 18, 2018 20:30 HKT/SGT
Record 18,300+ Visitors Attend 10th Entrepreneur Day
May 17, 2018 18:30 HKT/SGT
HKTDC Entrepreneur Day Opens
May 17, 2018 18:00 HKT/SGT
HKTDC Entrepreneur Day Opens
May 14, 2018 15:30 HKT/SGT
Czech Republic Showcased as Medical Devices Innovator
May 11, 2018 12:00 HKT/SGT
HKTDC Entrepreneur Day helps Start-ups to Scale Up
May 10, 2018 20:30 HKT/SGT
HKTDC April Fairs draw 230,000 Buyers, up nearly 3%
More news >>