Total fundraising amount up 38% to HK$67.8 billion
Actively invests in industries with long-term growth potential



HONG KONG, Aug 31, 2016 - (ACN Newswire) -

China Everbright Limited ("CEL" or "the Group", stock code: 165.HK) today announced its interim results for the six months ended 30 June 2016.

CEL's investment income was not fully reflected in the first half of 2016, as the Group was only able to partially divest its investment projects. This was due to crowded exit and IPO channels in the mainland Chinese capital market and relatively limited liquidity. In addition, the securities market on the Mainland was not as bullish as compared with the first half of 2015, leading to a decrease in CEL's share of profit from Everbright Securities. CEL posted operating income of HK$1.02 billion, representing a 12.8% decline compared with the same period last year. Both the profit attributable to equity shareholders and earnings per share decreased 56.3% to HK$1.41 billion and HK$0.837 respectively.

The Group's after-tax profit from the Investment and Asset Management Business was HK$570 million, down 34.5% compared to first half of 2015. Profit contribution from Everbright Securities amounted to HK$520 million, down 74.4% from the same period last year. China Everbright Bank contributed a dividend income after tax of HK$320 million, down 3.0% compared to the same period last year. Profit attributable to CEL's equity shareholders amounted to HK$36.8 billion, 6.6% lower than the end of 2015.

In June 2016 the Group sold its remaining 49% stake in Everbright Securities (International) Limited to Everbright Securities Financial Holdings Limited for a consideration of HK$930 million, realising a profit of HK$340 million. The transaction demonstrated CEL's determination to focus its resources on developing its cross-border asset management business.

The Board of Directors has resolved to declare an interim dividend of HK$0.25 per share for the six months ended 30 June 2016 (1H 2015: HK$0.25 per share), same as the interim dividend of last year.

Business Review

Fund Management Business

CEL's fund management business comprises Primary Market Funds, Secondary Market Funds, Mezzanine Funds, the Multi-strategy Alternative Investment Fund ("FoF Fund") and Everbright Prestige Capital Asset Management Company ("Everbright Prestige"). These funds combined offer diversified services to investors from Asia-Pacific, Europe and the US.

As at 30 June 2016, the Group's fund management business managed 33 funds (excluding non-actively managed funds raised through different channels for other external institutions). It had a total of 89 post-investment management projects, of which 16 were listed on various stock markets across the globe. The total fundraising amount was HK$67.8 billion - an increase of 38.4% from 31 December 2015 - with external funds accounting for around 78%.

In the first half of 2016, the Group's primary market funds continued to grow and launch new fund products. During the reporting period, CEL and IDG Capital Partners jointly launched the IDG-Everbright M&A Investment Fund, which with total subscription amount of RMB20 billion is the largest and most influential M&A fund in China. The Fund has completed its first round of fundraising, which amounted to RMB10 billion. CEL's overseas fund management team also quickened its fundraising pace by establishing the CEL Global Investment Fund. In another development, EBA Investments again ranked first among the "Top Ten in Terms of Comprehensive Strength Among the China Real Estate Funds", a list based on rankings jointly compiled by the Enterprise Research Institute under the Development Research Centre of the State Council, Tsinghua University's Institute of Real Estate Studies, and the China Index Academy.

Through the development of new products, and by cooperating with Everbright Prestige and third party sales organisations, the Group's Secondary Market team gradually started managing more external funds. During the reporting period Everbright China Focus Fund was ranked number one by leading hedge fund research and rating firm BarclayHedge in the category of "Emerging Markets Equity - Asia" for 2015. It was also the winner in the "Best Asian Long Only Absolute Return Fund" category at the Eurekahedge Asian Hedge Fund Awards 2016.

Principal Investment Business

In addition to devoting efforts to external fundraising for its various funds, CEL also optimised the use of its own capital with various investment methods, using equity, bonds and derivatives to support the development of its fund investment and management business. Principal investment remains a key driver of the Group's growth across various business lines.

As at 30 June 2016, CEL's principal investment business was valued at HK$13.1 billion. During the period under review, the Group invested in industry leaders such as Haiyin Fund, Beijing Huichen Nursing Home and Circle Internet Financial Ltd., using active planning efforts to accelerate its forays into internet and smart technology, elderly care and blockchain finance respectively.

As at 30 June 2016, China Aircraft Leasing Group Holdings Limited ("CALC"), in which CEL holds an interest, achieved profit growth of over 100% in the first half of 2016 compared with the same period last year. During the reporting period, the Group's share of CALC's after-tax profit amounted to HK$80 million based on the method of equity accounting, representing an increase of 100% over the same period last year.

Other development highlights

In July 2016, CEL was granted approval to issue panda bonds with an aggregate principal amount of not more than RMB12.8 billion, and successfully issued its first tranche of panda bonds worth RMB4 billion, reflecting its continued efforts to broaden its financing channels by building on current platforms for domestic and overseas fundraising.

On 18 August 2016, Everbright Securities, which is 24.84% owned by the Group, was successfully listed on the main board of the Hong Kong Stock Exchange (stock code: 6178.HK).

Strategy and Outlook

During the second half of 2016, the global economic environment will remain challenging. As it will be relatively difficult to engineer a turnaround in the short term, the Chinese Central Government is expected to maintain a policy aimed at securing stable growth. Stronger measures will be adopted to stimulate aggregate demand, so as to create favourable conditions for the country's structural reforms and the nurturing of new growth engines.

Chen Shuang, Executive Director and Chief Executive Officer of China Everbright Limited, said, "Despite complex macroeconomic conditions, China's economic downturn and supply side reform brings new investment opportunities. During the second half of 2016, CEL will focus on cooperative opportunities through our fund of funds and large sector focus funds, to continuously expand our fund management business, to explore the overseas projects which can be integrated with the Chinese market, and utilising our own capital to intensively incubate elderly care industry. These efforts will be matched by vigorous risk management, to maintain a balance between risk control and business development. Our business platform is maturing, and we are optimistic about the prospects for the second half of the year."

The announcement of the interim results for the period ended 30 June 2016 is available on the Group's official website (www.everbright165.com) for reference.

About China Everbright Limited

China Everbright Limited ("CEL", stock code: 165.HK), established in Hong Kong in 1997, persistently pursues its "Macro Asset Management" strategy with specific focuses on cross-border asset management and investment businesses. CEL manages a portfolio of private equity funds, venture capital funds, sector focus funds, mezzanine funds, hedge funds and principal investment funds, all operated via an international management platform, and provides overseas investors with opportunities to explore and invest in companies with fast growth potential in mainland China. CEL also seeks investment opportunities from overseas and provides diversified financial services for its clients on the mainland.

China Everbright Limited, a member of China Everbright Group, is the second-largest shareholder of Everbright Securities (stock code: 601788.SH, 6178.HK), a strategic shareholder of China Everbright Bank (stock code: 601818.SH, 6818.HK), the single largest shareholder of the Hong Kong-listed China Aircraft Leasing Group Holdings Limited (stock code: 1848.HK) and the second-largest shareholder of the Singapore-listed Ying Li International Real Estate Limited (stock code: 5DM. SGX).

After the launch of "Shanghai-Hong Kong Stock Connect" on 10 April 2014, CEL became one of the first batch of specific stocks listed on The Stock Exchange of Hong Kong that can be directly traded by Mainland investors.

By practising its philosophy of "Making Wealth Simple", CEL leverages its own substantial financial strength as well as the position and influence of China Everbright Group and its affiliated companies in the financial industry in China. As a result, the Group has successfully built huge cross-border social and business networks in Hong Kong and the Mainland, and established a reputable image in the market.

For more information, please visit www.everbright165.com.

For enquiries, please contact:

Golin
Nan Dong
Tel: 2501 7902/ 9733 6558
Fax: 2810 4780
Email: NDong@golin.com

Jackie Cheung
Tel: 2501 7901
Fax: 2810 4780
Email: JCheung@golin.com



Aug 31, 2016 18:13 HKT/SGT
Topic: Press release summary
Sectors: Financial, Business
http://www.acnnewswire.com
From the Asia Corporate News Network



Copyright © 2016 ACN Newswire. All rights reserved. A division of Asia Corporate News Network.



Multimedia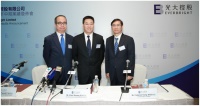 Senior management of China Everbright Limited announce the Group's 2016 interim results. From left, Mr Richard Tang, Executive Director & Chief Financial Officer; Mr Chen Shuang, Executive Director & Chief Executive Officer; and Mr Frederick Tsang, Chief Risk Officer.
View Image
China Everbright Limited
Sept 21, 2016 20:00 HKT/SGT
"In Style Hong Kong" Promotion Coming to Bangkok
Sept 7, 2016 19:19 HKT/SGT
China Everbright Assets Management Limited Recognised by Chinese Blue Chip Private Fund Index
Sept 2, 2016 16:47 HKT/SGT
Shanghai Film Art Academy Invested by IDG-Everbright M&A Investment Fund Acquires 5-Year Exclusive Rights to Host Venice Film Festival's Asia-Pacific Unit
Sept 2, 2016 16:22 HKT/SGT
IDG-Everbright M&A Investment Fund Invests in Shanghai Film Art Academy and Join Hands to Construct a "Bright Future Film & Television Industry Base"
Aug 30, 2016 21:14 HKT/SGT
China Everbright Limited and Focus Media Join Forces to Set Up a RMB5 Billion "New Industry Investment Fund"
Aug 19, 2016 18:00 HKT/SGT
China Everbright Ltd and Israeli Partner Co-organise "GoforIsrael - The 16th China-Israel Investment Summit Forum" in Shanghai
Aug 17, 2016 17:33 HKT/SGT
CEL Global Investment Fund Completes Its First Closing
July 8, 2016 14:32 HKT/SGT
China Everbright Limited Invests in Hope Education to Jointly Create China's Top Private Education Brand and Promote Development of China's Education Industry
June 27, 2016 12:19 HKT/SGT
China Everbright's RMB Mezzanine Fund invests in Neusoft Holdings
June 23, 2016 12:16 HKT/SGT
CEL and IDG Jointly Invest in Prominent Blockchain Venture Circle's New Round of Financing
More news >>