Global Offering of 437,500,000 Shares Offer Price Ranges from HK$1.28 to HK$1.72 Per Share



HONG KONG, Sept 7, 2016 - (ACN Newswire) -

Jacobson Pharma Corporation Limited ("Jacobson Pharma" or the "Group"), a leading company engaged in the research, development, production, marketing and sales of and a vertically integrated manufacturer of Generic Drugs ("generics") and Proprietary Chinese Medicines ("PCM") and the largest generic drug company in Hong Kong, today announced the details for the proposed listing of its shares on the Main Board of the Stock Exchange of Hong Kong Limited ("SEHK").

OFFERING DETAILS

The Group intends to issue a total of 437,500,000 shares globally (subject to the exercise of the Over-allotment option), of which approximately 90% are for the International Offer. The remaining approximately 10% are for the Hong Kong Public Offer. The indicative offer price range is between HK$1.28 and HK$1.72. Net proceeds from the global offering are estimated to be approximately HK$508.4 million to HK$692.8 million.

The Hong Kong Public Offering will commence on 8 September 2016 (Thursday), and end at 12:00 noon on 13 September 2016 (Tuesday). The final Offer Price and the results of the allocation are expected to announce on 20 September 2016 (Tuesday). Dealing of the Shares is expected to commence on the Main Board of SEHK on 21 September 2016 (Wednesday) under the stock code 2633. The shares are to be traded in board lots of 2,000 shares.

Within the International Placing, cornerstone investors New Heritage Healthcare Limited and Hong Kong Wing Wah Medicine Group Limited have agreed to subscribe for, at the Offer Price which are equivalent to HK$50 million and HK$80 million respectively.

BOCI Asia Limited is the Sole Sponsor, Sole Global Coordinator, Sole Bookrunner and Sole Lead Manager of the listing.

CORPORATE HIGHLIGHTS

- Leadership in a diverse range of generic drugs and the overall generic drug market in Hong Kong

According to Frost & Sullivan, Jacobson Pharma is the largest generic drug company in Hong Kong, having over 30% share of the total generic drug market for each year since 2012. Jacobson Pharma is larger than the next two providers combined in terms of revenue in 2015. The Group has been the largest provider of generic drugs to the Hospital Authority each year since 2012, and accounted for over 70% of the Hospital Authority's annual purchase of generic drugs for each respective year. The Group is also the largest provider of generic drugs in Hong Kong in the non-Hospital Authority sector, with over 20% share.

The Group owned approximately 3,000 product licenses in Hong Kong, which represented 68.1% of all product licenses granted to Hong Kong drug manufacturers as of December 31, 2015. For sales to the Hospital Authority, in 2015, Jacobson Pharma were the leader in five major therapeutic categories in Hong Kong, including cardiovascular, central nervous system, gastrointestinal, oral anti-diabetics and respiratory, with 68.8%, 50.1%, 52.1%, 65.0% and 29.9% of the total procurement of generic drugs by Hospital Authority in each respective category. As of the Latest Practicable Date, the Group has 104 outstanding contracts with the Hospital Authority with the total contract value of approximately HK$610.5 million.

- Highly recognized and widely carried proprietary Chinese medicines in Hong Kong, Macau, China and other overseas markets

Jacobson Pharma owns, manufactures and distributes a portfolio of leading proprietary Chinese medicines. The Group's Po Chai Pills (or "Puji Pills" in China) is the most recognized gastrointestinal proprietary Chinese medicines in Hong Kong and was recognized by 97.0% of respondents in Hong Kong, according to the Frost & Sullivan Survey. Due to its high brand recognition and long history as well as good therapeutic efficacy, Po Chai Pills accounts for the largest market share in Hong Kong gastrointestinal proprietary Chinese medicine segment by revenue, with a share of 42.4% in 2015. Jacobson Pharma also owns Flying Eagle Woodlok Oil and Tong Tai Chung Woodlok Oil and balm which accounted for a market share of 20.5% of Hong Kong anti-rheumatic proprietary Chinese medicine market in terms of revenue in 2015.

Cross-border qualifications and state-of-the-art equipment crucial for manufacturing a wide range of complex drugs and facilitate expansion
Jacobson Pharma has the largest number of licensed production facilities for Western medicine in Hong Kong as of December 31, 2015. Its significant economies of scale and advanced facilities can cost-effectively manufacture a wide range of products. The Group's drug production facilities are equipped with machinery and equipment that meets international standards as evidenced by PIC/S GMP-accredited generic drug production facilities in Hong Kong.

Pharmaceutical products that have been approved in Hong Kong have reduced regulatory hurdles in certain strategically-important export markets like China and Macau, which will shorten the Group's time and reduce its costs for entering these markets. Since Hong Kong is a member of PIC/S, generic drugs that are manufactured and approved in Hong Kong would be deemed as eligible for filing submissions for new drug applications with other regulatory authorities that are members of PIC/S, including Singapore, Malaysia, Australia, New Zealand and Japan, allowing the Group to penetrate these new markets in Asia Pacific region.

- Leading research and development capabilities that can develop premium generic drugs to fulfill unmet demands

Jacobson Pharma is the leading pharmaceutical research and development company in Hong Kong among generic drug manufacturers in terms of number of new drugs registered during the track record period. The Group's in-house research and development team developed 49.4%, 56.6% and 30.9% of the new drugs registered by drug manufacturers in Hong Kong in 2013, 2014 and 2015, respectively. Jacobson Pharma obtained approximately 1,950 product licenses in Hong Kong through acquisitions and registered approximately 1,000 product licenses through in-house development, which together represented 68.1% of all product licenses granted to Hong Kong drug manufacturers as of December 31, 2015. The Group had 89 New Product Formulae under development in various stages, and expects to launch 35 of these within the next 24 months as of the Latest Practicable Date.

Benefitting from strong research and development capabilities, the Group obtained 44 new product licenses for the three years ended March 31, 2016. In March 2016, the Group entered into a memorandum of understanding with a research and academic institution, Hong Kong Institute of Biotechnology, with the aim to establish a new joint research and development center for developing new drug manufacturing technologies.

- Well-established sales and distribution network covering substantially all of Hong Kong's private and public hospitals and registered pharmacies

The Group sells and markets its pharmaceutical products to substantially all of the hospitals and clinics under the Hospital Authority, clinics and health centers under the Department of Health, private hospitals and registered pharmacies, as well as over 1,000 doctors in private practice, over 900 retail outlets (including drug stores, chain stores and convenience stores) and trading companies in Hong Kong as of December 31, 2015.

SAP-powered logistics center tracks customer preferences and historical purchase records, connecting and sharing business intelligence with all of the Group's facilities and departments. Through distribution of both its own products and products of multi-national companies, the Group has been able to gather significant feedback, relevant market intelligence and data on industry trends, further strengthening the Group's product development strategies and identify business opportunities.

Industry Highlights

According to Frost & Sullivan, the total Hong Kong generic drug market is expected to grow at a CAGR of 9.9% from 2015 to 2020 to reach HK$4.7 billion and account for 26.8% of total drug sales. In Hong Kong, over 150 patents for drugs are expected to expire between 2015 and 2020 in Hong Kong which is expected to further drive the development of generic drugs.

In addition, the China pharmaceutical market is growing at a CAGR of 13.2% from 2011 to 2015, and expected to reach RMB1,7919 billion in 2020, driven by population aging, the rise in prevalence of chronic diseases as well as the increasing disposable income. As a part of China's pharmaceutical market, the proprietary Chinese medicine segment has a market share of around 32.1%, and is expected to grow at a healthy pace of 8.2% from 2015 to 2020.

Growth Strategies

Jacobson Pharma intends to leverage its comprehensive product portfolio to penetrate new markets. In China, the Group will expand its generic drug and proprietary Chinese medicine portfolio and build strategic alliances with local distributors to maximize market penetration in targeted provinces with high growth potential, including Guangdong, Yunnan, Zhejiang and Fujian provinces.

In May 2016, the China Food and Drug Administration reclassified its Puji Pills into the OTC category. The Group also aims to leverage its pre-qualifications to deliver pharmaceutical products with direct regulatory approval in markets like Macau and to leverage its PIC/S accreditations to deliver generic drugs in markets such as Singapore, Malaysia, Australia, New Zealand and Japan.

The Group will continue to acquire products, technologies and businesses that have strategic fit with its existing products and businesses. The Group intends to consolidate and streamline its production facilities and rationalize operational expenses. The Group also aims to enhance and leverage its large, cost-effective operation to continue to increase economies of scale and pricing advantage, as well as further improving distribution and logistics capabilities through vertical integration.

Use of Proceeds

Assuming an Offer Price of HK$1.50 per share (being the mid-point of the indicative Offer Price range), the estimated net proceeds of the global offering is HK$600.6 million intended for the following uses:

Item / Percentage
Acquisitions/ 45.0%
Capital investments in relation to acquiring, expanding, streamlining or upgrading manufacturing plants, premises, facilities or capabilities/ 18.0%
Pursuing bioequivalence clinical studies for specialized generic drugs and further elevating our product development and research capabilities/ 15.0%
Bolstering sales, marketing and advertising efforts for the next five years/ 12.0%
Working capital and other general corporate purposes/ 10.0%

Financial Performance


HK$'000                                    For the years ended March 31
                                              2014      2015      2016
 
Turnover                                   926,181   947,591 1,083,856
Gross profit                               424,842   384,708   487,755
Gross profit margin(%)                        45.9      40.6      45.0
Net profit attributable to owners          184,701*  113,978   152,662
Net profit margin attrib. to owners(%)        19.9      12.0      14.1

*included a non-recurring gain of HK$61.1 million from disposal of certain buildings and leasehold land


About Jacobson Pharma Corporation

acobson Pharma is the largest generic drugs company in Hong Kong with over 30% share of the total generic drug market for each year since 2012 according to Frost & Sullivan. The Group's proprietary Chinese medicines, key products including Po Chai Pills also highly recognized and widely carried. For more details about Jacobson Pharma, please visit the Group's website: http://www.jacobsonpharma.com

Contact:

Strategic Financial Relations Limited
Vicky Lee, +852 2864 4834, vicky.lee@sprg.com.hk
Angela Ng, +852 2864 4855, angela.ng@sprg.com.hk
Stephanie Liu, +852 2864 4852, stephanie.liu@sprg.com.hk	
Fax: +852 2527 1196


Sept 7, 2016 21:10 HKT/SGT
Source: Jacobson Pharma Corporation
Topic: IPO
Sectors: Financial
http://www.acnnewswire.com
From the Asia Corporate News Network
Copyright © 2016 ACN Newswire. All rights reserved. A division of Asia Corporate News Network.
Multimedia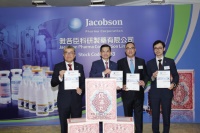 From left to right: Jacobson Pharma Corporation Limited, Mr. Raymond Yim, Executive Director; Jacobson Pharma Corporation Limited, Mr. Derek Sum, Chairman, Executive Director and Chief Executive Officer; BOCI Asia Limited, Mr. Daniel Ng, Head of Investment Banking Division; Jacobson Pharma Corporation Limited, Mr. Victor Lau, Group Financial Controller
View Image