SINGAPORE, Oct 7, 2016 - (ACN Newswire) -

JR Asia & Partners Fund Management Pte Ltd ("JR Asia"), a Singapore investment holding company, today announced that it has engaged UOB Kay Hian Pte Ltd ("UOBKH") to help the company access the Singapore capital markets to grow its premium wine business in Asia, starting with China.

The appointment marks a major milestone for JR Asia, which has set its sights on dominating the lucrative Chinese wine market in the next two years. The UOBKH appointment will enable JR Asia to increase its premium wine inventory, support its aggressive expansion in China and other Asian countries, and to invest more in promotion and marketing efforts.

Mr Andrew Lim, Chairman of JR Asia, said: "In China, wine has grown over the past 6 years in social status and as an investment asset. Not surprising, based on our research, the import volume of wine has recorded a compounded annual growth rate of about 20% between 2009 and 2015. The demand for these premium wines and other similar labels is insatiable and impossible to meet. This is the space that JR Asia wants to dominate, over and above distributing premium wines that match the tastes and social index of different consumer groups."

Mr Lim added that the Liv-ex Fine Wine Investable Index, which tracks the value of some of the world's most expensive wines, has continued on an upward trend all these years, despite the economic crises and market downturns.

To achieve its goal, JR Asia also announced that it has formed a partnership with one of China's most established wine merchants, Laidesitong Wine Co., Limited ("LDST"), to distribute premium limited edition and collector vintage wines in China and Asia. These include wines by Barons De Rothschild (Lafite), Pont Des Arts, Francois Thienpont and Francois Janoueix.

LDST, founded by Meng Fei, who has more than 10 years of experience in wine distribution and a wide established network in China, holds exclusive distribution rights with some of France's oldest vineyards, such as Rothschild Lafite, Thienpont, Pont Des Arts and Francois Janoueix. The rights have been secured by LDST's long-term relationship with the families of the vineyard founders.

JR Asia is also looking to secure its own exclusive distributor rights to expand its premium wine presence in China and South East Asia, Mr Lim said.

Mr Lim added that the wine business would be the first venture in JR Asia's investment portfolio. However, as an investment holding company, JR Asia is open to invest in other asset classes that are aligned with its aim to deliver consistent solid shareholder returns.

JR Asia marked its appointment of UOBKH with a signing ceremony yesterday at the Marina Bay Sands. Among the 50 VIPs and guests who witnessed the event were LDST's Managing Director Meng Fei and Harbin Liming Gas Group Co. Ltd.'s CEO Jiang Hui. The latter company is the biggest industrial gas producer and supplier in the North and North-Eastern China region. Ming Fei is also vice-chairperson of an influential elite private China business club with 2,000 members, among which included Mr Jack Ma, founder and executive chairman of Alibaba Group, Mr Liu Chuanzhi, Chairman of Legend Holdings, Mr Wang Jianlin, Managing Director of Wanda Group.

JR Asia's first major event with LDST is the SINODIS 2016 Global Chef Competition which will be held at the Wanda Reign hotel, Shanghai's first and only 'seven-star' hotel. This prestigious 4th international chef competition boasts participation by Michelin-starred and renowned chefs from 5-star hotels and best restaurants around the globe. JR Asia has been appointed the sole wine sponsor for the final round of the competition, where every finalist will also have to choose a particular Thienpont wine to pair with his or her culinary creation.

*Photo L-R: Mr Royce Yeo, Chief Executive Officer, JR Asia & Partners Fund Management Pte Ltd (JR Asia), Mr Andrew Lim, Chairman, JR Asia, Ms Patricia Cheng, Finance Manager, JR Asia, Ms Jiang Hui, Managing Director, Liming Gas Group of Harbin, Ms Amy Lee, Director, Equity Sales, UOB Kay Hian Pte Ltd (UOBKH), Mr Ding Hock Chai, Senior Director, Head of Corporate Finance, UOBKH and Mr Meng Fei, Managing Director of Laidesitong Wine Co. Limited (LDST).

About JR Asia & Partners Fund Management Pte Ltd

JR Asia & Partners Fund Management Pte Ltd ("JR Asia") is a Singapore-based investment holding company with interests spanning across wine / F&B, fund management, as well as property developments. Currently, through its wholly-owned subsidiary in China, it markets and distributes premium wine products such as Chateau Lafite Rothschild, Pont Des Arts and Thienpont in selected countries in Asia such as China, Taiwan, Hong Kong and Macau. For more information, please visit www.jrasiafunds.com.

About Laidesitong Wine Co., Limited ("LDST")

Established in 2011, Laidesitong Wine Co., Limited, became the sole supplier to the China Duty Free Group for Baron de Rothschild (Lafite), and exclusive distributor of renowned brand of wine like Baron de Rothschild (Lafite), Pont Des Arts and Thienpont.

Mr. Meng Fei, the founder of LDST, has built strong relationship with these renowned wine principals over the years. LDST has established sales, warehousing, logistics and distribution capabilities across approximately 170 China Duty Free stores throughout China.

ABOUT SINODIS 2016 Global Chef Competition

SINODIS 2016 Global Chef Competition is organised by Global Gourmet which is the top hospitality, food and beverage publication in China and the only monthly bilingual (English & Chinese) food and beverage magazine circulated nationwide. All of the participants in the competition are famous chefs from top hotels and Michelin-rated restaurants all over the world. Over 300 guests, including top hotel F&B directors, importers, foreign consuls, are expected to attend the final round of the competition.

Issued on behalf of JR Asia & Partners Fund Management Pte Ltd by:

Waterbrooks Consultants Pte Ltd
Ms Jacqueline Lim / Ms Jean Yang / Mr Ma Kin Hoong
+65 9695 9318 / +65 9363 6369 / +65 9384 0073
jacqueline@waterbrooks.com.sg / jean@waterbrooks.com.sg /ma@waterbrooks.com.sg



Oct 7, 2016 19:00 HKT/SGT
Topic: Contract Awarded
Sectors: Daily Finance, Daily News
http://www.acnnewswire.com
From the Asia Corporate News Network



Copyright © 2018 ACN Newswire. All rights reserved. A division of Asia Corporate News Network.



Multimedia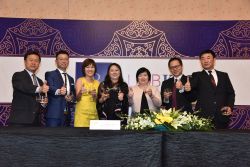 Senior management of JR Asia and UOB Kay Hian toasting with a glass of 60-year old Rothschild Lafite cognac.
View Image
Latest Press Releases
EFT Solutions announces 2017/18 annual results
June 22, 2018 23:50 HKT/SGT
HKIUD Conference 2018: Actions for Active Ageing - Urban Design for All
June 22, 2018 20:20 HKT/SGT
MHPS Ships Coal Gasification Furnace Pressure Containers to Nakoso IGCC Power GK
June 22, 2018 17:53 HKT/SGT
Trend Micro's Endpoint Security Cited as a Leader by Independent Research Firm
June 22, 2018 17:30 HKT/SGT
Mitsubishi Motors: New Eclipse Cross Awarded 5-star Adult Occupant Protection Rating in 2018 Latin NCAP
June 22, 2018 14:38 HKT/SGT
Toyota Rolls Out First Fully Redesigned Century in 21 Years
June 22, 2018 12:52 HKT/SGT
Eisai Selected for Membership in MSCI Japan Empowering Women Index (WIN)
June 22, 2018 10:58 HKT/SGT
Fujitsu Enhances Cloud Services Portfolio to Support the Digital Transformation of Customer Businesses
June 22, 2018 10:17 HKT/SGT
Autolus Announces Pricing of Initial Public Offering
June 22, 2018 10:00 HKT/SGT
NANOBIOTIX announces positive phase II/III topline data in soft tissue sarcoma with NBTXR3
June 22, 2018 09:00 HKT/SGT
More Press release >>