BALI, INDONESIA, Oct 12, 2016 - (ACN Newswire) -

The Bali Promise, a declaration affirmed by the 3rd Congress of the Association of Asian Constitutional Courts and Equivalent Institutions (AACC) held in Bali in August 2016, is the underlying rationale of the 2nd World Culture Forum (WCF), being held this week in Nusa Dua, Bali.

Hilmar Farid, Director General of Culture, Indonesian Ministry of Education and Culture, explains the purpose of implementing the framework at this forum. "WCF 2016 is part of a master plan as stated in the Bali Promise. This forum is designed to carry forward the implementation of this grand idea as it emerged from WCF 2013," said Farid.

Six symposiums have been organized within WCF 2016, bringing the most urgent issues for discussion forward: Reviving Culture for Rural Sustainability; Water for Life: Reconciling Socio-Economic Growth and Environmental Ethics; Interweaving History, Urban Space, and Cultural Movement; Culture in the New Digital World; Reconciling State, Community, and Cultural Divides; and Cultural Diversity for Responsible Development.

Over 1,500 participants from around the world have massed in Bali to learn and experience how culture can shape the world and make it a better place to live in. In addition, WCF 2016 also features a number of support events dedicated to Youth, such as the International Youth Forum (IYF) and International Folk Dance Festival (IFDF).

Hilmar added that WFC would play an instrumental role not only in conserving and safeguarding culture, but in advancing peace around the world. "There is no better time than now for us to come together in elavating the role of culture in the national development," he stated.

Muhadjir Effendy, the Indonesian Minister of Education and Culture, stated that culture could be a 'driver' and 'enabler' of sustainable development. "We must be able to carry a cultural connection in all aspects of our lives," the Minister said. "Culture is as important an asset as a nation has, and WFC hopes to take the role of culture to a higher level, while contributing to sustainable development," concluded the Minister.

For further information, please contact:

Ministry of Education of Culture, Republic of Indonesia
Jalan Jenderal Sudirman Senayan, Jakarta 10270
Phone: +62 21 5711144
Website: www.kemdikbud.go.id


Oct 12, 2016 18:50 HKT/SGT
Topic: Trade Show or Conference
Sectors: Daily News
http://www.acnnewswire.com
From the Asia Corporate News Network



Copyright © 2018 ACN Newswire. All rights reserved. A division of Asia Corporate News Network.



Multimedia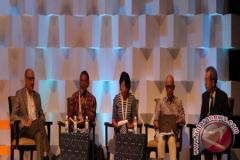 Speakers of WCF 2016 (left-right): Ali Ashgar Semsar Yazdi (International Centre on Qanats and Historic Hydraulic Structures Director, Iran), Wayan Windia (Subak Expert), Satoko Kishimoto (Water Justice Project, Transnational Institute), Hendro Sangkoyo (Environmental Activist), Shinsuke Ota (VP International Commission on Irrigation and Drainage, Former Executive VP of Japan Water Agency)
View Image
Indonesian Ministry of Education and Culture
Oct 14, 2016 21:00 HKT/SGT
World Culture Forum 2016 Concludes with the 'Bali Declaration'
Oct 14, 2016 19:00 HKT/SGT
World Culture Forum 2016: Embellish the World through Cultural Perspective
Oct 13, 2016 21:00 HKT/SGT
World Culture Forum 2016 Officially Inaugurated
Oct 12, 2016 20:30 HKT/SGT
World Culture Forum 2016: Water, the Source of Life
Oct 12, 2016 20:20 HKT/SGT
Festival of Diversity at the Cultural Carnival, World Culture Forum 2016
Oct 12, 2016 19:10 HKT/SGT
Iran, Indonesia and China Share Spirit for Preserving Cultural Heritage
Oct 11, 2016 15:00 HKT/SGT
World Culture Forum 2016 Kicks off with Cultural Visit to Indonesia's World Heritage Site
Oct 5, 2016 22:00 HKT/SGT
World Culture Forum 2016 to be held in Bali, Indonesia 10-14 October
June 25, 2013 16:10 HKT/SGT
Indonesian Government Launches Twelve Years Universal Education Program
More news >>