BALI, INDONESIA, Oct 13, 2016 - (ACN Newswire) -

World Culture Forum was officially opened today by the fifth President of Indonesia, Megawati Soekarnoputri. In her speech, she conveyed how the tradition and culture can shape the national identity. "Through this grand cultural event, I'd like to declare that the tradition and culture are the things that can help us shape the national identity, particularly amid modernization and globalization. The culture will play its fundamental role in bringing clarity, peace, solidarity, and social justice which eventually will make this world a better place to live in," Megawati stated.

The Director General of UNESCO Irina Bokova also took part in the opening ceremony through the video conference, and said that WCF served as a reflection for the participating nations in determining the new direction and strategy of sustainable national development. "In recent decades, the role of culture ironically had been denied. Now, it all has changed. In near future, UNESCO will launch a global report on culture and sustainable regional development in order for culture to be incorporated into the regional development policy and regulations," she said.

In agreement with Bokova's outlook on the role of culture towards national development, Muhadjir Effendy, the Indonesian Minister of Education and Culture, stated that this world-level meeting aimed to discuss and position the culture as the leading notion in the development. "We must mainstream the culture in the development by positioning it as the main idea of the entire development process," added the Minister.

The WCF 2016 opening marked with the gong striking by Megawati Soekarnoputri, witnessed by Muhadjir Effendy, Islam Guidance of Iran Ali Jannati, the Minister of Home Affairs and Rural Development of Tuvalu Namoliki Sualiki Neemia, the Director General of Culture of Ministry of Culture Hilmar Farid, and UNESCO Director for Jakarta, Shahbaz Khan.

For further information, please contact:

Ministry of Education of Culture, Republic of Indonesia
Jalan Jenderal Sudirman Senayan, Jakarta 10270
Phone: +62 21 5711144
Website: www.kemdikbud.go.id


Oct 13, 2016 21:00 HKT/SGT
Topic: Trade Show or Conference
Sectors: Daily News
http://www.acnnewswire.com
From the Asia Corporate News Network



Copyright © 2018 ACN Newswire. All rights reserved. A division of Asia Corporate News Network.



Multimedia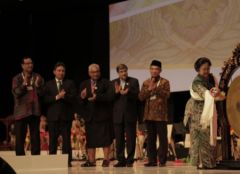 Megawati Soekarnoputri striking gong to officially open WCF 2016 (World Culture Forum 2016)
View Image
Indonesian Ministry of Education and Culture
Oct 14, 2016 21:00 HKT/SGT
World Culture Forum 2016 Concludes with the 'Bali Declaration'
Oct 14, 2016 19:00 HKT/SGT
World Culture Forum 2016: Embellish the World through Cultural Perspective
Oct 12, 2016 20:30 HKT/SGT
World Culture Forum 2016: Water, the Source of Life
Oct 12, 2016 20:20 HKT/SGT
Festival of Diversity at the Cultural Carnival, World Culture Forum 2016
Oct 12, 2016 19:10 HKT/SGT
Iran, Indonesia and China Share Spirit for Preserving Cultural Heritage
Oct 12, 2016 18:50 HKT/SGT
World Culture Forum 2016 Takes Culture to a Higher Level while Contributing to National Development
Oct 11, 2016 15:00 HKT/SGT
World Culture Forum 2016 Kicks off with Cultural Visit to Indonesia's World Heritage Site
Oct 5, 2016 22:00 HKT/SGT
World Culture Forum 2016 to be held in Bali, Indonesia 10-14 October
June 25, 2013 16:10 HKT/SGT
Indonesian Government Launches Twelve Years Universal Education Program
More news >>