Focuses on Developing Hong Kong Capital Market and Unleashing Potential Value




HONG KONG, Mar 8, 2017 - (ACN Newswire) -

China New Town Development Company Limited (the "Company" or "CNTD"; HKEX: 1278.HK), which just completed delisting from the Main Board of SGX-ST to focus on the Hong Kong capital market, yesterday hosted the market open ceremony at the Hong Kong Stock Exchange with its controlling shareholder CDB Capital, China Development Bank Hong Kong Branch and representatives of its partners as witnesses. With its capital structure optimized after the delisting and the support of its formidable shareholder China Development Bank, CNTD looks forward to better realizing the value of its investment in quality new urbanization products. While assisting the parent company to actively implement the national strategy, it will also bring the biggest benefit to customers, investors and society.

The controlling shareholder of the Company is a wholly-owned subsidiary of CDB, which is responsible for the national investment platform. As at the end of 2016, the size of the management assets of CDB Capital exceeds RMB200 billion. CDB Capital actively serves the international strategy of CDB, and is one of the largest investment institutions in the five major areas of new urbanization, industrial investment, fund business, international business and National Integrated Circuit Investment. Since CDB Capital became the Company's controlling shareholder, it completed the sale of non-core business assets and successfully solved the historical issue - its financial status has been significantly improved. The Company has completed external debt financing in 2015, and successfully opened up offshore financing channels and recorded remarkable business results in the first half of 2016. As at the end of 2016, the Company had an urbanization investment project portfolio worth RMB2.06 billion.

Mr. Wei Wei, CEO of CDB Capital and Chairman of CNTD, said at the ceremony, "Looking ahead, CDB Capital provides long term support to the sustainable development of China New Town and enhances the quality, strength and scale of our operation. The voluntary delisting from SGX-ST of China New Town means the Company is now exclusively listed on one exchange in Hong Kong. This move underscores our confidence in the future development of Hong Kong's capital market and helps us lower operational costs and enhance profitability. The delisting has also received the endorsement from the shareholders and positive feedback from the capital market. I would like to take this opportunity to thank the Hong Kong Stock Exchange and our investors for their interest and support which have provided stronger backing as well as a boost for the Company's development."

Mr. Wei continued, "Going forward, we will leverage CDB Capital's resources advantage and operate under the national development strategy of carrying out supply-side structural reform to support new urbanization. We will also enhance the quality and effectiveness of the Company's investment and reward to our investors through various means including acquisitions and organic growth."

CNTD will continue to focusing on developing quality education, tourism and medical care industrial parks and a number of pursuits with strategic partners are underway. Examples include the strategic cooperation with the National Integrated Circuit Industry Fund to enhance the integrated value of the industrial park and the strategic alliance with Vanke BJ to develop an urbanization project that would become a popular tranquil and relaxing respite from the hassles of city living. After the completion of development and commencement of operations, it will position the Company to diversify its source of income from currently investment driven, gradually to a more desirable mix of "investment + operations, so as to sustainably create core value for shareholders in the long-term.


About China New Town Development Company Limited

China New Town is the only listing platform for the urbanisation business of China Development Bank ("CDB"), China's largest financial institutions engaged in the business of urban development. Since China Development Bank Capital Corporation ("CBD Capital") became the controlling shareholder of the Company in 2014, the Company has capitalised on this strong shareholder background and its expertise in urbanisation policy to re-optimise its business model, expanding the scope of its business from primary land development exclusively to include investment, development and operation of urbanisation projects across China. The Company has participated in numerous projects including the Junzhuang Project in Beijing Mentougou District, Shanghai Luodian New Town, Nanjing Yuhuatai Twin Bridges and Yangzhou Airport City. As at the end of 2016, the Company has invested a total of RMB2.06 billion in the integrated development projects with an annualised average return of 12.6%, thereby contributing to an improvement of financial performance. It realised a net profit of RMB112 million in the first half of 2016.

Looking ahead, riding on the resource and brand advantages of its controlling shareholder CDB and CDB's subsidiaries and member companies, the Company will focus on China's core economic regions such as the Yangtze River Delta and Beijing-Tianjin-Hebei region and will continue to broaden and enrich its fixed income investment portfolio for urbanisation. It will also devote itself to develop and create urbanisation projects in relation to education, elderly care, tourism and medical and healthcare through collaboration with quality partners such as Vanke, with the aim to reinforce its leading position and brand in the industry.

Contact:

Strategic Financial Relations (China) Limited
Ms. Winnie Lau   Tel: (852) 2864 4876
Ms. Karen Li     Tel: (852) 2864 4837
Mr. Tommy Chan   Tel: (852) 2864 4838
Ms. Carven Tsui  Tel: (852) 2114 4947
Mr. David Ye     Tel: (852) 2864 4893
Email: sprg-chinanewtown@sprg.com.hk


Mar 8, 2017 16:13 HKT/SGT
Source: China New Town Development Company Limited
Topic: Press release summary
Sectors: Daily Finance, Daily News
http://www.acnnewswire.com
From the Asia Corporate News Network
Copyright © 2018 ACN Newswire. All rights reserved. A division of Asia Corporate News Network.
Multimedia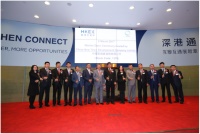 The management of CDB Capital, China Development Bank Hong Kong Branch and various representatives from CNTD raise a toast at ceremony.
View Image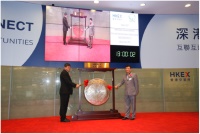 Mr. Wei Wei (left), CEO of CDB Capital and Chairman of CNTD, and Mr. Liu Heqiang (right), CEO and Executive Director of CNTD, strike the gong to start trading for the day.
View Image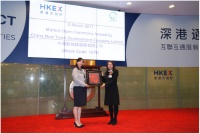 Ms. Yang Meiyu (right), Deputy CEO and Executive Director of CNTD presents the souvenir to Ms. Bonnie Chan (left), Head of Events Management of the Stock Exchange of Hong Kong.
View Image
Latest Press Releases
EFT Solutions announces 2017/18 annual results
June 22, 2018 23:50 HKT/SGT
HKIUD Conference 2018: Actions for Active Ageing - Urban Design for All
June 22, 2018 20:20 HKT/SGT
MHPS Ships Coal Gasification Furnace Pressure Containers to Nakoso IGCC Power GK
June 22, 2018 17:53 HKT/SGT
Trend Micro's Endpoint Security Cited as a Leader by Independent Research Firm
June 22, 2018 17:30 HKT/SGT
Mitsubishi Motors: New Eclipse Cross Awarded 5-star Adult Occupant Protection Rating in 2018 Latin NCAP
June 22, 2018 14:38 HKT/SGT
Toyota Rolls Out First Fully Redesigned Century in 21 Years
June 22, 2018 12:52 HKT/SGT
Eisai Selected for Membership in MSCI Japan Empowering Women Index (WIN)
June 22, 2018 10:58 HKT/SGT
Fujitsu Enhances Cloud Services Portfolio to Support the Digital Transformation of Customer Businesses
June 22, 2018 10:17 HKT/SGT
Autolus Announces Pricing of Initial Public Offering
June 22, 2018 10:00 HKT/SGT
NANOBIOTIX announces positive phase II/III topline data in soft tissue sarcoma with NBTXR3
June 22, 2018 09:00 HKT/SGT
More Press release >>