| | |
| --- | --- |
| Tuesday, 28 November 2017, 08:18 HKT/SGT | |



HONG KONG, Nov 28, 2017 - (ACN Newswire) -

On the day of 24 November 2017, China New City Commercial Development Limited(01321.HK) held the cooperation signing ceremony with Maggie & Rose, the famous London's luxury private members club for kids and parents.

After the 4 months' negotiation, the two major brands in China and British came to an agreement to start a full range of resources docking. In the future, they will expand higher quality construction in family clubs and children development as well as education institutions, books, catering, children's parties throughout China mainland, Macao and Taiwan. As one of the most famous commercial real estate enterprises in China, it is time for China New City to enter the parent-children education business, attempting a restructuring on new industries and asset-light strategy. The intention behind also shows China New City's efforts to invest for future as a corporate citizen.

With the rise of consumption upgrading and two-child per family trend, child care and education business is blooming in China. The incidents of the domestic children education institutions reported recently are mainly due to uneven qualifications of the institutions. Education brands with dedicated focus on children as well as qualified teaching resources are in urgent need. Thus the aim of creating a happy, safe and healthy environment for children is agreed by both Maggie Bolger, one of the founders of Maggie & Rose and Shi Kancheng, the chairman of the board of directors of China New City.

Maggie & Rose, a well-known family-owned club born in 2007, is the earliest and most exclusive family private club in London. Originally founded by the two mothers in 2006, it was prompted to create new venues that were appealing to adults as well as children, after getting "fed up" with some of the "bleak" places that were touted as parent and child clubs. After opening two Maggie & Rose clubs in London - the first in Kensington in 2007, and then another in Chiswick - the one in Hong Kong is the first outside of the British capital, which was open in 2015. The Beach Club in Hong Kong brought the most original British Education method combining the local characteristics of Hong Kong to lead parent-child clubs in bilingual context, also provided children with more favorable and relaxing learning environment. Hong Kong Maggie & Rose family private club is located in Repulse Bay. With an area of 16,000 feet, the club closely follows the London model with Eat & Play booths, spaces for soft play, class studios, brasserie, roof terrace and a section of the beach.

Maggie & Rose is also not strange to modern mother in mainland China. The well-known mother-and-child we media Peachmama hosted a tour in London last year. Parents and children both enjoyed a fantastic experience during the journey in Maggie & Rose's club together. With the coming cooperation and strong support from listed brand China New City, it is certainly that M&R can be fully extended into the mainland market especially under the leadership of experienced new management team. The mode will be embed original version of English characteristics also suitable for Chinese children. In this way, the brand new company brought from Maggie & Rose and China New City will further takes one bound further into the new market of Macau and Taiwan.

China New City has been well-known for its unique role as the member of Zhong An Real Estate (0672.HK), the famous real estate company in China. Actually Zhong An Real Estate has been already involved in the education industry. During the past 20 years, Zhong An Real Estate accumulatively invested RMB500 million for multiple educational institutions as well as charity projects. As a strategic part of the Group, China New City has also begun to pay more attention on the education field in recent years. Equipped with the mature teaching methods and experiences from Maggie & Rose, especially on various children parties, parents interaction, parent-child restaurant and etc., China New City will leverage the platform advantage and further apply to the future daily operation. Following the overwhelming success of Maggie & Rose's original clubs, China New City endeavor to bring a creative and tranquil space for children and families, also the parenting education industry in not only mainland, but also Macau and Taiwan.




Nov 28, 2017 08:18 HKT/SGT
Topic: Press release summary
Sectors: Daily News
http://www.acnnewswire.com
From the Asia Corporate News Network



Copyright © 2018 ACN Newswire. All rights reserved. A division of Asia Corporate News Network.



Multimedia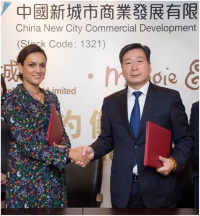 Left: Maggie, one of the founders of Maggie & Rose; Right: Shi Kancheng, the chairman of the board of directors of China's New City
View Image
Latest Press Releases
The International Gymnastics Federation to Implement Fujitsu's Judging Support System
Nov 20, 2018 12:10 HKT/SGT
MHIES-P Delivers 2 Diesel Generator Sets to Large Commercial Complex in Leyte, the Philippines
Nov 20, 2018 11:57 HKT/SGT
ALAX taps DCore's Blockchain Platform to bring Mobile Gaming Content to Millions of Unbanked Consumers
Nov 20, 2018 11:30 HKT/SGT
Changfeng Energy Completes Trial Run of LNG Shipment from Canada to the PRC
Nov 19, 2018 19:35 HKT/SGT
HKTDC "RetroInnovations" Exhibition Opens at Times Square, Causeway Bay
Nov 19, 2018 18:00 HKT/SGT
Fujitsu and Kagawa University to Study Use of VR and Telepresence to Promote Disabilities Understanding and Improve Expertise in Special Needs Education
Nov 19, 2018 10:37 HKT/SGT
Shanghai Success for TOYOTA GAZOO Racing
Nov 19, 2018 10:29 HKT/SGT
TOYOTA GAZOO Racing Wins the Rally and the Title in Australia
Nov 19, 2018 06:10 HKT/SGT
Are Southeast Asia's Retailers and Brands 'customer #ready'?
Nov 16, 2018 19:30 HKT/SGT
Are Southeast Asia's Retailers and Brands 'customer #ready'?
Nov 16, 2018 18:06 HKT/SGT
More Press release >>