| | |
| --- | --- |
| Thursday, 10 May 2018, 20:30 HKT/SGT | |


Source: HKTDC
On-site surveys show bright outlook for Innovation & Technology from Hong Kong



HONG KONG, May 10, 2018 - (ACN Newswire) -

More than 230,000 buyers from 176 countries and regions attended the seven fairs organised by the HKTDC in April, a yearly increase of nearly 3%. 130,000 of these buyers were from mainland Chinese and overseas, an increase of more than 4%, while there were more than 9,000 exhibitors.

Business sentiment at the fairs was unaffected by the escalating Sino-US trade dispute of recent weeks. On-site surveys conducted during the fairs found 70% of respondents expected no negative impact on Hong Kong's export performance, while 80% were neutral or optimistic that the 2 nations would resolve their differences.

The seven April fairs were: the Hong Kong International Lighting Fair (Spring Edition), Hong Kong Electronics Fair (Spring Edition), International ICT Expo, Hong Kong Houseware Fair, Hong Kong International Home Textiles and Furnishings Fair, Hong Kong Gifts & Premium Fair, and the Hong Kong International Printing & Packaging Fair, which was jointly organised by the HKTDC and CIEC Exhibition Company (HK) Ltd.

Hong Kong's advantages in innovation & technology

The HKTDC commissioned an independent research agency to conduct on-site surveys during the fairs in April, interviewing more than 2,700 exhibitors and buyers. 67% of respondents in the electronics industry were positive about the developments in innovation and technology in Hong Kong, with financial technologies (FinTech) identified as having the highest potential, followed by smart city and artificial intelligence. The respondents felt that the huge number of relevant professionals (50%), reliable and predictable policy (36%) and business-friendly environment (34%) were Hong Kong's advantages in developing innovation and technology.

HKTDC Deputy Executive Director Benjamin Chau said, "As seen from the survey, innovation and technology are where Hong Kong should go in future. They are not just highlights in the Government's latest Policy Address and Budget, but have become key elements in HKTDC's events. Leveraging on the latest mobile technology, HKTDC provided its e-Badge to buyers at each of the April Fairs, upgrading their Hong Kong fair experience, as the badges were introduced last November and were warmly-received."

In addition, many elements of innovation and technology were added in the Fairs. These included setting the theme of ICT Expo as "Smart City: The Way of the Future" with the debut Smart City zone. Apart from the Office of the Government Chief Information Officer (OGCIO) presenting the Hong Kong Smart City Blueprint, smart solutions were also brought by top technology enterprises from around the world. The Spring Electronics Fair's "Tech Hall" highlighted zones such as "Connected Home" and "Robotics & Unmanned Tech".

The Spring Lighting Fair gathered renowned experts to a seminar on "Artificial Intelligence and Smart Lighting" to discuss the ways that AI could help enhance smart lighting. The Houseware Fair held a seminar on "Connect and Optimise - The Technology & Market Trend in the Building Industry" sharing the latest updates on IoT technology advancement.

The Gifts & Premium Fair featured a "Tech Gifts" zone and held a seminar themed "Top 5 Global Digital Consumer Trends in 2018" to discuss the tech-driven consumer trends that are reshaping commerce. The "Digital Printing & 3D Printing Zone" featured in the Printing & Packaging Fair, together with the concurrent seminar "New Development and Application of Digital Printing", analysed digital printing technology trends for the future.

HK$1.3 billion business travel income generated

International trade fairs bring in orders for local exhibitors, a major driving force for the development of local industries. Fairs also attract many business visitors with high consumption power to Hong Kong. The April fairs attracted more than 9,000 exhibitors from the Chinese mainland and overseas (up over 2%) while the buyers from these regions grew over four per cent to more than 130,000.

Among these buyers, the highest growth came from North America (nearly 13%), followed by those from Europe and ASEAN, both increasing over eight per cent. According to the Hong Kong Tourism Board, per capita spending of overnight MICE visitors was HK$8,563. Based on this figure, it is estimated that the visiting buyers and exhibitors have generated over HK$1.3 billion in income for tourism and related industries, together with other economic benefits.

Promising outlook for Western Europe and the Chinese Mainland

The surveys also found that 49% of the respondents expected overall sales to grow this year. Such finding is significantly higher than that of the previous year, which is an indication of improving market outlook. However, survey respondents expected increases in operating costs (47%), price fluctuations of raw materials (44%) and concern about global economic fluctuations (40%) are the major challenges for the year.

Survey respondents were generally positive about the outlook of traditional markets. They were most optimistic about Western Europe, with 73 per cent expecting prospects to be promising or very promising, followed by North America (61%) and Japan (58%). Views were also optimistic when it came to the emerging markets. Sixty-seven per cent of respondents expected the Chinese mainland market to be promising or very promising this year; followed by ASEAN (56%) and the Middle East (55%).

In terms of product trends, the lighting industry considers commercial lighting to be the most promising product category, followed by residential lighting and smart lighting & solution. The electronics industry sees electrical and electronic accessories to have the best potential, followed by digital imaging and audio-visual products.

For the houseware industry, most expect kitchenware & gadgets, eco-friendly products and interior decor & handicrafts to have the highest growth potential this year. As for the gifts industry, most viewed advertising gifts and premium, tech gifts and figurines & decorations to be the most promising product categories.

Start-up launch pad

To support the development of start-up companies, HKTDC introduced Startup zones at the Spring Electronic Fair, ICT Expo, Houseware Fair and Gifts Fair, providing a low-barrier exhibition opportunity. The zones were well-received, attracting more than 160 start-ups from Hong Kong, the Chinese mainland, India, Japan, Taiwan, the United States and so on.

Apart from meeting buyers from around the world, the start-ups were offered all-round services, including the opportunity to take part in pitching sessions and "Startup. Smart Launch" sessions, where they could promote their solutions or products to potential investors, buyers and media representatives.

Business matching, small orders for more business opportunities

The HKTDC is committed to enhancing the support services provided at the fairs to generate more business opportunities for exhibitors and buyers. During the April fairs, HKTDC helped connect buyers with exhibitors by arranging one-on-one business matching meetings based on buyers' needs.

Catering to O2O sourcing trends and buyers' growing needs to source in small quantities, HKTDC set up hktdc.com Small Order zones at the Spring Electronics Fair, Houseware Fair and Gifts Fair, featuring a total of over 940 showcases. By scanning a QR code, buyers could receive product information, place orders, settle payments and arrange shipment. During the April fairs, the zones generated more than 60,000 business connections, bridging buyers and suppliers and promoting further cooperation.

Full press release with Summary of Survey Results at https://bit.ly/2Kaq1rX.
Photo download at https://bit.ly/2ruoKVU.


About HKTDC

Established in 1966, the Hong Kong Trade Development Council (HKTDC) is a statutory body dedicated to creating opportunities for Hong Kong's businesses. With 50 offices globally, including 13 on the Chinese mainland, the HKTDC promotes Hong Kong as a platform for doing business with China, Asia and the world. With more than 50 years of experience, the HKTDC organises international exhibitions, conferences and business missions to provide companies, particularly SMEs, with business opportunities on the mainland and in international markets, while providing business insights and information via trade publications, research reports and digital channels including the media room. For more information, please visit: www.hktdc.com/aboutus. Follow us on Google+, Twitter@hktdc, LinkedIn.

Contact:

Joshua Cheng, Tel: +852 2584 4395, Email: joshua.cp.cheng@hktdc.org

May 10, 2018 20:30 HKT/SGT
Source: HKTDC
Topic: Trade Show or Conference
Sectors: Trade Shows
http://www.acnnewswire.com
From the Asia Corporate News Network
Copyright © 2019 ACN Newswire. All rights reserved. A division of Asia Corporate News Network.
Multimedia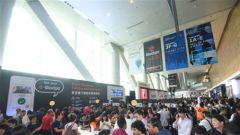 The HKTDC's seven trade fairs in April welcomed a total of more than 230,000 buyers.
View Image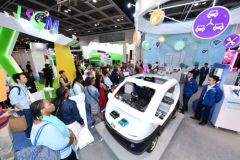 The HKTDC has added plenty of innovative technology contents in the April Fairs. These included launching thematic zones such as Smart City, Virtual Reality and Robotics & Unmanned Tech.
View Image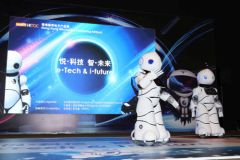 View Image
HKTDC
Jan 17, 2019 20:00 HKT/SGT
Hong Kong Fashion Week for Fall/Winter Closes
Jan 16, 2019 17:00 HKT/SGT
3,300+ Finance, Business Leaders Join Asian Financial Forum
Jan 15, 2019 18:00 HKT/SGT
Hong Kong Fashion Week for Fall/Winter Is Under Way
Jan 14, 2019 19:00 HKT/SGT
12th Asian Financial Forum Opens
Jan 14, 2019 18:00 HKT/SGT
Hong Kong Fashion Week Opens with 1,400 Exhibitors
Jan 10, 2019 20:00 HKT/SGT
130,000+ Buyers Visit First Four HKTDC Fairs of 2019, Up 3.3%
Jan 9, 2019 21:00 HKT/SGT
Asia's Largest Licensing Show Attracts 23,000 Visitors
Jan 9, 2019 16:00 HKT/SGT
Future for Toy Industry 'Challenging but Bright'
Jan 8, 2019 14:00 HKT/SGT
Asian Licensing Conference Gathers Global Experts
Jan 7, 2019 19:00 HKT/SGT
Asia's Largest Licensing Show and Conference Open
More news >>