Endorsement by Leading Analyst Firm Recognizes the Company as a World-Class Infrastructure-as-a-Service (IaaS) Cloud Provider



HONG KONG, Oct 16, 2012 - (ACN Newswire) -

CITIC Telecom International CPC Limited (CITIC Telecom CPC), a wholly-owned subsidiary of CITIC Telecom International Holdings Limited (SEHK: 1883), was honored and recognized as a world-class Infrastructure-as-a-Service (IaaS) vendor in the global arena of Cloud Computing service provisioning through an international award for best practices. By receiving the "2012 Frost & Sullivan Asia Pacific Best Practices Awards - Greater China Emerging IaaS Vendor of the Year", CITIC Telecom CPC was well-acknowledged for its innovative use of latest technology and excellent quality in offering IaaS through its SmartCLOUD Compute solutions, as well as a testament on its service commitment.

World-class Recognition for Industry-leading Service
The "2012 Frost & Sullivan Greater China Emerging IaaS Vendor of the Year" award is conferred to the technology vendor in the Greater China market that has shown the best growth and performance in 2012. Frost & Sullivan analysts, together with an internal panel of judges evaluated the nominees based on their revenue size and growth; subscriber size and growth, comprehensiveness of services and presence as demonstrated by the number of data centers.

As the first IaaS Vendor in Greater China to receive the award, CITIC Telecom CPC has demonstrated its industry leadership by achieving record-breaking growth in the year leading up to July 2012, which is paralleled by the significant increase in the number of subscribed MPLS VPN (Multiprotocol Label Switching Virtual Private Network) network connectivity services, IDC racks as well as value-added managed services. The competitive edge of its SmartCLOUD cloud solution contributes remarkably to the company's success in driving cloud deployment across the region.

"Since the launch of their SmartCLOUD services in mid-2011, CITIC Telecom CPC has emerged as one of the fastest growing IaaS vendors in the Greater China region and has gradually consolidated its solid position in the cloud services arena. During this time, the company has witnessed rapid adoption," said Ms. Danni Xu, Research Analyst, ICT Practice, Frost & Sullivan Asia Pacific. "Within the first year of launch, CITIC Telecom CPC has deployed a total of six (6) Cloud Service Centers across Asia Pacific, five (5) of which are located at the Greater China region, and the first of CITIC Telecom CPC's ASEAN SmartCLOUD service centre has newly been launched in Singapore in mid-2012. This comprehensive cloud infrastructure strategy provides true disaster recovery services for regional-based enterprises across Asia Pacific, backed by its fully-meshed MPLS VPN and complemented by its Security Operation Centres (SOCs)."

"We are honored to receive this award from Frost & Sullivan, which recognizes CITIC Telecom CPC's substantial effort and investment in SmartCLOUD service, which today delivers a cloud service platform with outstanding performance and reliability," said Mr. Stephen Ho, CEO of CITIC Telecom CPC. "To us, it's just the beginning. We will stay swift in providing excellence service to our customers. With our strategic partnerships with industry-leading solutions providers, we will be extending our offering from Infrastructure-as-a-service (IaaS) to best-in-class cloud computing solutions, such as storage-as-a-service and VC-as-a-service, catered to the needs of businesses of varied sizes. This will be a key enabler for us to capture and lead the market with our award-winning innovation."

Full Spectrum of Cloud Services with ISO Certified Data Centers
Since its launch in July 2011, CITIC Telecom CPC's SmartCLOUD has delivered a full spectrum of secure and on-demand services that any enterprise can fully control on the client side. The wide range of solutions offered include SmartCLOUD Compute, SmartCLOUD Compute PA (Performance Agent), SmartCLOUD BRR (Backup, Replication and Recovery), SmartCLOUD M@il, SmartCLOUD VC (Video Conferencing), and the new SmartCLOUD TAB.

SmartCLOUD leverages CITIC Telecom CPC's self-owned and managed world-class carrier-grade data centers which are certified with ISO 9001, ISO 20000 and ISO 27001, and allows enterprises deploy secure and advanced cloud systems through a cost-efficient hybrid cloud model.

Quality Service Platform with Skilled Expertise
In addition, SmartCLOUD services are developed using best-in-class technologies with strategic partners in its infrastructure as well as service platform. CITIC Telecom CPC is VMware's first vCloud powered service provider in Greater China, and SmartCLOUD is backed by Dell's Cloud technologies and expertise. It also works with different industry-leading vendors such as EMC and Riverbed for strengthening the SmartCLOUD product suite.

CITIC Telecom CPC also understands the importance of skilled expertise. Its sales professionals are 100% VMware Sales Professional (VSP) certified and its cloud support team members have also attained the rank of VMware Technical Sales Professional (VTSP) and VMware Certified Professional (VCP). This is to ensure that every SmartCLOUD solution is tailored for the unique needs of specific businesses.

True Disaster Recovery with High Interoperability of Services
On top of its secure and quality performance, SmartCLOUD also delivers reliability, visibility and interoperability to relieve customers' burden. SmartCLOUD is supported 24x7 by Cloud-trained IT experts at six geographically diverse Cloud Service Centers across Asia-Pacific, covering Hong Kong (2 centers), Guangzhou, Shanghai, Taiwan and Singapore, to deliver effective redundancy for true disaster recovery capability. The SmartCLOUD Service Centers are fully complementing with CITIC Telecom CPC's three world-class Security Operations Centers (SOCs), protecting enterprises information assets with best-in-class security technologies.

SmartCLOUD services are 100% interoperable with CITIC Telecom CPC's connectivity, security and other managed services, providing customers with one-stop shop comprehensive services addressing their various needs.

Success is Based on Continuous Improvements and Effort
Going forward, as businesses continue to demand cloud efficiency, competitiveness and agility with the assurance of security and privacy, CITIC Telecom CPC will continue expanding its services by leaps and bounds. Currently, the company is forming more strategic partner alliances to strengthen the solution suite and sustaining its effort in the infrastructure-as-a-service area riding on its extensive points of presence in the Asia Pacific. It will also continue its effort in providing sophisticated managed security services backed by its TrustCSI Information Security Services suite.


About CITIC Telecom International Holdings Limited

CITIC Telecom International Holdings Limited was established in 1997 in Hong Kong, and it was listed on The Stock Exchange of Hong Kong Limited on 3 April 2007. The Group's services cover international telecommunications services (including mobile, Internet, voice, data services), integrated telecoms services (in Macau), and through its wholly-owned subsidiary, CITIC Telecom International CPC Limited ("CPC"), has established numerous PoPs around the world (especially in the Asia-Pacific region) to provide data and telecoms services (including VPN, Cloud, network security, co-location, Internet access, etc.) to multinational corporations. CPC is one of the most trusted partners of leading multinational and business enterprises in the Asia-Pacific region. The Group holds 99% equity interest in Companhia de Telecomunicacoes de Macau, S.A.R.L. ("CTM"). CTM is one of the leading integrated telecoms services providers in Macau, and is the only full telecoms services provider in Macau. It has long provided quality telecom services to the residents, government and enterprises of Macau, and plays an important role in the ongoing development of Macau. The Group also provides Internet access, Cloud ecosystem and network integration services in South East Asia through its wholly owned subsidiary Acclivis Technologies and Solutions Pte. Ltd. ("Acclivis"). It also owns a renowned Internet service provider, Pacific Internet, with presence in Singapore and Thailand. CITIC Group Corporation, one of the largest commercial organisations in the People's Republic of China, is the ultimate holding company of CITIC Telecom.

For more information, please visit: www.citictel.com

Contact:

Rowena Leung
CITIC Telecom International CPC Limited
(852) 2170 7536
Email: rowena.leung@citictel-cpc.com


Oct 16, 2012 10:30 HKT/SGT
Source: CITIC Telecom International Holdings Limited
Topic: Press release summary
Sectors: Media, Daily Finance, IT Individual, Daily News
http://www.acnnewswire.com
From the Asia Corporate News Network
Copyright © 2018 ACN Newswire. All rights reserved. A division of Asia Corporate News Network.
Multimedia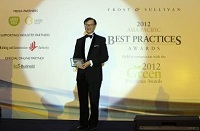 CITIC Telecom CPC Receives 2012 Frost & Sullivan Asia Best Practices Awards - Greater China Emerging IaaS Vendor of the Year
View Image
CITIC Telecom International Holdings Limited
Jan 17, 2018 20:00 HKT/SGT
Over 3,000 Participants Attend 11th Asian Financial Forum
Jan 15, 2018 21:00 HKT/SGT
Asian Financial Forum 2018 Opens in Hong Kong
Mar 20, 2017 20:38 HKT/SGT
CITIC Telecom Takes Results to New Heights in 2016
Dec 21, 2016 15:42 HKT/SGT
China Entercom and Dadi Cinema Group Inked a Strategic Cooperation Agreement
May 26, 2016 22:00 HKT/SGT
The HKIRA Announces Winners of the 2nd IR Awards 2016
Oct 26, 2015 20:38 HKT/SGT
CITIC Telecom International Holdings Limited Announces the Soft Launch of "CITIC DataMall" on October 27
Aug 18, 2015 18:00 HKT/SGT
CITIC Telecom Announces the Launch of the World's First International Mobile Data Trading Platform - "DataMall"
Aug 12, 2015 19:40 HKT/SGT
CITIC Telecom CPC First to Deploy Veeam Cloud Connect in Asia Pacific
June 26, 2014 19:12 HKT/SGT
CITIC Telecom's Subsidiary Signed a Cooperation Agreement with STNC
Mar 21, 2014 15:10 HKT/SGT
CITIC Telecom IDC in Ap Lei Chau Commences Operation
More news >>