JAKARTA, INDONESIA, July 19, 2013 - (ACN Newswire) -

As part of the implementation of Garuda Indonesia and Liverpool FC's Global Partnership, and in line with the airline's effort to continuously deliver added value on its services to loyal customers, today, Friday (19/7), PT Garuda Indonesia (Persero) Tbk and Liverpool FC launched the Garuda Frequent Flyer - Liverpool Football Club (GFF-LFC) Edition Card in Jakarta.

Garuda Indonesia President and Chief Executive Officer, Emirsyah Satar presented the "GFF-LFC Edition Card" to two Liverpool FC players, Steven Gerrard and Glen Johnson, to symbolically mark the card's launching, as Republic of Indonesia's Minister of State-Owned Enterprises Dahlan Iskan and Chief Commercial Officer Liverpool FC Billy Hogan looked on.

The "GFF-LFC Edition Card" is an exclusive specially designed card, which is dedicated to loyal customers of Garuda Indonesia and Liverpool FC fans. As well as the regular GFF card, the "GFF-LFC Edition Card" consists of four levels of membership, namely Blue, Silver, Gold, and Platinum. Compared to the regular GFF Card, the newly launched card has a number of distinct advantages, among them:

- An exclusive membership card design for old and new GFF members;
- Attractive offers for Liverpool FC merchandise, available at the Garuda Indonesia & Liverpool FC Experience counter at Senayan City, Jakarta;
- Special offers for trips to Anfield;
- An opportunity to watch an Barclays Premier League Liverpool FC game at Anfield;
- The chance to receive autographed merchandise by an Liverpool FC player.

Garuda Indonesia's customers, both existing and new GFF members, who wish to have this limited edition card will be able to apply for the card on the website gff.garuda-indonesia.com or at Garuda Indonesia sales offices, free of charge, during this period: 19 July 2013 - 31 December 2013.

President and CEO of Garuda Indonesia Emirsyah Satar said that the launching of the "GFF - LFC Edition Card" is important to both companies as it will surely be beneficial and provide added value to Liverpool FC and Garuda Indonesia's loyal customers as well. "To broaden our market on a global level, especially in this competitive era, it is important for global companies or brands to work together and develop mutually beneficial partnerships," he added.

On the other hand, Liverpool FC has over 65 million followers in Indonesia and the card's launching is one of the efforts carried out by Garuda Indonesia to improve service towards its customers who are also Liverpool fans.

Meanwhile, Billy Hogan, Chief Commercial Officer at Liverpool FC said "We are delighted to be visiting Indonesia for the first time as part of the Club's 2013 pre-season tour. Our fans gave us the most amazing welcome when we landed and we are thrilled to be partners with Garuda who have helped bring the Club closer to our Indonesian LFC family through various activity. The launch of the GFF - LFC card is another step in connecting with fans to the club through our official airline partner Garuda. Together with our fans and partners we are the world's greatest football family," he said.

The "GFF - LFC Edition Card" launch is part of the agreement signed in July 2012 between Garuda Indonesia and Liverpool FC, whereby Garuda Indonesia has taken up the role as the club's "Official Global Airline Partner".

During their "Pre-Season Tour 2013", Liverpool will fly onboard the special Airbus 330-300 wide body aircraft, which has a seat capacity of 257 passengers, consisting of 42 seats in the executive class and 215 in the economy class. The aircraft also sports a customized logo of Liverpool FC, the famous Liverbird displayed on the the airplane's tail and the slogan "You'll Never Walk Alone", which is synonymous with the team.

The A330-300 airplane has carried Liverpool FC's team manager Brendan Rodgers and the club's first team squad, including the likes of their captain Steven Gerrard and new signing Luis Alberto from Liverpool to Jakarta (stopping over in Abu Dhabi), and will continue to transport them onwards to Melbourne (Australia) and Bangkok (Thailand) as part of the "Liverpool FC Pre-Season Tour 2013".

During the "Liverpool FC Pre-Season Tour 2013", Liverpool FC will play a pre-season game against Indonesia's national team on Saturday, 20 July 2013 at the Gelora Bung Karno (GBK) Stadium, Jakarta.

Garuda Indonesia's partnership with Liverpool FC is also part of the airline's strategy to increase its "brand awareness" in the international market through "marketing communications" program, specifically a "co-brand" program and joint "channel" between Garuda Indonesia and Liverpool FC.

As part of the agreement with Liverpool FC, Garuda Indonesia has the opportunity to carry out various marketing campaigns in conjunction with the team. This includes Garuda advertisements on electronic advertising hoardings around the edge of the Anfield pitch during home games, which are broadcasted by top TV networks to international viewers all over the world.

In addition, Garuda Indonesia has also been given access to reach over 12 million fans through Liverpool's official Facebook account and 1.7 million of Liverpool's Twitter "followers". On the other hand, the partnership between Garuda Indonesia and Liverpool FC is in line with the airline's transformation and expansion program through "Quantum Leap 2011-2015" and its strategy to become a "Global Player".

In February 2013, Garuda Indonesia and Liverpool FC officially opened the "Garuda Indonesia and Liverpool FC Experience", the only co-branding area with Liverpool in the world. Besides offering official Liverpool merchandise, the "Garuda Indonesia and Liverpool FC Experience" area invites Garuda Indonesia customers to experience the unique sensation of being at Liverpool's Anfield Stadium. A photo booth complete with a "make up kit" and "face painting" tools is also available so that customers appear as if they are posing with Liverpool players and lovely Garuda attendants as die-hard Liverpool fans.


About Garuda Indonesia Group

Presenting a new level of service excellence in air travel, Garuda Indonesia, the national airline of Indonesia, seamlessly connects 83 destinations worldwide, including exotic locations across the beautiful archipelago of Indonesia. With more than 600 daily flights and a fleet of 196 aircrafts by January 2017, Garuda Indonesia proudly serves its passengers with the award-winning distinct service "Garuda Indonesia Experience", highlighting Indonesia's warm hospitality and rich diverse culture.

To provide better and more convenient services, Garuda Indonesia continuously strives through its ongoing transformation program. The progress of the transformation can be seen from the achievement of a Skytrax's 5-star Airline rating as well as the winning of the prestigious "The World's Best Cabin Crew" for four consecutive years in 2014 to 2017 and "The World's Most Loved Airline 2016", also from Skytrax. Please visit www.garuda-indonesia.com.

Contact:
Pujobroto
VP Corporate Communications
PT GARUDA INDONESIA (PERSERO) Tbk


[email protected]



July 19, 2013 17:30 HKT/SGT
Source: Garuda Indonesia Group
Topic: Sponsorship of Event
Sectors: Airlines, Travel & Tourism
http://www.acnnewswire.com
From the Asia Corporate News Network
Copyright © 2019 ACN Newswire. All rights reserved. A division of Asia Corporate News Network.
Multimedia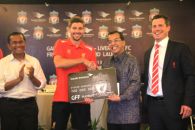 Garuda Indonesia and Liverpool FC Launch 'Garuda Frequent Flyer - Liverpool Football Club Edition Card'
View Image
Garuda Indonesia Group
Mar 28, 2019 18:41 HKT/SGT
Garuda Indonesia Enhances The Cooperation with Mitsubishi Motors
Feb 8, 2018 20:00 HKT/SGT
Garuda Indonesia maintains its 5-Star Airline Ranking by Skytrax
June 22, 2017 10:00 HKT/SGT
Garuda Indonesia awarded 'World's Best Cabin Crew' for Fourth Consecutive Year
May 2, 2017 04:35 HKT/SGT
International Flight Services Launched in Terminal 3, Soekarno Hatta
Mar 22, 2017 18:00 HKT/SGT
Garuda Indonesia Group books Net Income of US$9.35 million for 2016, Maintaining Positive Performance
Mar 7, 2017 17:00 HKT/SGT
Garuda Indonesia Increases Seasonal Flight Frequency to Australia
Feb 15, 2017 10:00 HKT/SGT
Garuda Indonesia to launch direct flight Jakarta - Moscow in August 2017
Dec 7, 2016 10:30 HKT/SGT
Garuda Indonesia to Start New Service to Mumbai on December 12
Nov 10, 2016 23:40 HKT/SGT
British Embassy Jakarta and Garuda Indonesia Launch Partnership on Tourism and Education
Nov 3, 2016 01:00 HKT/SGT
Garuda Indonesia Books USD19.6 Mil Net Income in Q3 2016
More news >>