HONG KONG, Oct 21, 2013 - (ACN Newswire) -


Sigma Investments Limited (Sigma, www.sigmaltd.org) based in Amman, Jordan and the sole agent of INGOT Brokers in the Middle East, today announced that it has become a member of Global Alliance Partners (GAP, http://www.globalalliancepartners.com/gapartner/index.action), an international network of investment banks, fund management firms and broking companies working across the capital midmarket in five continents.

INGOT provides financial services to investors in the region interested in the international financial markets and encompasses a wide range of clients from all over the world ranging from sophisticated money managers to individual investors trading mini accounts.

Sigma's CEO, Ms. Iman Mutlaq said, "We are delighted to announce our partnership with GAP, which will give our company the boost to deal with diverse expertise on large transactions and varied product ranges that have substantial international coverage."

"Together we will contribute in developing investments and resources for today's commerce", she added.

Mr. Mark Tunmer, Group CEO of Africa's Imara and current Chairman of GAP, is delighted to welcome the first female entrepreneurial partner in the Alliance. "While it may seem that the Middle East is taking its time away from the spotlight, the offshore boom in emerging and frontier markets particularly in Asia and Africa where investments could be sourced through GAP, extends our business opportunities beyond UAE through Sigma," he said.

Sigma Investments will be formally welcomed into GAP on 2 December 2013 when all Heads of Partner Firms meet in Dubai for its Year-end Principals Meeting.

About Global Alliance Partners
http://www.globalalliancepartners.com

Global Alliance Partners (GAP) is a Hong Kong registered network of international, mid-market financial services companies dedicated to providing its client base with local service and expertise coupled with international reach and access in private equity, corporate fund raising, stock broking and fund management. All partners are fully licensed and together have completed over 1,100 corporate transactions in 57 countries valued close to US$32 billion. GAP manages or advises in excess of US$6.5 billion in individual and institutional funds. Global Alliance Partner's key role is to bridge the gap between investment opportunities in leading, emerging, and frontier markets, and key sources of investment risk capital.

About Sigma Investments Limited
http://www.sigmaltd.org

Sigma Investments is a leading multinational company based in Amman, Jordan that offers diversified investment opportunities. It provides clients with advisory services that allow them to achieve optimum profitability within their desired risk tolerance and to realize their investment growth potential. Sigma's consultancy and advisory services are an integral component in its commitment to establishing and maintaining solid and long lasting relationships with its clients.

Disclaimer Statement:
This press release does not constitute an offer to sell, or the solicitation of an offer to buy, any securities, nor shall there be any sale of the securities in any jurisdiction in which such offering would be unlawful.

Contact:
Ms. Coy Roldan
Director of Group Marketing and Communications
Global Alliance Partners
18-19 Floors, AON China Building
# 29 Queen's Road Central, HKSAR
Tel: +852 2217 2891
Mobile: +852 9707 9889
Email:

[email protected]



Mr. Mark Tunmer
Chairman of Global Alliance Partners
and Group CEO of Imara Holdings
Unit 3, Block-A, Plot117
Millennium Office Park, Kgale Hill
Gaborone, Botswana
Tel: +27 11 550 6101
Fax: +27 11 550 6110
Email:

[email protected]



Ms. Iman Mutlaq
Chief Executive Officer
Sigma Investments Limited
3/F Hawaa building, Office #31
#14 Swaifyeh-Al Yanabee Street
Amman, Jordan
Tel: +962 6 588 5260
Fax: +962 6 588 5261
Email:

[email protected]





Oct 21, 2013 09:24 HKT/SGT
Topic: Press release summary
Sectors: Daily Finance, Daily News
http://www.acnnewswire.com
From the Asia Corporate News Network



Copyright © 2019 ACN Newswire. All rights reserved. A division of Asia Corporate News Network.



Multimedia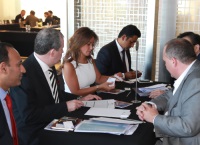 Jordan-based Sigma Investments Joins Global Alliance Partners
View Image
Global Alliance Partners
May 22, 2019 09:40 HKT/SGT
Global Alliance Partners welcomes new Partner in Korea - KTB Financial Group
May 14, 2019 13:41 HKT/SGT
Vietnam-based Ho Chi Minh Securities Corporation joins Global Alliance Partners
May 9, 2019 10:43 HKT/SGT
Global Alliance Partners (GAP) grows wealth beyond Barcelona to Bangkok
Nov 22, 2016 16:52 HKT/SGT
Finance Vice Minister Kiatchai Sophastienphong Suggests CLMVT Clearing House and ADR at Global Alliance Partners Investment Conference
June 8, 2016 08:00 HKT/SGT
Philippine Based Brokerage Firm AP Securities Joins Global Alliance Partners
Nov 6, 2015 08:32 HKT/SGT
Global Alliance Partners (GAP) Returns to the UK as Killik & Co Host 15th Bi-annual Conference
July 8, 2014 08:49 HKT/SGT
Abu Dhabi Based The National Investor Joins Global Alliance Partners
May 5, 2014 09:13 HKT/SGT
EACP Hosts Global Alliance Partners Investment Conference May 6-7
Sept 9, 2013 12:30 HKT/SGT
EACP in Indonesia Becomes Member of Global Alliance Partners
June 4, 2013 10:20 HKT/SGT
Chinese Enterprises and Companies Gather at Global Alliance Partners Conference co-hosted by CCPIT with Quam
More news >>