HONG KONG, Mar 21, 2014 - (ACN Newswire) -

CITIC Telecom International Holdings Limited (CITIC Telecom), a leading telecommunications service provider in Asia Pacific, today announced that its state-of-the-art Internet Data Center (IDC) in Ap Lei Chau, Hong Kong, officially commences operations. Huawei, a leading global information and communications technology (ICT) solutions provider, is the main contractor of CITIC Telecom's new IDC. The IDC strengthens CITIC Telecom's position in the data center market in Hong Kong, enhances the available ICT infrastructure on Hong Kong Island, thus providing high quality data center services for customers in the area.

The IDC in Ap Lei Chau has approximately 40,000 square feet of gross floor area ("GFA"), providing approximately 700 rack spaces. The Ap Lei Chau Data Centre is built with high level of standard fulfilling TIA Tier III+ specification to meet stringent customer requirements with internationally certified reliability and security. In addition to data center services, customers can also utilise other value-added services provided by the Group, including highly efficient connectivity, mobile services and cloud computing services. The Group's strategy of solid business partnerships is one of the key elements in extending the reach of its "quality service". CITIC Telecom is committed to providing ideal data center solutions in collaboration with leading global information and communications technology (ICT) solutions providers in order for customers to access data quickly, conveniently and efficiently.

Mr. Xin Yue Jiang, Chairman of CITIC Telecom said, "We are very pleased to announce the completion of our data center in Ap Lei Chau, representing a milestone in the data center business development of CITIC Telecom. The Ap Lei Chau data center will complement the CITIC Telecom Tower located in Kwai Chung, further enriching the Group's portfolio of data center products, and boosting the Group's competitiveness in the data center market in Hong Kong. The Group is also glad to form partnership with leading global ICT solutions provider, Huawei, and completed the construction project on time with high quality. The Group will continue its strategic initiatives in striving to develop new data centers in China as well as Hong Kong and Macau to capture market opportunities. The data centers will forge an industry chain and create synergies with the Group's existing hubbing, cloud computing and data service businesses. The extended chain would enable the Group to offer one-stop services to customers, advancing the Group's competitive advantages in the data center market."

"Huawei is glad that the internet data center was successfully completed for CITIC Telecom that strengthens our close strategic partnership. CITIC IDC project in Ap Lei Chau for Huawei not only steps a significant move into competitive Hong Kong IDC center market, gives an opportunity to expand our reach in the global IDC development field, and also draws on our expertise in the industry to deliver a world-class facility." said Mr.Zhang Zhenjun, General Manager, Huawei Hong Kong Representative Office.

CITIC Telecom's new IDC is designed based upon TIA-942 and Uptime Institute Tier III+ standards. The IDC deploys high-availability architecture in its core systems and uses two-way AC (Alternating Current) as the main power supply, ensuring a high level of usability for data operation. For energy saving purpose, the IDC incorporates airflow separation, and employs energy-efficient air-conditioning, power distribution equipment and lighting systems, which reduces the IDC's PUE (Power Usage Effectiveness) value in operation. The IDC also adopts a foundational infrastructure management system with high-level of automation and intellectualization that achieves industry-leading standards.

Huawei is an APAC founding member of the Uptime Institute, the global data center authority, with Uptime Institute certified ATD, ATS and construction professionals. The company provides planning, design, implementation and maintenance services for over 300 data centers for global clients. Through close cooperation with local consultancies, Huawei combined significant industry experience and expertise in IDC project-management in Hong Kong, along with best practices from hundreds of global projects, to ensure the CITIC Telecom's IDC in Ap Lei Chau offers world-class quality and was completed on time.


About CITIC Telecom International Holdings Limited

CITIC Telecom International Holdings Limited was established in 1997 in Hong Kong, and it was listed on The Stock Exchange of Hong Kong Limited on 3 April 2007. The Group's services cover international telecommunications services (including mobile, Internet, voice, data services), integrated telecoms services (in Macau), and through its wholly-owned subsidiary, CITIC Telecom International CPC Limited ("CPC"), has established numerous PoPs around the world (especially in the Asia-Pacific region) to provide data and telecoms services (including VPN, Cloud, network security, co-location, Internet access, etc.) to multinational corporations. CPC is one of the most trusted partners of leading multinational and business enterprises in the Asia-Pacific region. The Group holds 99% equity interest in Companhia de Telecomunicacoes de Macau, S.A.R.L. ("CTM"). CTM is one of the leading integrated telecoms services providers in Macau, and is the only full telecoms services provider in Macau. It has long provided quality telecom services to the residents, government and enterprises of Macau, and plays an important role in the ongoing development of Macau. The Group also provides Internet access, Cloud ecosystem and network integration services in South East Asia through its wholly owned subsidiary Acclivis Technologies and Solutions Pte. Ltd. ("Acclivis"). It also owns a renowned Internet service provider, Pacific Internet, with presence in Singapore and Thailand. CITIC Group Corporation, one of the largest commercial organisations in the People's Republic of China, is the ultimate holding company of CITIC Telecom.

For more information, please visit: www.citictel.com

Contact:

CITIC Telecom
Strategic Financial Relations Limited
Keris Leung  Tel: +852 2864 4863  Email: keris.leung@sprg.com.hk
Lisa Dai     Tel: +852 2864 4870  Email: lisa.dai@sprg.com.hk 
Huawei
Fiona Cheuk  Tel: +852 2125 3509  Email: fiona.cheuk@huawei.com


Mar 21, 2014 15:10 HKT/SGT
Source: CITIC Telecom International Holdings Limited
Topic: Press release summary
Sectors: Media, Daily Finance, IT Individual, Daily News
http://www.acnnewswire.com
From the Asia Corporate News Network
Copyright © 2018 ACN Newswire. All rights reserved. A division of Asia Corporate News Network.
Multimedia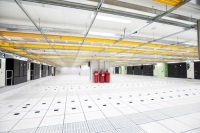 CITIC Telecom IDC in Ap Lei Chau Commences Operation
View Image
CITIC Telecom International Holdings Limited
Jan 17, 2018 20:00 HKT/SGT
Over 3,000 Participants Attend 11th Asian Financial Forum
Jan 15, 2018 21:00 HKT/SGT
Asian Financial Forum 2018 Opens in Hong Kong
Mar 20, 2017 20:38 HKT/SGT
CITIC Telecom Takes Results to New Heights in 2016
Dec 21, 2016 15:42 HKT/SGT
China Entercom and Dadi Cinema Group Inked a Strategic Cooperation Agreement
May 26, 2016 22:00 HKT/SGT
The HKIRA Announces Winners of the 2nd IR Awards 2016
Oct 26, 2015 20:38 HKT/SGT
CITIC Telecom International Holdings Limited Announces the Soft Launch of "CITIC DataMall" on October 27
Aug 18, 2015 18:00 HKT/SGT
CITIC Telecom Announces the Launch of the World's First International Mobile Data Trading Platform - "DataMall"
Aug 12, 2015 19:40 HKT/SGT
CITIC Telecom CPC First to Deploy Veeam Cloud Connect in Asia Pacific
June 26, 2014 19:12 HKT/SGT
CITIC Telecom's Subsidiary Signed a Cooperation Agreement with STNC
Jan 17, 2013 21:00 HKT/SGT
CITIC Telecom CPC Entering into Partnership with Palo Alto Networks
More news >>