JAKARTA, May 29, 2014 - (ACN Newswire) -

Liverpool Football Club and award-winning airline Garuda Indonesia today revealed the Red's training kit for next season during an event in the heart of Jakarta, Indonesia.

LFC legends Dietmar Hamann, Phil Thompson and Luis Garcia took the Club's UEFA Champions League trophy to Central Park mall to celebrate the launch of Liverpool's return to Champions League as well as the launch of Garuda Indonesia's very-first direct flight into Europe.

The three European Cup winning players then unveiled the 2014/15 training kit, which will be worn by manager Brendan Rodgers and his squad, including Steven Gerrard, Luis Suarez and Daniel Sturridge.

"Liverpool FC has been without Champions League football for five seasons until now. This is a very special moment for the Club and fans. What makes today extra special is that Garuda are launching their first direct flight to Europe so myself and the other former players will be taking the European Cup on that special flight," commented Dietmar Hamann, who played a key role in the famous UEFA Champions League final in 2005.

The national airline of Indonesia became the Club's Official Airline Partner in 2012. Following the success of Liverpool FC's 2013 preseason tour to Asia and Australia, Garuda Indonesia decided to take their partnership with the Club to the next level by becoming their training kit partner.

"We are proud, finally Garuda Indonesia and Liverpool FC has been able to increase the cooperation that previously has been running for 2 years, became 'The Official Performance Partner of Liverpool FC' which will be active on June 1, 2014, which is Garuda Indonesia in cooperation becomes 'The Training Kit Official Sponsor of Liverpool FC' for the Premier League season 2014/2015.

"With this partnership with Liverpool FC, we are confident Garuda Indonesia will be increasingly recognised by Liverpool fans worldwide," said Emirsyah Satar, President & CEO, Garuda Indonesia.

The Reds enjoy a massive fan base in Asia and especially in Indonesia where the Club has the biggest following of any local-language LFC Twitter account with over 100,000 followers along with the second biggest following on the Club's Facebook page (2 million).

The official Indonesian local-language website also helps to bring the Club closer to fans no matter how far away from Anfield they live.

About Liverpool Football Club

Founded in 1892, Liverpool FC is one of the world's most historic and famous football clubs having won 18 League Titles, seven FA Cups, eight League Cups, five European Cups, three UEFA Cups, three European Super Cups and 15 Charity Shields.

As a socially responsible business, Liverpool FC is proud of its heritage and plays a proactive role in its communities through its official charity, Liverpool FC Foundation. By delivering a range of award-winning programmes, the Foundation motivates and inspires children and adults, both at home and overseas, using football and the power of the Liverpool FC badge. Its contribution has been recognised by the award of a Community Mark from Business In The Community.

LFC Indonesian social media links:

- Indonesian Facebook page: https://www.facebook.com/IndonesiaLFC
- Indonesian Twitter account: @OfficialLFC_ID Official LFC
- Website: Indonesia.liverpoolfc.com.


About Garuda Indonesia Group

Presenting a new level of service excellence in air travel, Garuda Indonesia, the national airline of Indonesia, seamlessly connects 83 destinations worldwide, including exotic locations across the beautiful archipelago of Indonesia. With more than 600 daily flights and a fleet of 196 aircrafts by January 2017, Garuda Indonesia proudly serves its passengers with the award-winning distinct service "Garuda Indonesia Experience", highlighting Indonesia's warm hospitality and rich diverse culture.

To provide better and more convenient services, Garuda Indonesia continuously strives through its ongoing transformation program. The progress of the transformation can be seen from the achievement of a Skytrax's 5-star Airline rating as well as the winning of the prestigious "The World's Best Cabin Crew" for four consecutive years in 2014 to 2017 and "The World's Most Loved Airline 2016", also from Skytrax. Please visit www.garuda-indonesia.com.

Contact:
Liverpool FC - PR Office
Tel: +44 151 432 5686
Email: 

[email protected]

 

Garuda Indonesia - Corporate Communications
Phone: +62 21 2560 1069
Email: 

[email protected]


Twitter: @IndonesiaGaruda

May 29, 2014 20:30 HKT/SGT
Source: Garuda Indonesia Group
Topic: Sponsorship of Event
Sectors: Airlines, Travel & Tourism
http://www.acnnewswire.com
From the Asia Corporate News Network
Copyright © 2019 ACN Newswire. All rights reserved. A division of Asia Corporate News Network.
Multimedia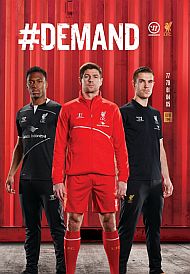 Liverpool reveal new Garuda training kit
View Image
Garuda Indonesia Group
Mar 28, 2019 18:41 HKT/SGT
Garuda Indonesia Enhances The Cooperation with Mitsubishi Motors
Feb 8, 2018 20:00 HKT/SGT
Garuda Indonesia maintains its 5-Star Airline Ranking by Skytrax
June 22, 2017 10:00 HKT/SGT
Garuda Indonesia awarded 'World's Best Cabin Crew' for Fourth Consecutive Year
May 2, 2017 04:35 HKT/SGT
International Flight Services Launched in Terminal 3, Soekarno Hatta
Mar 22, 2017 18:00 HKT/SGT
Garuda Indonesia Group books Net Income of US$9.35 million for 2016, Maintaining Positive Performance
Mar 7, 2017 17:00 HKT/SGT
Garuda Indonesia Increases Seasonal Flight Frequency to Australia
Feb 15, 2017 10:00 HKT/SGT
Garuda Indonesia to launch direct flight Jakarta - Moscow in August 2017
Dec 7, 2016 10:30 HKT/SGT
Garuda Indonesia to Start New Service to Mumbai on December 12
Nov 10, 2016 23:40 HKT/SGT
British Embassy Jakarta and Garuda Indonesia Launch Partnership on Tourism and Education
Nov 3, 2016 01:00 HKT/SGT
Garuda Indonesia Books USD19.6 Mil Net Income in Q3 2016
More news >>