Alcatel-Lucent Enterprise enters working relationship with Newgen in the ambitious Gujarat International Finance Tec-City (GIFT) project in India



SINGAPORE, Jan 9, 2015 - (ACN Newswire) -

Alcatel-Lucent Enterprise today announced it has been selected as the communications and networking solutions provider, contributing to building the world's best smart city through the GIFT project with Newgen, the lead member of GIFT ICT Concessionarie. GIFT, a joint venture between the Government of Gujarat (GOG) and the Gujarat Urban Development Company Limited (GUDCOL), is aimed at developing India's capabilities as an established and high-tech financial hub.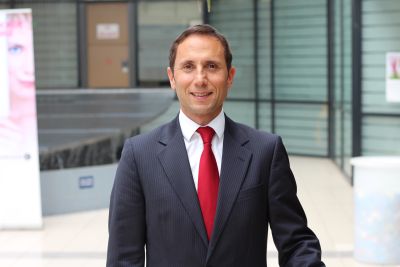 Alcatel-Lucent Enterprise to Play Instrumental Role in Creating the World's Best Smart City and Global Financial Hub



GIFT will serve as a model for the world's best smart cities in terms of quality of life, infrastructure and ambience, and is the first of its kind in India. Conceptualised as a global financial and IT services hub, GIFT is designed to supersede globally benchmarked financial centers such as Shinjuku, Tokyo; Lujiazui, Shanghai; La Defense, Paris; and the London Dockyards. Spanning 3.58 sq. kilometers, the smart city will contain commercial, residential and social areas, consisting of global trade and financial centres, exhibition complexes, city services establishments, and residential structures.

Future occupants of the city may look forward to unparalleled quality of life whether at the workplace or at home, through a fully connected city that offers futuristic services. Some of these services include intelligent parking, bus services, sustainable and connected buildings, city-wide connectivity and a seamless environment for day-to-day activities, among many others, all of which will be managed from a central command centre.

The Alcatel-Lucent Enterprise Solutions will improve the everyday efficiency of each person in the Smart City by delivering a personalized connected experience, enabled by best-in-class enterprise telephony and unified communications applications running over an intelligent enterprise network infrastructure.

The global solution from Alcatel-Lucent Enterprise helps turn communications from being just another utility service to becoming a strategic asset, helping organizations optimize their business performance and provide an enhanced user experience. It's comprised of:

- Unified Communications (UC) and IP Telephony
- Local Area Network (LAN) and Wide Area Network (WAN)
- Wi-Fi Solution
- Gigabit Passive Optical Network (GPON)
- OpenTouch Customer Service (OTCS)
- Synchronous Digital Hierarchy (SDH)

Quotes

Sanjay Sapru, Regional Director, South Asia, Alcatel-Lucent Enterprise:
"The GIFT project marks another milestone in our journey as a future-ready communications and networking solutions provider. We are excited to witness the role our advanced communication solutions will play in the worlds best smart city, and we look forward to working alongside Newgen in transforming this vision into a reality."

Anurag Khurana, CEO and Managing Director, Newgen Holdings Private Limited:
"We are happy to have selected Alcatel-Lucent Enterprise as communications and networking solutions provider for GIFT, the torch bearer of Smart Cities in India. We are committed to provide quality of life, connected world and vibrancy to the enterprises, employees and residents at GIFT."

About Alcatel-Lucent Enterprise

Alcatel-Lucent Enterprise, with headquarters in France near Paris and 2700 employees worldwide, is a leader in communications, networking and cloud solutions for businesses of all sizes, serving more than 500,000 customers across the globe. Our cost-effective solutions help organizations embrace new uses and models by enabling multimedia conversations across any device, supported by an Application Fluent Network, from the office to the cloud.

Alcatel-Lucent Enterprise, with a history of proven technology and experience, leverages a global team of technology experts, service professionals, and partner ecosystem to meet the unique needs of small businesses to international companies with tailored offers that address the requirements of various market segments and industries. For more details, please visit alcatel-lucent.com.

Alcatel-Lucent Enterprise Press Contact:
Tracy Dupree


[email protected]


T: +1 818 878 4408

New Gen Group Press Contact:
Ajay Agrawal


[email protected]


T: +91 9810744225

Ogilvy PR Press Contact:
Chua Wei Wei


[email protected]


T: +65 9833 2654

About Newgen Group

Newgen Group was established in 2007 by pioneers in Information and Communications Technology. Newgen is managed by thought leaders with proven track record in Communications Technologies, IT and Finance. Newgen manages ITeS businesses; operating ICT companies for Smart Cities and developing business opportunities for sustainable habitats. Newgen Holdings, the parent company of Newgen Group, is leading the consortium appointed as Concessionarie for Establishment, Management & Operations of ICT Infrastructure, Services and Platforms within Gujarat International Finance Tec-City (GIFT). For more details visit: www.newgengrp.com.



Jan 9, 2015 11:00 HKT/SGT
Source: Alcatel-Lucent Enterprise
Topic: Research / Industry Report
Sectors: Media & Marketing, Electronics, Enterprise IT
http://www.acnnewswire.com
From the Asia Corporate News Network



Copyright © 2020 ACN Newswire. All rights reserved. A division of Asia Corporate News Network.



Alcatel-Lucent Enterprise
Feb 14, 2018 12:30 HKT/SGT
Alcatel-Lucent Enterprise celebrates the value of its partners at its annual APAC Partner Event
Jan 9, 2018 11:00 HKT/SGT
PayTren to Implement Alcatel-Lucent Rainbow Platform
Oct 11, 2017 11:00 HKT/SGT
ALE introduces Business Partner Onboarding Program for Rainbow Cloud Collaboration Service to address digital workplace transformation
Sept 20, 2017 09:00 HKT/SGT
Alcatel-Lucent Enterprise expands mobile campus solution to deliver high-performance WiFi and LAN access
July 20, 2017 08:00 HKT/SGT
ALE and PGi deliver audio conferencing to maximize the UC&C experience
Mar 23, 2017 09:00 HKT/SGT
New Alcatel-Lucent Enterprise Phones Redefine User Experience for Business Communications
July 28, 2016 09:00 HKT/SGT
Alcatel-Lucent Enterprise New Business Models Offer Advanced Networking and UC&C Services
June 28, 2016 09:00 HKT/SGT
Latest Alcatel-Lucent Enterprise SMB Communication Solutions Deliver Improved User Experience, Mobility and Business Continuity
May 4, 2016 10:00 HKT/SGT
New Alcatel-Lucent Enterprise Technologies Create Network Ideal for Adopting Mobility and Internet of Things
Apr 4, 2016 10:00 HKT/SGT
Starview International Signs up as Value Added Distributor for Alcatel-Lucent Enterprise Solutions in Singapore
More news >>