Doubles Production Capacity with Completion Expected in Fourth Quarter 2015




HONG KONG, Jan 28, 2015 - (ACN Newswire) -

China Wood Optimization (Holding) Limited ("China Wood Optimization" or the "Group;" stock code: 8099), an advanced new technology group engaged in the processing, manufacturing and sales of wood products, has signed an agreement with the administration committee of Huai'an Industrial Zone in Huai'an City, Jiangsu Province in late December 2014 for an investment to build a new production plant in the Huai'an Industrial Zone.

Ms. Yim Tsun, Chairlady of China Wood Optimization, and Mr. Zhong Fengbi, Secretary of the Working Committee of the Party of Huai'an Industrial Zone signed the agreement on that day. Leading officials of all related government departments as well as the key members of the Group were present to witness this strategically significant moment.

Occupying an area of approximately 227 mu, the new production plant of China Wood Optimization is to be mainly used to produce processed wood products. Investment of the first phase amounts to US$35 million. The plant is scheduled to be completed and commence production in the fourth quarter of 2015 and is expected to double the Group's current production capacity.

The Group's existing production plant in Handan City, Hebei Province will still continue its current production. Given the geographical advantages of its new production plant in Huai'an, China Wood Optimization will develop the materials for products made from newly imported tree spieces in a bid to expand into the international markets and boost the Group's competitiveness. The new production plant in Huai'an will emphasize energy conservation and more efficient production. To reduce energy consumption and emission during the production process, the Group will adopt solar power technology as well as heat exchange technology, and will also deploy environmentally-friendly electric forklift trucks. Moreover, the Huai'an production plant will emphasize high efficiency in the design of production processes and use the latest technology to replace some labour-intensive processes so as to reduce labour costs.

Ms. Yim Tsun, Chairlady of China Wood Optimization, said, "The Group has selected Huai'an, Jiangsu as the location of our new production plant after detailed analysis and careful consideration. Jiangsu Province has experienced rapid economic growth and enjoys convenient transportation access and an advantageous natural environment. Standing in the core area north of the Yangtze River in Jiangsu, Huai'an City is conveniently accessible with abundant forest resources, thereby making it one of the top industrialised cities regarding forestry in the country. Apart from adding momentum to the economic growth of Huai'an, the new production plant will help to reduce the logistics costs of our customers in Eastern China and will facilitate the Group's market expansion across the whole country."

Huai'an City in Jiangsu Province is located in the coastal economic zone of Eastern China. It spans The Grand Canal and the ancient Huai River, connecting the southern and northern of China and serving as a regional transportation hub. The city is easily accessible through domestic roads, railways and water transportation routes. Five expressways have been built or are to be completed including the Beijing-Shanghai Expressway, Ning-Su-Xu Expressway, Huaiyan Expressway, Suhuai Expressway and Ninghuai Expressway. Besides, the campus zone built by China's Nanjing Forestry University in Huai'an City together with the establishment of offices by numerous internationally-renowned enterprises have attracted talents and thus have enhanced the Group's overall human resources pool.


About China Wood Optimization (Holding) Limited

The Group is principally engaged in the processing, manufacturing and sales of processed wood products, by employing its self-developed wood processing procedure. The Group's processed wood products are broadly divided into two categories, namely processed wood panels and processed finger joint wood panels. The Group's wood processing procedure can improve the hardness, shrinkage and swelling rate, density, deformation resistance, cracking resistance, anti-corrosiveness, bending strength and elasticity of poplar wood. Its processed wood products can be used as substitutes of natural solid woods. The Group's products are widely used to make furniture and indoor furnishing materials. Customers of the Group mainly include manufacturers of floor planks, sound box, furniture, doors and window frames and wholesalers of wooden panels.

Contact:
Strategic Financial Relations Limited
Veron Ng        +852 2864 4831  

[email protected]


Angelus Lau     +852 2864 4805  

[email protected]


Janet Fong      +852 2864 4817  

[email protected]


Fax: +852 2527 1196

Jan 28, 2015 19:15 HKT/SGT
Source: China Wood Optimization (Holding) Limited
Topic: Press release summary
Sectors: Daily Finance, Daily News
http://www.acnnewswire.com
From the Asia Corporate News Network
Copyright © 2019 ACN Newswire. All rights reserved. A division of Asia Corporate News Network.
Multimedia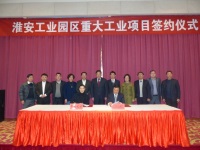 China Wood Optimization Builds New Production Plant in Huai'an, Jiangsu
View Image
China Wood Optimization (Holding) Limited
Aug 28, 2018 20:12 HKT/SGT
China Wood Optimization Announces 2018 Interim Results
Feb 6, 2018 19:13 HKT/SGT
China Wood Optimization Accredited as a High and New Technology Enterprise
Jan 10, 2018 22:04 HKT/SGT
China Wood Optimization Awarded National Science and Technology Progress Award
Mar 11, 2016 11:16 HKT/SGT
China Wood Optimization Announces 2015 Annual Results; Revenue and Net Profit Both Increase Nearly 20%
Dec 22, 2015 16:31 HKT/SGT
China Wood Optimization Attends the 21st United Nations Climate Change Conference
May 11, 2015 23:00 HKT/SGT
China Wood Optimization Announces 2015 First Quarterly Results
Mar 13, 2015 22:20 HKT/SGT
China Wood Optimization's 2014 Net Profit Up 20% to a New Record at RMB63.7 million
Nov 27, 2014 16:00 HKT/SGT
China Wood Optimization Designated as "Vice President Unit" by China Wood Protection Industry Association
Nov 12, 2014 19:25 HKT/SGT
China Wood Optimization Announces 2014 Third Quarterly Results
Aug 13, 2014 23:00 HKT/SGT
China Wood Optimization Announces FY2014 Interim Results
More news >>