OpenTouch integration with New Smart DeskPhone helps boost video adoption in enterprises



Asia Pacific, Mar 17, 2015 - (ACN Newswire) -

Alcatel-Lucent Enterprise today introduced a new tool to help businesses take visual communications to the next level. The new Alcatel-Lucent 8088 Smart DeskPhone helps employees be more productive in the workplace with new visual communication and collaboration capabilities.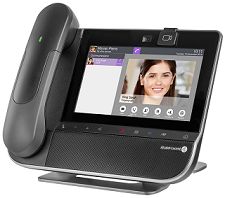 Alcatel-Lucent Enterprise new Smart DeskPhone improves collaboration and productivity for users who adopt visual communications in business



The 8088 Smart DeskPhone is part of the OpenTouch 2.1 update just announced which delivers an enriched personalized connected experience for users. The OpenTouch Conversation collaboration tool interface is now available on the 8088 Smart DeskPhone. With OpenTouch Conversation users can easily navigate between workstations, tablets, smartphones and the 8088 Smart DeskPhone to use the most appropriate device for their needs without losing context or interaction in the conversation.

Visual communications help bridge employees, customers and partners to content and help break communication borders within a global environment. The new 8088 Smart DeskPhone includes advanced features for intuitive and comfortable access to wideband audio and HD video conversations. The 8088 Smart Deskphone also delivers a video experience with simplicity and efficiency, while bridging the benefits of all media into the ergonomics of Enterprise class communications.

The 8088 Smart DeskPhone is ideal for meeting rooms, transforming them into video conferencing rooms that any user can actually enjoy as doing video is now as simple as a phone call.

Alcatel-Lucent 8088 Smart DeskPhone technology:

- 7" touch screen TFT-LCD with WVGA (16:9) format
- Built-in 5 Mpx HD autofocus camera
- Ambient Light Sensor
- Bluetooth 2.1 handset as standard delivery, Bluetooth 2.1 support for earset/headset
- HDMI 1.4 for external HD display unit
- Gigabit Ethernet PC-through ports with 802.3AF Power over Ethernet (Class 3) and 802.3az power-saving management
- Secure SIP and RTP support

Luxurious fit for hospitality

The 8088 Smart DeskPhone is ideal for hospitality applications where the open APIs can be used to create customized capabilities and services like room automation and video concierge services. The elegant design, 7" screen and Bluetooth handset make it an ideal brand advocate for a hotel, cruise line, stadium or arena setting it apart as a luxury feature.

Quotes

Eric Penisson, VP & General Manager, Communications Solutions Business Unit, Alcatel-Lucent Enterprise
"Video and visual communications is one of the biggest catalysts today for team collaboration. The new 8088 Smart DeskPhone delivers the business case to boost video adoption in enterprises with its affordable price for small-to-medium and large businesses, its centralized IT management capabilities, and its integration into the Enterprise communications environment. Visual communications remove the real and invisible boundaries between global locations creating a highly functional, global business. Add enhanced mobile capabilities that enable on the go communications, you end up with a world-class communications solution."

About Alcatel-Lucent Enterprise

Alcatel-Lucent Enterprise, with headquarters in France near Paris and 2700 employees worldwide, is a leader in communications, networking and cloud solutions for businesses of all sizes, serving more than 500,000 customers across the globe. Our cost-effective solutions help organizations embrace new uses and models by enabling multimedia conversations across any device, supported by an Application Fluent Network, from the office to the cloud.

Alcatel-Lucent Enterprise, with a history of proven technology and experience, leverages a global team of technology experts, service professionals, and partner ecosystem to meet the unique needs of small businesses to international companies with tailored offers that address the requirements of various market segments and industries.

Alcatel-Lucent Enterprise Press Contacts
Tracy Dupree


[email protected]


T: +1 818 878 4408

Wei Wei Chua


[email protected]


T: +65 6213 7846


Mar 17, 2015 06:30 HKT/SGT
Topic: New Product
Sectors: Media & Marketing, Cloud & Enterprise, IT Individual, Daily News
http://www.acnnewswire.com
From the Asia Corporate News Network



Copyright © 2020 ACN Newswire. All rights reserved. A division of Asia Corporate News Network.