"The World's Best Cabin Crew" 2015 Award presented by Skytrax during the Paris Airshow 2015



LE BOURGET, FRANCE, June 16, 2015 - (ACN Newswire) -

In line with Garuda Indonesia's continuous service enhancement program, Garuda Indonesia's cabin crew again was voted "The World's Best Cabin Crew 2015" by Skytrax - a London-based, independent airline ranking agency. The award is the second consequtive year it has been won by Garuda Indonesia after previously in 2014, it won the same title, beating other leading world airlines.

"The World's Best Cabin Crew 2015" award was presented on Tuesday, June 16, 2015 during the "The World Airline Awards 2015" and took place during the "Paris Airshow 2015" in Paris, France. The award was presented by the CEO of Skytrax, Edward Plaisted to Garuda Indonesia's President and CEO, M. Arif Wibowo.

"The World's Best Cabin Crew 2015" award was given to Garuda Indonesia based on a global customer satisfaction survey" conducted by Skytrax of more than 18 million passengers. The survey, which covers 245 international airlines, is held every year and measures standards across 41 key performance indicators of airline products and services.

Commenting on this honor, Garuda Indonesia President and CEO, M. Arif Wibowo expressed his delight with Garuda Indonesia's most recent achievement, "The World's Best Cabin Crew 2015" award.

Garuda Indonesia's success in winning the "The World's Best Cabin Crew" title once more in 2015 reflects the tireless hard work and deep commitment from everyone at Garuda Indonesia, in particular our cabin crew, to deliver service of the highest standard to our passengers. We would also like to thank our loyal passengers for continuing to support Garuda Indonesia hence enabling us to win the trust and "The World's Best Cabin Crew" award for the second consecutive year," said Arif.

By offering our unique "Garuda Indonesia Experience" service concept that emphasizes warm Indonesian hospitality and the best aspects of our cultural heritage, we are confident that Garuda Indonesia will continue to be ranked among the world's best in the years to come," added Arif.

Spurred on by a strong commitment from the management and employees of Garuda Indonesia to deliver the best service, Garuda Indonesia's performance continues to earn global recognition. During the "Farnborough Airshow 2012" in London, Garuda was voted "The World's Best Regional Airline". During the "Paris Air Show 2013" held in June 2013, Garuda Indonesia was named "The World's Best Economy Class" by Skytrax, and in 2014 Garuda Indonesia also won the title of "5-Star Airline" from Skytrax. Currently, Garuda Indonesia ranks seventh in the list of "The World's Best Airlines".

Through a continuous business transformation program, which focuses especially on fleet development, Garuda Indonesia will operate as many as 185 aircraft by the end of 2015 (including its subsidiary, Citilink).

Since becoming a member of the global airline alliance SkyTeam in March 2014, Garuda Indonesia, together with 19 other SkyTeam members, provides access to an extensive global network with over 16,323 daily flights to 1,052 destinations in 177 countries. In addition, Garuda Indonesia passengers can also enjoy 629 lounges of other SkyTeam member airlines, worldwide.


About Garuda Indonesia Group

Presenting a new level of service excellence in air travel, Garuda Indonesia, the national airline of Indonesia, seamlessly connects 83 destinations worldwide, including exotic locations across the beautiful archipelago of Indonesia. With more than 600 daily flights and a fleet of 196 aircrafts by January 2017, Garuda Indonesia proudly serves its passengers with the award-winning distinct service "Garuda Indonesia Experience", highlighting Indonesia's warm hospitality and rich diverse culture.

To provide better and more convenient services, Garuda Indonesia continuously strives through its ongoing transformation program. The progress of the transformation can be seen from the achievement of a Skytrax's 5-star Airline rating as well as the winning of the prestigious "The World's Best Cabin Crew" for four consecutive years in 2014 to 2017 and "The World's Most Loved Airline 2016", also from Skytrax. Please visit www.garuda-indonesia.com.

Contact:
Pujobroto
VP Corporate Communications
PT Garuda Indonesia


[email protected]



June 16, 2015 22:00 HKT/SGT
Source: Garuda Indonesia Group
Topic: Press release summary
Sectors: Airlines, Travel & Tourism
http://www.acnnewswire.com
From the Asia Corporate News Network
Copyright © 2019 ACN Newswire. All rights reserved. A division of Asia Corporate News Network.
Multimedia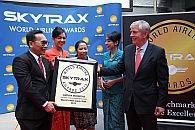 Garuda Indonesia Cabin Crew Once Again Voted World's Best Cabin Crew 2015
View Image
Garuda Indonesia Group
Mar 28, 2019 18:41 HKT/SGT
Garuda Indonesia Enhances The Cooperation with Mitsubishi Motors
Feb 8, 2018 20:00 HKT/SGT
Garuda Indonesia maintains its 5-Star Airline Ranking by Skytrax
June 22, 2017 10:00 HKT/SGT
Garuda Indonesia awarded 'World's Best Cabin Crew' for Fourth Consecutive Year
May 2, 2017 04:35 HKT/SGT
International Flight Services Launched in Terminal 3, Soekarno Hatta
Mar 22, 2017 18:00 HKT/SGT
Garuda Indonesia Group books Net Income of US$9.35 million for 2016, Maintaining Positive Performance
Mar 7, 2017 17:00 HKT/SGT
Garuda Indonesia Increases Seasonal Flight Frequency to Australia
Feb 15, 2017 10:00 HKT/SGT
Garuda Indonesia to launch direct flight Jakarta - Moscow in August 2017
Dec 7, 2016 10:30 HKT/SGT
Garuda Indonesia to Start New Service to Mumbai on December 12
Nov 10, 2016 23:40 HKT/SGT
British Embassy Jakarta and Garuda Indonesia Launch Partnership on Tourism and Education
Nov 3, 2016 01:00 HKT/SGT
Garuda Indonesia Books USD19.6 Mil Net Income in Q3 2016
More news >>