| | |
| --- | --- |
| Wednesday, 7 October 2015, 11:40 HKT/SGT | |


Source: Quam Limited



HONG KONG, Oct 7, 2015 - (ACN Newswire) -

Hong Kong Masters Athletics Meet 2015, organized by Diocesan Boy's School Athletics Club (DBSAC), was successfully completed at the Wanchai Sports Ground on October 3, 2015. Although typhoon signal no. 3 was in effect during the whole event, the participants still showed tremendous heart and a strong fighting spirit. The management and staff of Quam Limited (0952) not only took part in the competition wholeheartedly but also won the champion in the Quam 4 x 100m Invitation Relay, sponsored by Quam Securities Company Limited ("Quam Securities") .

The Hong Kong Masters Athletics Meet is the competitions featuring five-year groups beginning at age 35. The Meet aims to give participates a chance to compete with others of similar age and enjoy the joys of sport.

Quam Limited strives to improve the health of its employees and support the sports development in Hong Kong. This is the second time Quam Securities, a subsidiary of Quam Group, supported the Meet by sponsoring the Quam 4 x 100m Invitation Relay. The company not only sent two teams consisting of its management and staff to join the Relay but also invited representatives from brokerage, education and media sector to support the event. Each relay team consists of 4 members, with total ages combined over 140.

Mr. Wong Lit Chor, who is the Managing Director of Quam Securities and a big sports fan, took part in four competition events in the Meet, including men 100m, high jump, discus and javelin. He said: "It has been the idea of Quam to promote community sports. Therefore, we are of the same minds to support the event and hope to increase the sports awareness among our colleagues both for fun and health. Also, the Meet has so many competition items, which are suitable for different people."

Besides Quam Team A and Team B, other teams which completed in the Quam 4 x 100m Invitation Relay included: CMBC International Holdings Limited, DBSAC, Emperor Capital Group, Orient Finance Holdings (Hong Kong) Limited and Strategist Publishing Limited. All teams fought hard to win. The champion, first runner-up and second runner-up went to Quam Team A, Orient Finance Holdings (Hong Kong) Limited and CMBC International Holdings Limited respectively.

Mr. Chan Chin Fai, who is one of the teammates of Quam Team A, said: "I am very grateful that the company sponsors the event, giving us a chance to join and enjoy. In preparation of the Relay, our team mates have met once to train, especially on how to catch the baton to avoid careless mistakes."


About Quam Limited

Quam Limited ("Quam") is a Hong Kong-based financial services group which was listed on The Stock Exchange of Hong Kong Limited (Stock Code: 0952) in 1997. The core businesses of the Group are now comprising Quam Securities, Quam Capital, Quam Asset Management, Quam Wealth Management, Quamnet.com and Quam Investor Relations. By utilizing the best of both its online resources and solid expertise, Quam strives to become the ideal partner for both corporate and individual investors in Hong Kong and China. Quam also offers premier one-stop financial services to its clients. In addition, Quam provides capital markets services through its representative offices or the wholly-owned foreign enterprises in Shenzhen, Shanghai, Shenyang, Ningbo, Dalian, Beijing, Chengdu, Hangzhou and Xiamen of the PRC and through its Global Alliance Partners network in Japan, Thailand, UAE, the United States, the UK, Indonesia, Jordan and Australia.

For more information on Quam, please visit its website at www.quamlimited.com

Contact:

Quam IR
Ms. Jane Chan   Tel: (852) 2217 2906   E-mail: jane.chan@quamgroup.com
Mr. Roger Wong  Tel: (852) 2217 2682   E-mail: roger.wong@quamgroup.com
Ms. Bonnie Zhou Tel: (852) 2217 2709   E-mail: bonnie.zhou@quamgroup.com



Oct 7, 2015 11:40 HKT/SGT
Source: Quam Limited
Topic: Press release summary
Sectors: Daily News
http://www.acnnewswire.com
From the Asia Corporate News Network
Copyright © 2018 ACN Newswire. All rights reserved. A division of Asia Corporate News Network.
Multimedia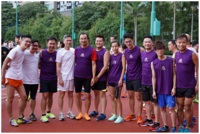 Quam Team Wins 4 x 100m Invitation Relay
View Image
Quam Limited
May 29, 2017 18:38 HKT/SGT
QUAM CAPITAL Awarded Oaklins Deal of the Year Award 2017 in Recognition of Excellent Co-operation in Mergers and Acquisitions
Mar 16, 2017 14:24 HKT/SGT
Quam Limited Awarded Caring Company in Recognition of Commitment in Caring for the Community, the Employee and the Environment
Nov 9, 2016 18:30 HKT/SGT
Quam Securities Inaugurates First Quam Direct Spot in Hong Kong
Nov 3, 2016 14:00 HKT/SGT
The Sale and Purchase of Shares in Quam Limited and Possible Unconditional Mandatory Cash Offers
Sept 9, 2016 11:59 HKT/SGT
Quam sponsored the 36th Anniversary Dinner and Inauguration Ceremony for The Institute of Securities Dealers Limited
June 30, 2016 17:12 HKT/SGT
Quam Announces 2015/16 Annual Results
Apr 5, 2016 08:55 HKT/SGT
Quam Limited's Securities Arm Becomes the First HK Trading Member in Securities Market in Singapore Exchange
Mar 14, 2016 10:15 HKT/SGT
In Recognition of Commitment in Caring for the Community, the Employees and the Environment, QUAM LIMITED was Awarded the Caring Company
Nov 3, 2015 16:12 HKT/SGT
Quam Announces 2015 /16 Interim Results
Nov 21, 2014 08:30 HKT/SGT
Quam Announces 2014 /15 Interim Results
More news >>