Exploring Finance Business Opportunities as well as Promoting Hanzhong's Local Culture



HONG KONG, Oct 20, 2015 - (ACN Newswire) -

Chinlink International Holdings Limited ("Chinlink", HKSE:0997) and its subsidiaries (collectively the "Group") are pleased to announce that the Group has entered into a letter of intent with Hantai District People's Government of Hanzhong Municipality, Shaanxi Province, China ("Hanzhong Government") to co-develop the only Hanzhong based national Qinba Chinese herbal medicine trading base (the "Project") in "Chinlink.Worldport" Integrated Logistics Park ("Chinlink.Worldport"), which is located in Hanzhong Baohe Logistics Park, Shaanxi Province, China ("Baohe Logistics Park"). The Project will comprise services of trading, logistics, warehousing, research and development, processing as well as e-commerce, etc. The estimated gross investment amount of the Project will be RMB560 million.

The Hanzhong area has been known as the "Qinba Cornucopia" due to its humid weather, forest coverage rate of 58.18% and vegetation coverage rate of 60.0%. With abundant and high-quality natural resources, Hanzhong has become an important production base of Chinese herbal medicine in China, in which it has over 1,600 species of medicinal plants with ranked second across prefecture (city) level. More importantly, the agricultural area and production volume of eucommia, gastrodia elata, roots of aconitum carmichaeli, chuanxiong, cortex phellodendri and rhizoma corydalis in Hanzhong accounted for over 50% of the total production volume across China, reflecting its increasing influence in the Chinese herbal medicine market in China. Through this cooperation, Hanzhong's ample resources in Chinese herbal medicine will bring in new business opportunities to Chinlink.Worldport, meanwhile Chinlink can provide a fully functional business environment to promote the culture of traditional Hanzhong herbal medicine.

Chinlink.Worldport is located at the heart of Baohe Logistics Park covering an area of approximately 3,800 acres (approx. 2.53 million sq.m.). As the first, largest and most important project in Baohe Logistics Park, it provides six major functions, including commerce services, logistics informatisation, cold chain logistics, inter-mode transportation hub for road and rail transport, port function and financial services. Covering an area of 330 acres, the first phase of Chinlink.Worldport will include logistics functions, custom warehouses (bonded warehouses and supervised warehouses), an import merchandize trading center, the Project and "Chinlink.Worldport Daminggong Hometown", a one-stop construction material and furniture trade center collaborated with Xi'an Daminggong Group Company Limited, as well as finance and logistics facilities. Meanwhile, the Group will provide diversified financial products and services to Chinlink.Worldport customers to drive the development of financial business of the Group.

Mr. Siu Wai Yip, Executive Director of Chinlink, said, "Chinlink.Worldport enjoys the geographical advantages of the inter-mode transportation hub for road and rail transport in Hanzhong. With the continuous trust and support from the Hanzhong Government, the only Hanzhong base national Qinba Chinese herbal medicine trading base will be landed in Chinlink.Worldport. In addition, with the diverse functions offered in Chinlink.Worldport, we are confident that the Project will facilitate the economic activities in Baohe Logistics Park and the vicinity of the Hanzhong region, and promote the prosperous development in Hanzhong. Looking forward, Chinlink will seek more constructive partnership and investment opportunities in order to provide comprehensive functions in Chinlink.Worldport, thereby generating fruitful returns to our shareholders."


About Chinlink International Holdings Limited

Chinlink International Holdings Limited is a listed company on the Main Board of Hong Kong Stock Exchange (Stock Code: 0997). Chinlink engages in the business of Interior Decoration Work and Trading of Furniture and Fixtures in Hong Kong and Macau. Chinlink also serves as a Supply Chain Financial Logistics service provider and is committed to develop the three main businesses of Finance, Logistics and E-commerce in China bringing one-stop solutions to customers. For business particulars, please visit www.chinlinkint.com.

This press release is issued by DLK Advisory Limited on behalf of Chinlink International Holdings Limited.

Contact:

Chinlink International Holdings Limited
Joanne Lee
Corporate Development Director
Tel: +852 2168 0778
Email: joannelee@chinlinkint.com
Website: www.chinlinkint.com

Rebecca Chan
Corporate Communications Manager
Tel: +852 2168 0799
Email: rebeccachan@chinlinkint.com
Website: www.chinlinkint.com

DLK Advisory Limited
Isabella Lam
Tel: +852 2857 7101
Email: isabellalam@dlkadvisory.com

Chermaine Chan
Tel: +852 2857 7101
Email: chermainechan@dlkadvisory.com

Oct 20, 2015 10:09 HKT/SGT
Source: Chinlink International Holdings Limited
Topic: Press release summary
Sectors: Logistics & Supply Chain, Daily News
http://www.acnnewswire.com
From the Asia Corporate News Network
Copyright © 2019 ACN Newswire. All rights reserved. A division of Asia Corporate News Network.
Multimedia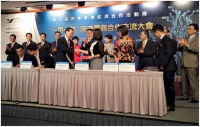 Chinlink Develops the Only Hanzhong Based National Qinba Chinese Herbal Medicine Trading Base with Hanzhong Government in Chinlink.Worldport
View Image