TOKYO, Oct 26, 2015 - (JCN Newswire) -

Next year, Toyota will use a new trial project on the subtropical island of Okinawa to assess the viability and benefits of tourism-centered car sharing. The service will operate from January through the end of the year on the island's Motobu Peninsula, and will be based around Ha:mo, an optimized local transport system developed by Toyota.

Since many of Okinawa's most popular tourist attractions are located along the Motobu Peninsula-including the Churaumi Aquarium, Nakijin Castle Ruins and Kouri Island-tourist numbers visiting these sites remain strong. However, the percentage of tourists actually staying in those areas is lower than in surrounding areas. Development of the local economy through tourism is therefore a pressing issue right now, and Toyota believes that one possible solution could involve car-sharing services that enable freedom of movement with minimal environmental impact.

Toyota is conducting this trial with cooperation from the Motobu Town Tourism Association, the Nakijin Village Tourism Association, and the JTB Group, in the hope that it will help develop tourism in the region by enabling people to discover new tourist sites and plan trips that take advantage of unique regional attractions. Toyota's vehicle of choice will be the COMS, an ultra-compact electric vehicle manufactured by Toyota Auto Body, with 30 units stationed at hotels and tourist sites.

Each COMS vehicle will be equipped with a tablet running a newly developed telematics app, which recommends tourist itineraries linking local points of interest. The app provides route directions and information on each tourism spot, offering courses such as a four-hour exploration tour of the UNESCO World Heritage-listed Nakijin Castle Ruins and nearby traditional villages.

Use of ultra-compact mobility vehicles increases the accessibility of areas such as roads that are too narrow for cars or too steep for bicycles, thus making more efficient use of the limited time tourists may have at their destinations.

To help ensure that this project has a strong basis of regional knowledge, the service will primarily be operated by local tourism associations. Installation of chargers and development of travel itineraries will be managed by the JTB Group, and tourists will be able to register for the vehicles at designated hotels as well as the JTB Group's booking websites and other locations.

Through this initial trial, Toyota will assess the effectiveness and usefulness of the Ha:mo system in improving access to tourism sites, and in stimulating local economies through increased interactions between tourists and locals. After accumulating operational know-how, Toyota will consider expanding the model to other regions within the prefecture. Going forward, it also hopes to contribute to the construction of a new transportation network, making low-carbon, highly-convenient mobility widely available.

About Ha:mo

Ha:mo is a transport management system that seamlessly optimizes the combined use of personal vehicles and public transportation. Toyota has been conducting field tests in Toyota City since October 2012, and is currently expanding that project using 100 COMS vehicles within a vehicle management system that connects users with vehicles and parking stations.


About Toyota Motor Corporation

Toyota Motor Corporation (TMC) is the global mobility company that introduced the Prius hybrid-electric car in 1997 and the first mass-produced fuel cell sedan, Mirai, in 2014. Headquartered in Toyota City, Japan, Toyota has been making cars since 1937. Today, Toyota proudly employs 370,000 employees in communities around the world. Together, they build around 10 million vehicles per year in 29 countries, from mainstream cars and premium vehicles to mini-vehicles and commercial trucks, and sell them in more than 170 countries under the brands Toyota, Lexus, Daihatsu and Hino. For more information, please visit www.toyota-global.com.

Contact:
Toyota Motor Corporation
Public Affairs Division
Global Communications Department
Tel: +81-3-3817-9926

Oct 26, 2015 13:32 HKT/SGT
Source: Toyota Motor Corporation
Topic: Press release summary
Sectors: Automotive
http://www.acnnewswire.com
From the Asia Corporate News Network
Copyright © 2019 ACN Newswire. All rights reserved. A division of Asia Corporate News Network.
Multimedia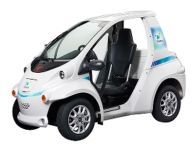 Toyota to Launch Trial Car Sharing Service in Okinawa
View Image
Toyota Motor Corporation
June 27, 2019 13:48 HKT/SGT
Toyota Releases Sales, Production, and Export Results
June 25, 2019 14:13 HKT/SGT
Toyota: GR Supra Finishes in 41st Place Overall, and Lexus LC in 54th Place
June 24, 2019 14:14 HKT/SGT
Toyota to Bring Forward to May 2020 Plan to Make All Vehicle Models Available Through All Sales Outlets in Japan
June 19, 2019 11:20 HKT/SGT
Toyota Provides Easy-to-use Map Showing Real-time Traffic Information and Road Closures in Japan
June 17, 2019 07:56 HKT/SGT
Late Heartbreak for Tanak and TOYOTA GAZOO Racing
June 17, 2019 07:33 HKT/SGT
Dramatic One-Two Victory for TOYOTA GAZOO Racing
June 13, 2019 15:08 HKT/SGT
Toyota Announces Board Member, Executive, Organizational, and Personnel Changes
June 11, 2019 16:09 HKT/SGT
TOYOTA GAZOO Racing Takes on the Challenge of 24 Hours of Nurburgring Endurance Race with New GR Supra and Second-Year Lexus LC
June 7, 2019 16:04 HKT/SGT
TOYOTA GAZOO Racing Ready to Defend Le Mans Crown
June 7, 2019 12:28 HKT/SGT
Toyota: Aiming to Popularize BEVs
More news >>