| | |
| --- | --- |
| Tuesday, 15 December 2015, 11:27 HKT/SGT | |


Source: DiDi Chuxing



BEIJING, Dec 15, 2015 - (ACN Newswire) -

The Commission on Sharing Economy of China (CSE) was inaugurated yesterday in Beijing under the Internet Society of China. Co-founded by Didi Kuaidi, Tencent, the Lenovo Group, Linkedin (China) and other industry leaders, the CSE is expected to play a key role in the communication and coordination among businesses, regulators and opinion leaders to promote the healthy development of the internet-based sharing economy in China.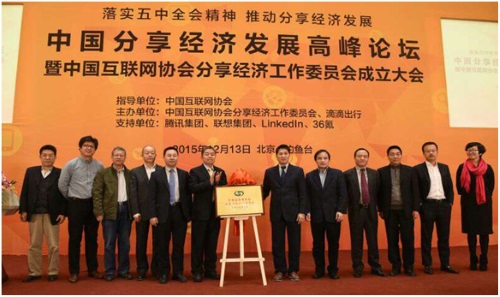 Chinese Regulators Welcome New industry Association Led by Didi Kuaidi in Support of Sharing Economy



As the world's largest mobile-tech market with over 700 million internet users and 530 million smart phone users, China is a hotbed for cutting-edge mobile search, payment and identification technologies. In the meantime, a sweeping urbanization process fueled by economic growth is raising general environmental and resource challenges to citizens and regulators, creating broad social and infrastructural support for a nation-wide sharing-economy initiative.

Representatives from key regulatory bodies, opinion leaders from SEEC and 36Kr joined Didi and other founding members in an in-depth discussion at the inauguration conference:

CHEN Ying, Deputy Director General for Information Software, Ministry of Industry & Information Technology :

'The rapid integration of new technology and traditional sectors drives new economic growth. As we see in the growth of the rideshare industry, the sharing economy model is of vital importance to China's economic restructuring by activating and optimizing underutilized resources embedded in our social landscape.'

NIE Linhai, Deputy Director General for E-Commerce & Information Technology, Ministry of Trade:

'The State Council's policy guidelines call for the active promotion of the sharing economy in view of its positive impact on national development and social governance. This points to the streamlining and trimming of the existing regulatory framework. We should not only avoid setting up new hurdles to this fledgling industry, but also introduce favorable financial and tax incentives to foster its growth.'

SUN Wei, Deputy Director General for Hi-Tech Industry, National Development & Reform Commission:

'The sharing economy is complementary to China's new Internet+ development strategy. To promote a balanced and efficient operation of this new model of social sharing, we need to create a policy environment that celebrates openness and cooperation by lifting entry barriers and reduce a priori regulatory burdens. The NDRC will continue to encourage policies in favor of this enabling, inclusive and orderly pattern of growth for the sharing economy.'

As a practitioner and leader in the sharing economy, Didi provides flexible on-demand rideshare services to 250 million users across over 360 cities on a one-stop mobile platform that links tens of millions of professional and part-time drivers and vehicles through dynamic resource allocation algorithms. LI Jianhua, Chief Development Officer of Didi believes in addition to helping cities alleviate congestion and pollution, the sharing platform helps discover new values for work as it fully brings out the power of collaboration and innovation. Li Said, 'The sharing economy model changes lives; and it gives businesses great opportunities to fulfill their social responsibility. On the CSE's new platform, Didi will continue to work with peer businesses, regulators and opinion leaders to realize this new vision of growth and empowerment'.

*Sources: CNNIC/E-Marketer



Dec 15, 2015 11:27 HKT/SGT
Topic: Press release summary
Sectors: Daily Finance, IT Individual, Daily News
http://www.acnnewswire.com
From the Asia Corporate News Network



Copyright © 2020 ACN Newswire. All rights reserved. A division of Asia Corporate News Network.