| | |
| --- | --- |
| Thursday, 4 February 2016, 17:30 HKT/SGT | |


Source: HKTDC
50 Must-see Products to Mark Council's Golden Jubilee Year



HONG KONG, Feb 4, 2016 - (ACN Newswire) -

The Hong Kong Trade Development Council (HKTDC) has published its flagship annual product magazine HKTDC Enterprise Yearbook 2016. As well as being an essential sourcing guide for buyers worldwide, this attractive and insightful 2016 edition includes features marking the 50th anniversary of the HKTDC.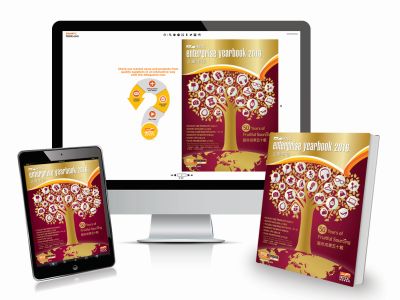 First published in 1967, the HKTDC Enterprise and its Yearbook are valuable guides for buyers with a comprehensive list of trade contacts and important trade fairs and activities organised by the HKTDC in Hong Kong and worldwide



The HKTDC Enterprise, first published in 1967, has consistently evolved and strengthened its content to serve as an effective sourcing platform connecting buyers and suppliers in Hong Kong and around the world. For decades, the publication has been in close partnership with manufacturers in their production promotion and brand building journey by showcasing products to its worldwide audience. Transforming with the digital era, Enterprise is now available in mobile and interactive online versions, presenting a rich variety of buying opportunities and enabling buyers to send enquires to suppliers on-the-go.

Celebrating the HKTDC's 50 years of sourcing, the Yearbook 2016 features special 50th anniversary articles, including "50 must-see products" spotlighting a wide range of items designed by Hong Kong as well as overseas companies which exemplify the HKTDC's role in promoting trade between Hong Kong and the rest of the world. A new section discusses China's Belt and Road Initiative and the role of ASEAN in the Belt and Road framework. Another addition features five pioneering start-ups and explains how they have been able to take advantage of the city's business-friendly environment to succeed.

The Yearbook 2016 edition, with more than 300 suppliers and over 500 pages of buyer-centric content, includes regular features on topics such as the Global export outlook for 2016, "Hot Search" on hktdc.com and hktdc.com Small Orders and a list of important trade fairs and activities organised by the HKTDC in Hong Kong and worldwide.

The HKTDC Enterprise Yearbook 2016, reaching 460,000 quality buyers from 200 countries and regions, is mailed directly to import-related, international buyers, including top businesses around the world. It is also available at the business centres of many hotels in Hong Kong and overseas, as well as airline lounges of a number of international airports. The HKTDC also distributes the publication to VIP buyers via its global network of 46 offices worldwide and at its local and overseas trade fairs.

Related links:
HKTDC Enterprise Yearbook 2016: http://info.hktdc.com/enterprise-yearbook/

Photo Download: http://bit.ly/1S1zvqK

To view press releases in Chinese, please visit http://mediaroom.hktdc.com/tc


About HKTDC

The Hong Kong Trade Development Council (HKTDC) is a statutory body established in 1966 to promote, assist and develop Hong Kong's trade. With 50 offices globally, including 13 in Mainland China, the HKTDC promotes Hong Kong as a two-way global investment and business hub. The HKTDC organises international exhibitions, conferences and business missions to create business opportunities for companies, particularly small and medium-sized enterprises (SMEs), in the mainland and international markets. The HKTDC also provides up-to-date market insights and product information via trade publications, research reports and digital news channels. For more information, please visit: www.hktdc.com/aboutus. Follow us on Twitter @hktdc and LinkedIn.

Contact:
HKTDC
Communication and Public Affairs Department
Joe Kainz
Tel: +852 2584 4216
Email: 

[email protected]



Feb 4, 2016 17:30 HKT/SGT
Source: HKTDC
Topic: Tokyo Stock Exchange
Sectors: Trade Shows, Retail/eCommerce
http://www.acnnewswire.com
From the Asia Corporate News Network
Copyright © 2020 ACN Newswire. All rights reserved. A division of Asia Corporate News Network.
HKTDC
May 7, 2020 15:00 HKT/SGT
HKTDC to host Summer Virtual Expo
Apr 6, 2020 15:00 HKT/SGT
Start-up Express 2020: A Journey to Success for HK Start-ups
Mar 26, 2020 19:00 HKT/SGT
HKTDC to launch Spring Virtual Expo and Guided SME Support
Mar 17, 2020 18:00 HKT/SGT
HKTDC Export Index 1Q20: Exporter confidence hits record low amid COVID-19 outbreak
Feb 26, 2020 20:00 HKT/SGT
Hong Kong Trade Development Council welcomes new Budget
Feb 13, 2020 16:00 HKT/SGT
HKTDC helps SMEs amid unprecedented challenges
Feb 4, 2020 09:00 HKT/SGT
HK designers unveil collections at London Fashion Week
Jan 24, 2020 11:00 HKT/SGT
Fashion Hong Kong arrives at New York Fashion Week
Jan 21, 2020 19:00 HKT/SGT
HKTDC Education & Careers Expo opens early February
Jan 15, 2020 19:00 HKT/SGT
3,500+ finance, business leaders join Asian Financial Forum
More news >>