| | |
| --- | --- |
| Thursday, 17 March 2016, 22:00 HKT/SGT | |


Source: HKTDC
Asia's Flagship Film and TV Market Explored Collaboration and Development Opportunities



HONG KONG, Mar 17, 2016 - (JCN Newswire) -

The 20th Hong Kong International Film and TV Market (FILMART), organised by the Hong Kong Trade Development Council (HKTDC), ended today. This year's FILMART welcomed more than 7,300 buyers during the four-day fair, up 3 per cent over the previous year. There was a significant growth of buyers from Asia. Participation from India, Korea and Vietnam recorded double-digit growth.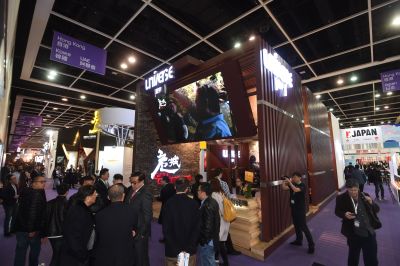 The 20th Hong Kong International Film and TV Market (FILMART) ends with the four-day fair attracting more than 7,300 buyers, up three per cent over the previous year.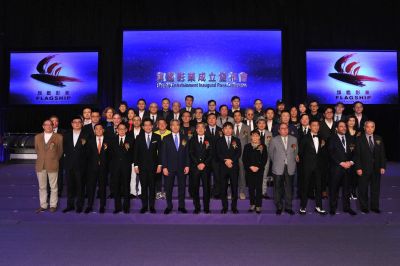 Flagship Entertainment Group, a joint venture between Television Broadcasts Limited, CMC Holdings and Warner Bros. Entertainment Inc., unveils its company logo and film projects at FILMART.



Watch the fair video: https://youtu.be/9FtGEQmJKVA

In its 20th year, FILMART featured 800 exhibitors from more than 30 countries and regions, setting a new record for the event held at the Hong Kong Convention and Exhibition Centre (HKCEC). FILMART is now recognised as one of the world's foremost film and TV marketplaces, promoting cross-media and cross-sector collaborations and facilitating film financing, distribution, production and post-production.

Ideal platform for promotion and collaboration

FILMART has long been an important platform for the local entertainment industry to release new productions and announce new development strategies. More than 70 events, including seminars, press conferences and networking activities were held during this year's FILMART. In addition to the participation of leading film companies such as Media Asia Distribution Limited, Mei Ah Entertainment Group Limited, Emperor Motion Pictures and Sun Entertainment Culture Limited; the Flagship Entertainment Group - a joint venture between Television Broadcasts Limited (TVB), CMC Holdings and Warner Bros. Entertainment Inc. unveiled its logo and line-up of films. The fair facilitated cross-border cooperation as well, with Malaysian exhibitor Animasia Studio inking a deal with the mainland's Zero One Animation at FILMART to co-produce the 3D CGI film "Chuck Chicken a.k.a. Kungfu Chicken". The animated TV series was a big hit when it previously aired on the Disney Channel in Greater China, Southeast Asia and South Asia. The film, "Chuck Chicken - The Movie", has a budget of US$8 million and is slated for release in early 2018.

Industry leaders analyse new developments

FILMART also featured a series of heavyweight speakers from the realms of film, TV, digital entertainment, post-production, animation and music. Among the guest speakers were the filmmakers of Taken, The Bullet Vanishes, and of animation works "Monster Hunt", "One Piece", "McDull" and "Attack on Titan". One of the seminars was entitled "Building a Blockbuster Franchise: IP, Brands, Story and Audience", during which veteran filmmakers shared their experiences in boosting box-office revenue through IP development. Both Shan Dongbing, Founder and President of Donwa Pictures, and Nansun Shi, producer of blockbuster movies including "Young Detective Dee - Rise of the Sea Dragon", pointed out that the market is increasingly interested in franchising, with more companies producing franchised movies and developing peripheral products, but it may still be a while before the movie franchising trend fully catches on in the Chinese mainland.

David Uslan, producer of the US hit animation series "Sabrina: Secrets of a Teenage Witch", said movie franchises succeed not just by selling products and making a series of related films but also, "it is the creativity of the screenwriters, actors and directors and the life they give to the characters that keeps the Batman franchise alive." Doug Mitchell, producer of "Mad Max: Fury Road", said the success of the Batman movie franchise had provided a good reference for his work.

French 3D animation studio TeamTO is one of France's largest independent animation studios. Founder and CEO Guillaume Hellouin said the studio is actively developing new animation software to enhance production quality. It is also expanding its flagship line-up of original IP animation characters as well as launching mobile games and peripheral products, with great success.

Song of the Sea, an animated film by Irish animation studio Cartoon Saloon, was nominated for Best Animated Feature at last year's Academy Awards. The studio's Managing Director Gerry Shirren said the company places great emphasis on developing original IP products, and that investing the time required to create a quality production is the main reason for a film's success.

Bliss Concepts Ltd from Hong Kong and DandeLion Animation Studio from Japan both have their sights set on market opportunities in the mainland. Samuel Choy, General Manager of Bliss Concepts Ltd, said the debut of the first "McDull" movie in 2001 has brought many opportunities for the company. These included collaborating with a mainland company in 2009 to produce a kung fu-themed "McDull" movie. "The Chinese mainland animation market is enormous, with huge demand for sustainable animation series," he said. Nishikawa Kazuhiro, Director of DandeLion Animation Studio, said, "We would study the preferences of the Chinese audience, and add Chinese cultural elements to our animation works, so that even a foreign tale would have its appeal."

FILMART is one of the founding events of Entertainment Expo Hong Kong. The Entertainment Expo umbrella includes 10 events covering film, TV, digital entertainment and music. The Entertainment Expo runs through 4 April.

Fair Websites -
Entertainment Expo: http://www.eexpohk.com
FILMART: http://www.hktdc.com/hkfilmart

Fair Video of Entertainment Expo Hong Kong 2016: http://bit.ly/1o881mZ

Photo download: http://bit.ly/1R00AJn

To view press releases in Chinese, please visit http://mediaroom.hktdc.com/tc


About HKTDC

The Hong Kong Trade Development Council (HKTDC) is a statutory body established in 1966 to promote, assist and develop Hong Kong's trade. With 50 offices globally, including 13 in Mainland China, the HKTDC promotes Hong Kong as a two-way global investment and business hub. The HKTDC organises international exhibitions, conferences and business missions to create business opportunities for companies, particularly small and medium-sized enterprises (SMEs), in the mainland and international markets. The HKTDC also provides up-to-date market insights and product information via trade publications, research reports and digital news channels. For more information, please visit: www.hktdc.com/aboutus. Follow us on Twitter @hktdc and LinkedIn

Contact:
HKTDC
Communication & Public Affairs Dept
Joe Kainz
Tel: +852 2584 4216
Email: 

[email protected]



Mar 17, 2016 22:00 HKT/SGT
Source: HKTDC
Topic: Trade Show or Conference
Sectors: Trade Shows, Film & Video, Retail/eCommerce, Travel & Tourism, Consumer Electronics, Broadcast, Daily News, Advertising
http://www.acnnewswire.com
From the Asia Corporate News Network
Copyright © 2020 ACN Newswire. All rights reserved. A division of Asia Corporate News Network.
Multimedia
Making the Cut at Asia's Premier Film Market
HKTDC
Aug 12, 2020 23:00 HKT/SGT
HKTDC Summer Sourcing Weeks | Go ONLINE builds a business success
Aug 10, 2020 11:00 HKT/SGT
Hong Kong Jewellery Design Competition winners revealed
July 31, 2020 12:00 HKT/SGT
5G powers up IoT
July 30, 2020 16:00 HKT/SGT
HKTDC Entrepreneur Day: Start-ups get insights into overcoming challenges
July 27, 2020 18:00 HKT/SGT
HKTDC launches advanced online virtual exhibition
July 23, 2020 18:00 HKT/SGT
Inaugural 'Standard Chartered GBA Business Confidence Index'
July 15, 2020 11:00 HKT/SGT
HKTDC Entrepreneur Day helps start-ups redefine industries
July 13, 2020 14:00 HKT/SGT
Rescheduling of HKTDC Book Fair and other July public fairs
July 9, 2020 05:00 HKT/SGT
HKTDC Entrepreneur Day / Education & Careers Expo open 16 July
June 29, 2020 16:00 HKT/SGT
HKTDC Entrepreneur Day: Entrepreneurs and tech talents redefine local industries
More news >>