Rohingya refugees living in a camp in Bangladesh have developed a multi-dimensional social fabric that is more complex than the common refugee narratives depicted in some reports.



Selangor, Malaysia, Apr 12, 2016 - (ACN Newswire) -

The Rohingya are an ethnic minority group from Myanmar, many of who have been displaced to surrounding countries due to targeted military violence against them. Kazi Farzana from the Universiti Utara Malaysia spent six months observing and interviewing 30 refugees in the United Nations High Commissioner for Refugees' (UNHCR) Nayapara camp, located in the southernmost part of Bangladesh on the border with Myanmar. The camp has been home to an estimated 18,500 refugees since 1991.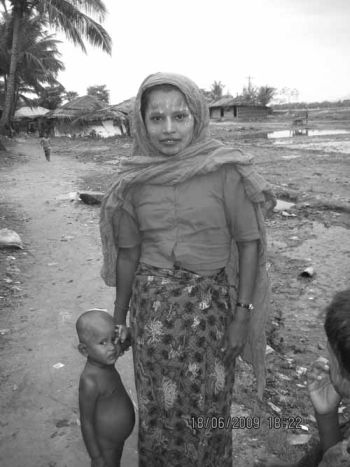 A Rohingya woman and her child standing near a fishing village in Teknaf, Bangladesh - home for many undocumented refugees. (Credit: Kazi Fahmida Farzana)



Reports by international agencies have documented the deplorable living conditions of Rohingyas in refugee camps. But the narratives, says Dr. Farzana, leave out the refugees' perception of their own lives. Despite the limitations of camp life, Dr. Farzana found the youth have managed to develop strong negotiation and basic survival skills.

Her paper, published in the Pertanika Journal of Social Sciences & Humanities, addresses the dynamics of dispute and collaboration among the camp's refugees and with the government and UNHCR personnel responsible for its management.

Dr. Farzana interviewed youth above the age of 25 and found they were in a constant struggle to establish their basic human rights. Although given basic food and shelter, they are not provided with education beyond the primary level. They are also prohibited from gathering in groups larger than five, leaving the camp without official permission, and working in the local villages. The Bangladeshi government maintains strict control over the camp and allows the UNHCR, the main aid agency working in the camp, very limited freedom to provide basic services.

Despite these difficulties, some youth have found a way to work within the camp selling vegetables and weaving fishnets, for example, while others have managed to illegally find work outside the camp, such as fishing, farming and other low-skilled labour. This involves developing relationships with the camp's authorities and paying them bribes so they can temporarily leave the camp.

The Rohingya youth also use song and art to document their reflections on their lives and beliefs, and to maintain a connection to their identity.

Power blocs and interest groups exist within the camp and mediate between the refugees on the one hand and government and aid agencies on the other.

"The clearer picture that emerges from this everyday experience of camp life is the systematic and constant reminder that the refugees are outsiders and foreign in origin," writes Dr. Farzana. As a result, she says, their identity of "otherness" is constantly reinforced.

Dr. Farzana recommends that future research looks in greater detail at the plight of female refugees and the multiple forms of violence they face. Researchers should also investigate claims of radicalization among some Rohingya refugees. Finally, she recommends comparative international research on issues of statelessness and the politics of identity among refugees and exiled communities. "The Rohingya case is far from being an isolated issue, and Myanmar and Bangladesh are far from being the only states to be implicated in matters of forced migration," she says.

For further information, please contact:

Dr. Kazi Farzana
School of International Studies, Universiti Utara Malaysia
E-mail:

[email protected]



About Pertanika Journal of Social Sciences & Humanities (JSSH)

Pertanika Journal of Social Sciences & Humanities (JSSH) is published by Universiti Putra Malaysia in English and is open to authors around the world regardless of nationality. It is published four times a year in March, June, September and December. Other Pertanika series include Pertanika Journal of Tropical Agricultural Science (JTAS), and Pertanika Journal of Science & Technology (JST).

JSSH aims to develop as a pioneer journal for the social sciences with a focus on emerging issues pertaining to the social and behavioural sciences as well as the humanities. Areas relevant to the scope of the journal include Social Sciences - Accounting, anthropology, Archaeology and history, Architecture and habitat, Consumer and family economics, Economics, Education, Finance, Geography, Law, Management studies, Media and communication studies, Political sciences and public policy, Population studies, Psychology, Sociology, Technology management, Tourism; Humanities - Arts and culture, Dance, Historical and civilisation studies, Language and Linguistics, Literature, Music, Philosophy, Religious studies, Sports.

The journal publishes original academic articles dealing with research on issues of worldwide relevance. The journals cater for scientists, professors, researchers, post-docs, scholars and students who wish to promote and communicate advances in the fields of Social Sciences & Humanities research.

Website: www.pertanika.upm.edu.my
The paper is at this link:
www.pertanika.upm.edu.my/regular_issues.php?jtype=3&journal=JSSH-24-1-3


Apr 12, 2016 19:00 HKT/SGT
Topic: Research / Industry Report
Sectors: Daily News
http://www.acnnewswire.com
From the Asia Corporate News Network



Copyright © 2019 ACN Newswire. All rights reserved. A division of Asia Corporate News Network.



Pertanika Journal
Dec 14, 2018 00:00 HKT/SGT
How to get the most fuel out of microalgae?
Dec 5, 2018 22:00 HKT/SGT
Better aquaculture management rewards Malaysia's fish farmers
Nov 27, 2018 08:00 HKT/SGT
Looking for ways to measure tumour aggression
Oct 2, 2018 19:30 HKT/SGT
Malaysian medicinal herb has anti-diabetic properties
Sept 25, 2018 19:00 HKT/SGT
Trees' species and age affect carbon emissions
Sept 5, 2018 18:00 HKT/SGT
Protecting rice plants by exploiting their natural defences
Aug 13, 2018 18:00 HKT/SGT
Too hot for rice?
Aug 2, 2018 23:00 HKT/SGT
Indonesian Sufism rejects radical Islam
Aug 1, 2018 09:00 HKT/SGT
Anti-ulcer benefits of honey investigated
June 20, 2018 10:00 HKT/SGT
Blood vessel-forming cells involved in aggressive brain tumour
More news >>