TOKYO, July 12, 2016 - (JCN Newswire) -

Mitsubishi Corporation and Mitsubishi Estate Co., Ltd. are pleased to announce the July 12 signing for the Landmark Project, a large mixed-use redevelopment in Central Yangon, Myanmar. The Project will be developed with Yoma Strategic Holdings Ltd. and First Myanmar Investment Co., Ltd. (FMI). Both Yoma and FMI are affiliates of Serge Pun & Associates Ltd. Group (SPA Group), a major Myanmar-based conglomerate.

The Project entails redeveloping four hectares, where the SPA Group had constructed and operated an office building, commercial facilities, a hotel and other real estate assets, with two office buildings, one condominium, one building combining a hotel and serviced apartments, with commercial facilities being installed on the lower floors of each building, across a total floor area of over 200,000 m2.

Mitsubishi Corp and Mitsubishi Estate will form a joint venture set up in Singapore for implementation of the Project. The Project will also benefit from a preferred equity investment by the Japan Overseas Infrastructure Investment Corp. for Transport & Urban Development (JOIN). Total investment by the Japanese Partners is up to approximately USD 200 million.

JOIN was established in October 2014 through public and private sector equity participation with the aim of facilitating urban and infrastructure development by Japanese corporations overseas. The Project will be JOIN's first equity participation project in the field of overseas urban development. The Japanese Partners will work with Yoma and FMI to establish a local project company.

The Asian Development Bank (ADB) and the International Finance Corporation (IFC) will also make equity contributions, and the Local Project Company will borrow project funds from these two financial institutions to finance the Project.

Myanmar made the transition to democracy in 2011 and is proactively promoting economic growth through market liberalization and attracting foreign investment. With the arrival of the new administration in April, more rapid development is expected along with greater need for supporting social infrastructure.

The Project will take place around Yangon Central Railway Station, the city's main downtown business and commercial district, the equivalent of Marunouchi in Tokyo. Given its size and mixture of land uses, the Project will not only provide infrastructure to support Myanmar's development, but will also, quite literally, become a landmark in downtown Yangon.

The Project will combine the real estate development know-how that Mitsubishi Corporation and Mitsubishi Estate have accumulated around the world along with Japanese high tech and product planning capacity with the SPA Group's extensive experience in the real estate business in Myanmar. This will allow for high value-added urban infrastructure and related services, which, it is hoped, will contribute to rapid economic development in Myanmar.


About Mitsubishi Corporation

Mitsubishi Corporation, headquartered in Tokyo, is a global integrated business enterprise that develops and operates business across virtually every industry including industrial finance, energy, metals, machinery, chemicals, foods, and environmental business. Mitsubishi Corporation's current activities are expanding far beyond its traditional trading operations as its diverse business ranges from natural resources development to investment in retail business, infrastructure, financial products and manufacturing of industrial goods.

For more information on Mitsubishi Corporation, please visit the company's website at https://www.mitsubishicorp.com/jp/en/.

Contact:

Mitsubishi Corporation
Telephone: +81 3 3210 2171 
Facsimile: +81 3 5252 7705


July 12, 2016 18:00 HKT/SGT
Source: Mitsubishi Corporation
Mitsubishi Corporation (TSE: 8058)
Topic: Business Plan
Sectors: Real Estate
http://www.acnnewswire.com
From the Asia Corporate News Network
Copyright © 2019 ACN Newswire. All rights reserved. A division of Asia Corporate News Network.
Multimedia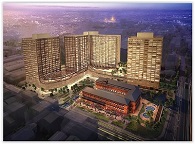 Large Mixed-Use Redevelopment Project in Downtown Yangon, Myanmar
View Image
Mitsubishi Corporation
Feb 15, 2019 09:59 HKT/SGT
Mitsubishi Corporation to Invest in UK Energy Technology Company OVO Group
Feb 5, 2019 13:23 HKT/SGT
Mitsubishi Corporation's Financial Results for the Nine Months Ended December 2018
Jan 8, 2019 09:29 HKT/SGT
Mitsubishi Corporation and Kaneka to Set Up New Processed Oil Products Factory in Indonesia
Dec 18, 2018 17:49 HKT/SGT
Mitsubishi Corporation has Reached Agreement to Sell its Interests in the Clermont and Ulan Coal Mines in Australia
Dec 14, 2018 11:53 HKT/SGT
Mitsubishi Corporation to Participate in Carbon Fiber Reprocessing Business in the UK
Dec 12, 2018 12:20 HKT/SGT
Mitsubishi Corporation: Smart Meter Data Collection System 'Experiment' Launched in Hamamatsu
Dec 5, 2018 12:49 HKT/SGT
Mitsubishi Corporation Named Preferred Bidder for Offshore Transmission Asset in the UK
Nov 30, 2018 09:48 HKT/SGT
Mitsubishi Corporation Procures Project Finance and Partially Transfers Shares in UK Offshore Wind Farm Project
Nov 26, 2018 13:33 HKT/SGT
Mitsubishi Corporation Announces Capital Alliance with Rhelixa Co., Ltd.
Nov 1, 2018 15:20 HKT/SGT
Mitsubishi Corporation Announces Private Placement of Shares and Capital Alliance with TOYO TIRE & RUBBER CO., LTD.
More news >>