TOKYO, Jan 25, 2017 - (ACN Newswire) -

Showa Denko ("SDK"; TSE:4004) has received "The Clarivate Analytics 2016 Top 100 Global Innovators" award. It is two years in a row that SDK is listed in the annual "Top 100 Global Innovators" which is produced by Clarivate Analytics, formerly the Intellectual Property & Science business of Thomson Reuters. Clarivate Analytics presented a trophy to SDK today.

Clarivate Analytics selected "2016 Top 100 Global Innovators" by utilizing strict and objective data compiled from its value-added patent citation database "Derwent World Patents Index (DWPI)," which is the world's largest one in this category, its intellectual property intelligence platform "Thomson Innovation," and the company's original basis for evaluation. In the screening process of the award, Clarivate Analytics uses scientific and objective methodology involving four main criteria of "patent volume," "application-to-grant success," "globalization" and "citation influence." This time, Clarivate Analytics commended SDK's high performance in "globalization" and "citation influence," and rated the latter especially high. (In the screening process, Clarivate Analytics analyzed various organizations' patent activity records for the last five years. As for "globalization," meanwhile, records for the past three years were analyzed.)

Comment by Mr. Kohei Morikawa, President and CEO, Showa Denko K.K.: "We are very proud of receiving this award for two consecutive years. I think we received this award as outside commendation for our wide-ranging technologies we accumulated through many years of research and development efforts. Now, we are striving to create new values through integration of various technologies. We will continue developing individualized technologies, aiming to make ourselves a corporate group that leads the chemical industry."

The Showa Denko Group has designated its intellectual property strategy as an important part of its overall business strategies, and has been striving to establish its competitive advantages through formation of patent networks that cover key industries and protect major products we develop. The Group will continue promoting its intellectual property strategy through close integration with business and R&D strategies.


About Showa Denko K.K.

Showa Denko K.K. (SDK; TSE:4004, ADR:SHWDY), a major manufacturer of chemical products, serves a wide range of fields from heavy industry to electronics and computer industries. The Petrochemicals Sector provides cracker products such as ethylene and propylene, the Chemicals Sector provides industrial, high-performance and high-purity gases and chemicals for semicon and other industries, and the Inorganics Sector provides ceramic products, such as alumina, abrasives, refractory and graphite electrodes and fine carbon products. The Aluminum Sector provides aluminum materials and high-value-added fabricated aluminum, the Electronics Sector provides HD media, compound semiconductors such as ultra high-bright LEDs and rare earth magnetic alloys, and the Advanced Battery Materials Department (ABM) provides lithium-ion battery components. For more information, please visit www.sdk.co.jp/english/.

Contact:
Public Relations Office
Phone: 81-3-5470-3235

Jan 25, 2017 13:00 HKT/SGT
Source: Showa Denko K.K.
Showa Denko K.K. (TSE: 4004)
Topic: Awards received
Sectors: Chemicals
http://www.acnnewswire.com
From the Asia Corporate News Network
Copyright © 2019 ACN Newswire. All rights reserved. A division of Asia Corporate News Network.
Multimedia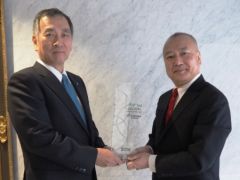 SDK President Morikawa (left) receiving the trophy
View Image
Showa Denko K.K.
May 9, 2019 14:00 HKT/SGT
Showa Denko Announces 2019 First Quarter Financial Results
May 9, 2019 14:00 HKT/SGT
Showa Denko Introduces SAP S/4HANA as Next-Generation ERP System
May 9, 2019 14:00 HKT/SGT
SDK to Improve Carbon Division's Production Sites in Europe
Apr 25, 2019 10:30 HKT/SGT
Showa Aluminum Can to Establish Third Production Base in Vietnam and Expand Existing Can End Production Lines
Apr 23, 2019 12:00 HKT/SGT
Showa Denko Starts Service to Measure Performance of Noxious-GHG Removal Equipment
Apr 16, 2019 11:00 HKT/SGT
SDK Group Starts Mass Production of Liquefied Carbon Dioxide in Oita Petrochemical Complex
Apr 10, 2019 10:00 HKT/SGT
SDK and IBM Develop AI-Based Patent Interpretation Support System
Apr 1, 2019 11:00 HKT/SGT
Outline of Showa Denko CEO Message at Initiation Ceremony
Mar 5, 2019 16:30 HKT/SGT
Showa Denko Revises Board Benefit Trust
Feb 21, 2019 13:00 HKT/SGT
SDK to Begin Shipment of MAMR-Technology-based HD Media
More news >>