| | |
| --- | --- |
| Wednesday, 19 April 2017, 10:25 HKT/SGT | |


Source: Toyota
Hydrogen station to be built at TMEC(1), Toyota's Chinese research and development base



SHANGHAI, Apr 19, 2017 - (JCN Newswire) -

Toyota Motor Corporation will send two "Mirai" fuel cell vehicles (FCVs) to China in October 2017 to conduct demonstration tests in the country. Coinciding with the start of these tests, Toyota will also establish a hydrogen station at TMEC, its Chinese research and development base.

Toyota is participating in the Accelerating the Development and Commercialization of Fuel Cell Vehicles in China2 project, and will carry out demonstration tests on the Mirai FCV for three years between 2017 and 2020. Specifically, Toyota will conduct research into vehicle performance within the environment in China, research into the quality of China's hydrogen, as well as a variety of quality and durability evaluations. Toyota will engage in promotional activities and attempt to gauge how receptive Chinese consumers are to the vehicle, such as by exhibiting the Mirai at domestic events in China, and to also undertake activities which are aimed at improving public understanding of FCVs.

There are presently five hydrogen stations in China which are centered in the metropolitan regions of Beijing, Shanghai and Guangzhou. The hydrogen station which Toyota plans to construct at TMEC will be the first of its kind in Changshu. Through this project, Toyota will work together with the Chinese government and other business organizations within the industry to explore the potential for the creation of a hydrogen-based society.

For Toyota, the Mirai is the ultimate eco-car: its zero CO2 emissions result in outstanding environmental performance; it boasts the same convenience as a gasoline powered vehicle in terms of refilling time and cruising range; and it provides the joy of driving in abundance. Between December 2014 and February 2017, an approximate total of 3,000 units of the Mirai sedan has been sold across Japan, the United States and Europe-regions and countries where hydrogen infrastructure is expanding. Toyota is also proceeding with demonstration tests in countries such as Australia, the U.A.E., and Canada.

For years, Toyota has advanced the development of various types of eco-cars such as hybrid vehicles, plug-in hybrid vehicles, electric vehicles and FCVs in a manner that leverages the strengths of the different systems. At the same time, Toyota has also been actively engaged in efforts to encourage the widespread ownership of these environmentally-friendly vehicles.

In October 2015, Toyota commenced sales in China of the Corolla Hybrid and Levin Hybrid models, both of which features Chinese locally produced hybrid units. As of the end of March, Toyota has sold a total of 90,000 units of both the hybrid models, and this corresponds to 15% in sales of both the Corolla and Levin models together. Plug-in hybrid variants of the Corolla and Levin are scheduled for release in 2018. In addition, Toyota is currently in the process of formulating plans for the introduction of electric vehicles in the Chinese market in the future.

Overview of the TMEC Hydrogen Station
http://www.acnnewswire.com/topimg/Low_OverviewTMEC%20Hydrogen.jpg

Artist impression of the completed hydrogen station
http://www.acnnewswire.com/topimg/Low_ToyotaHydrogenStation.jpg

(1) Toyota Motor Engineering & Manufacturing (China) Co., Ltd.
(2) One of the projects funded by the United Nations Development Project and the Global Environment Facility in order to provide support to developing countries. Started in 2003, the project has initiated FC bus services in China, Brazil, Mexico, Egypt, and India. The third phase is scheduled to expand the scope of the project to include passenger vehicles.


About Toyota

Toyota Motor Corporation (TMC) is the global mobility company that introduced the Prius hybrid-electric car in 1997 and the first mass-produced fuel cell sedan, Mirai, in 2014. Headquartered in Toyota City, Japan, Toyota has been making cars since 1937. Today, Toyota proudly employs 370,000 employees in communities around the world. Together, they build around 10 million vehicles per year in 29 countries, from mainstream cars and premium vehicles to mini-vehicles and commercial trucks, and sell them in more than 170 countries under the brands Toyota, Lexus, Daihatsu and Hino. For more information, please visit www.toyota-global.com.

Contact:

Public Affairs Division
Global Communications Department
Toyota Motor Corporation
Tel: +81-3-3817-9926


Apr 19, 2017 10:25 HKT/SGT
Source: Toyota
Topic: Press release summary
Sectors: Automotive
http://www.acnnewswire.com
From the Asia Corporate News Network
Copyright © 2018 ACN Newswire. All rights reserved. A division of Asia Corporate News Network.
Multimedia

Overview of the TMEC Hydrogen Station
View Image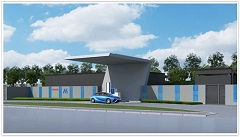 Artist impression of the completed hydrogen station
View Image
Toyota
May 24, 2018 12:56 HKT/SGT
Toyota Moves to Expand Mass-production of Fuel Cell Stacks and Hydrogen Tanks Towards Ten-fold Increase Post-2020
May 21, 2018 08:49 HKT/SGT
Toyota Finishes Strongly in Portugal
May 16, 2018 12:06 HKT/SGT
Toyota President Akio Toyoda Honoured with Prestigious "Issigonis Trophy' by Autocar Magazine
May 15, 2018 16:19 HKT/SGT
Toyota to Invest in ALBERT
May 11, 2018 16:48 HKT/SGT
TOYOTA Out to Continue its Momentum in Portugal
May 7, 2018 08:52 HKT/SGT
One-Two Victory at Spa for TOYOTA GAZOO Racing
May 1, 2018 08:41 HKT/SGT
Tanak and Toyota Triumphant Together in Argentina
Apr 30, 2018 16:21 HKT/SGT
New Season Starts at Spa for TOYOTA GAZOO Racing
Apr 26, 2018 13:05 HKT/SGT
Toyota Announces Results for March 2018 and Fiscal Year Ended March 31, 2018
Apr 25, 2018 13:43 HKT/SGT
Toyota: Plan to Develop Aichi Low-carbon Hydrogen Supply Chain Moves Forward
More news >>