| | |
| --- | --- |
| Thursday, 20 April 2017, 12:22 HKT/SGT | |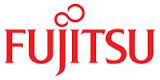 Source: Fujitsu Ltd
Oracle Cloud Platform services available from a Fujitsu datacenter for the first time in Japan; sales commence for Fujitsu Cloud Service K5 DB powered by Oracle Cloud



TOKYO, Apr 20, 2017 - (JCN Newswire) -

Fujitsu Limited and Oracle Corporation Japan today announced that Oracle Cloud Platform services, including Oracle Database Cloud Service, are now available from Oracle's public-cloud services environment-Oracle Cloud-now hosted in a Fujitsu datacenter, a first for Japan.

A variety of Oracle Cloud Platform services were made available from March 27, 2017 followed by the April 20 release of Fujitsu Cloud Service K5 DB powered by Oracle Cloud (K5 DB (Oracle)), which adds Oracle Database Cloud Service to the lineup of database options from Fujitsu Cloud Service K5.

Oracle and Fujitsu have a long history of collaboration when it comes to processors, servers, and software. This synergy now extends to the datacenter, where Oracle's cloud services will be available locally to Japanese customers backed by Fujitsu.

Fujitsu has the largest number of Oracle-certified Oracle Cloud engineers in Japan, and offers a coordinated portfolio of services to assist in the deployment and operations of Oracle Public Cloud, to help organizations build new modern cloud-based solutions and transition their enterprise systems, including mission-critical operations, to the cloud.

Fujitsu and Oracle formed a strategic alliance announced on July 6, 2016, and based on a strategic collaboration to deliver enterprise-grade, world-class cloud services to customers in Japan and their subsidiaries around the world, have commenced sales of public cloud services from Japan. Together with making Oracle Public Cloud services available from Fujitsu's robust and reliable datacenter in Japan, can now be used as part of Fujitsu Cloud Service K5, Fujitsu's public-cloud service.

http://www.acnnewswire.com/topimg/Low_FujitsuDatacenterJapan.jpg

"The Oracle Cloud Platform running in Fujitsu's Japan datacenter alongside Fujitsu Cloud Service K5 DB powered by Oracle Cloud is a natural continuation of the three decade history Oracle and Fujitsu have working together to help customers achieve competitive advantage" said Edward Screven, Chief Corporate Architect, Oracle. "By combining Fujitsu's system integration expertise with Oracle's cloud services, Fujitsu and Oracle will accelerate the transition of our joint customers' enterprise systems to cloud."

The Oracle Cloud Platform offered by Fujitsu and Oracle

Oracle Cloud is the industry's broadest and most integrated public cloud, offering a complete range of public cloud services across SaaS, PaaS, and IaaS. Oracle Cloud Platform, which includes Oracle's analytics, application development, data management, and integration services, has experienced steady growth, adding thousands of customers in fiscal 2017. Global enterprises, SMBs, and ISVs are turning to Oracle Cloud Platform to build and run modern Web mobile, and cloud-native applications.

By delivering Oracle Public Cloud services, including Oracle Database Cloud Service with high-available, high-scalable features, such as Oracle Real Application Clusters(1), from Fujitsu's robust, reliable datacenter, mission-critical systems can be used in a cloud environment with peace of mind and superlative performance. Because Fujitsu provides access to Oracle products and services such as Oracle Database, via a public cloud environment, which is used in the enterprise systems of many of its customers, Fujitsu is able to meet its customers' diverse needs for enterprise-grade cloud services, including support for private clouds.

About Fujitsu Cloud Service K5 DB powered by Oracle Cloud

Based on the Oracle Database Cloud Service, this service incorporates Fujitsu's systems-integration know-how and is delivered as the kind of distinctive database service that customers expect from Fujitsu. For example, this automates the settings used when creating a database, such as the security settings, encryption, and operational monitoring needed when deploying and building a database. Customers need not learn any new cloud-specific technologies, and can immediately start using Oracle Database Cloud Service. They can also use the service in peace of mind thanks to Fujitsu's high-quality one-stop support.

This service connects the Fujitsu K5 cloud service, which supports systems of record (SoR)(2) and systems of engagement (SoE)(3), to Oracle Cloud Services, extending K5's database offerings with K5 DB (Oracle). This enables companies to move their existing ICT assets into the cloud and enhance their support for SoR.

Engineers on hand to assist with customer cloud-transition needs

As part of this service offering, Fujitsu maintains a network of engineers and services to facilitate Oracle Cloud deployment and operation. Fujitsu has the largest number of people with "ORACLE MASTER Cloud Oracle Database Cloud Service" certification in Japan (winner of Oracle Certification Award 2016), with more than 100 engineers already on staff. Structuring the "Cloud Solution for Oracle" as a service to aid in Oracle Cloud deployment and operation has, with certified engineers(4), realized rapid, secure and steady transition to Oracle Cloud, responsively meeting customer cloud transition needs.

A Diamond member in the Oracle PartnerNetwork(5), Fujitsu and Oracle have a relationship that spans more than three decades. This joint project works to increase Fujitsu's systems integration capabilities and further strengthens Oracle technology expertise. By increasing the number of Oracle Cloud engineers in the Fujitsu Group and formalizing their place in the organization, Fujitsu and Oracle look forward to being able to work together more closely.

Details of this announcement are being presented at the Oracle Cloud Platform Summit Tokyo 2017 (April 25, 2017, at The Westin Tokyo) and at Fujitsu Forum 2017 (May 18-19, 2017, at Tokyo International Forum).

Services Provided as K5 DB (Oracle) (Sales in Japan Commence April 20, 2017)
http://www.acnnewswire.com/topimg/Low_FujitsuK5DB.jpg

Services provided as Oracle Cloud (PaaS / IaaS) (Already offered as of March 27, 2017)
http://www.acnnewswire.com/topimg/Low_FujitsuOracleCloud.jpg

Pricing and Availability

Service Provided as K5 DB (Oracle)
http://www.acnnewswire.com/topimg/Low_FujitsuPricingK5DB.jpg

Services Provided as Oracle Cloud (PaaS / IaaS)
http://www.acnnewswire.com/topimg/Low_FujitsuPricingOracleCloud.jpg

(1) Oracle Real Application Clusters
Feature that increases the availability of database systems.
(2) Systems of Record (SoR)
Existing systems that record company data and perform business processes.
(3) Systems of Engagement (SoE)
Systems that implement digital transformations, including business-process transformation and new-business development.
(4) Certified engineers
Holders of "ORACLE MASTER Cloud Oracle Database Cloud Service" or "ORACLE MASTER Platinum Oracle Database 11g/12c" certification.
(5) Oracle PartnerNetwork
Oracle Partner Network (OPN) is Oracle's partner program that provides partners with a differentiated advantage to develop, sell and implement Oracle solutions. OPN offers resources to train and support specialized knowledge of Oracle's products and solutions and has evolved to recognize Oracle's growing product portfolio, partner base and business opportunity. Key to the latest enhancements to OPN is the ability for partners to be recognized and rewarded for their investment in Oracle Cloud. Partners engaging with Oracle will be able to differentiate their Oracle Cloud expertise and success with customers through the OPN Cloud program - an innovative program that complements existing OPN program levels with tiers of recognition and progressive benefits for partners working with Oracle Cloud. To find out more visit: http://www.oracle.com/partners.

About Oracle Corporation Japan

Oracle Corporation Japan is the Japanese subsidiary of Oracle Corporation, established in 1985. With the goal of becoming the "Number 1 cloud company," it offers a set of products for building value from information in cloud applications, cloud platforms, and big data, and a complete set of services to assist in using them. The company was listed on Section 1 of the Tokyo Stock Exchange in 2000 (TSE code 4716).


About Fujitsu Ltd

Fujitsu is the leading Japanese information and communication technology (ICT) company, offering a full range of technology products, solutions, and services. Approximately 155,000 Fujitsu people support customers in more than 100 countries. We use our experience and the power of ICT to shape the future of society with our customers. Fujitsu Limited (TSE: 6702) reported consolidated revenues of 4.5 trillion yen (US$40 billion) for the fiscal year ended March 31, 2017. For more information, please see http://www.fujitsu.com.

* Please see this press release, with images, at:
http://www.fujitsu.com/global/about/resources/news/press-releases/

Contact:

Oracle Corporation Japan
Corporate Communications
E-mail: pr-room_jp@oracle.com

Fujitsu Limited
Public and Investor Relations
Tel: +81-3-3215-5259
URL: www.fujitsu.com/global/news/contacts/

Apr 20, 2017 12:22 HKT/SGT
Source: Fujitsu Ltd
Fujitsu Ltd (TSE: 6702)
Topic: Press release summary
Sectors: Enterprise IT
http://www.acnnewswire.com
From the Asia Corporate News Network
Copyright © 2018 ACN Newswire. All rights reserved. A division of Asia Corporate News Network.
Multimedia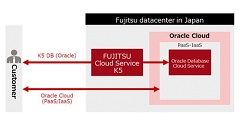 View Image

Services Provided as K5 DB (Oracle) (Sales in Japan Commence April 20, 2017)
View Image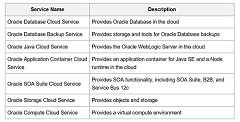 Services provided as Oracle Cloud (PaaS / IaaS) (Already offered as of March 27, 2017)
View Image

Service Provided as K5 DB (Oracle)
View Image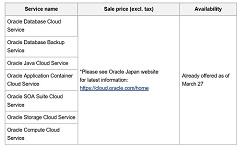 Services Provided as Oracle Cloud (PaaS / IaaS)
View Image
Fujitsu Ltd
May 24, 2018 10:18 HKT/SGT
Fujitsu Wins Hokkaido University Order for Large-scale, Interdisciplinary Computing System
May 15, 2018 11:00 HKT/SGT
Fujitsu Quantum-Inspired Digital Annealer Cloud Service to Rapidly Resolve Combinatorial Optimization Problems
May 14, 2018 13:13 HKT/SGT
Fujitsu Puts Blockchain to Use for "Virtuora DX" Data Distribution and Utilization Service
May 14, 2018 10:09 HKT/SGT
Fujitsu and Nippan Jointly Develop "SeleBoo" Book Selection Service Using AI
May 9, 2018 11:07 HKT/SGT
Fujitsu Bolsters Global Managed Security Service for Comprehensive Defense against Diversifying Cyberattacks
May 8, 2018 09:29 HKT/SGT
Fujitsu and Kofax Partner to Improve Business Efficiency with RPA
May 7, 2018 10:36 HKT/SGT
Fujitsu Develops Molecular Simulation Technology to Effectively Create New Drug Candidates
Apr 24, 2018 10:20 HKT/SGT
Fujitsu Control System Deployed to CTA, World's Largest-Scale Gamma Ray Observatory, Commences Operations
Apr 20, 2018 15:41 HKT/SGT
Fujitsu Upgrades RIKEN's AI Research Computer "RAIDEN;" Reaches Top Tier of Processing Performance in Japan
Apr 19, 2018 10:23 HKT/SGT
Fujitsu and Asahi Shuzo Launch Trial to Brew Sake Using Predictive AI
More news >>