| | |
| --- | --- |
| Monday, 1 May 2017, 09:13 HKT/SGT | |


Source: Toyota



Toyota City, Japan, May 1, 2017 - (JCN Newswire) -

Toyota GAZOO Racing World Rally Team finished with both crews inside the top 10 for the second time this year, on what was widely acknowledged as the toughest event of the season so far: Rally Argentina. Jari-Matti Latvala and Miikka Anttila finished fifth, with Juho Hanninen and Kaj Lindstrom were two places behind them in seventh, after four challenging days of action.

http://www.acnnewswire.com/topimg/Low_ToyotaDPCar10.jpg
Car 10 (Jari-Matti Latvala, Miikka Anttila)

Both crews encountered their fair share of issues on the event, but these were valuable opportunities for the team to learn in order to improve the Yaris WRC further for the future. The final day of the rally contained three stages, including the legendary El Condor and Giulio Cesare tests, characterised by lunar landscapes and high altitudes. Both drivers got through the stages with no problems, as a result of which Toyota GAZOO Racing WRT retains third in the manufacturers' championship, while Latvala is still second in the drivers' standings.

http://www.acnnewswire.com/topimg/Low_ToyotaDPCar11.jpg
Car 11 (Juho Hanninen, Kaj Lindstrom)

Quotes:

Tommi Makinen (Team Principal)

"Rally Argentina has provided some hard lessons for us in some extremely challenging conditions, but we were able to learn a lot from them, so we welcome the challenges like the ones we have seen over the last few days. Both the drivers have done a fantastic job, even though they have been a bit unlucky with some of the problems they faced. Without those, they could have been even higher up the classification. However, in the end we have to be happy with the result that we take away from here, and we are also happy with the information and knowledge that we have gained about our car in these unique soft gravel and rough conditions. We know that the Yaris WRC is basically very strong!"

Jari-Matti Latvala (Driver car 10)

"The final day of the rally was consistent. I tried not to be a superhero and just finish the rally safely! Our car is very tough, we can say that for sure, and we certainly improved the performance compared to the last gravel round in Mexico. We got one point for the Power Stage and took fifth overall, but the most important thing was that we kept our consistent run of points that we had from Monte-Carlo, and so the championship stays open. It's incredible, but in all of my career I don't think I've ever been this close to the front after just five rallies. Now I'm looking forward to the next test and the next rally, so that we can keep on making the car better."

Juho Hanninen (Driver car 11)

"Our last day went without a problem and that was good because I needed to finish. We drove quite carefully as there was some big gaps in front and behind us, so no point in taking any risks. El Condor was actually much rougher than I expected, so my goal was just to bring the car back in one piece. In general this has been an extremely tough and demanding rally, with some especially rough roads, but now we have got to the end of it, scored some points, and learned a lot, so I am happy."

For the latest results please visit www.wrc.com.

What's next?:

The next round of the FIA World Rally Championship (WRC) is Rally Portugal from May 18-21. This is one of the most emblematic events on the WRC, run in the north of the country over some very famous stages. As it is another gravel rally, the team will be able to put the lessons learned in Argentina immediately into practice, and the development process will be accelerated further by the first addition of a test car on the event for Esapekka Lappi.


About Toyota

Toyota Motor Corporation (TMC) is the global mobility company that introduced the Prius hybrid-electric car in 1997 and the first mass-produced fuel cell sedan, Mirai, in 2014. Headquartered in Toyota City, Japan, Toyota has been making cars since 1937. Today, Toyota proudly employs 370,000 employees in communities around the world. Together, they build around 10 million vehicles per year in 29 countries, from mainstream cars and premium vehicles to mini-vehicles and commercial trucks, and sell them in more than 170 countries under the brands Toyota, Lexus, Daihatsu and Hino. For more information, please visit www.toyota-global.com.

Contact:

Public Affairs Division
Global Communications Department
Toyota Motor Corporation
Tel: +81-3-3817-9926

May 1, 2017 09:13 HKT/SGT
Source: Toyota
Topic: Press release summary
Sectors: Automotive
http://www.acnnewswire.com
From the Asia Corporate News Network
Copyright © 2018 ACN Newswire. All rights reserved. A division of Asia Corporate News Network.
Multimedia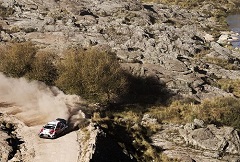 Car 10 (Jari-Matti Latvala, Miikka Anttila)
View Image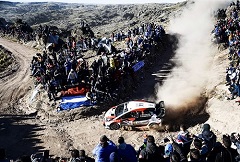 Car 11 (Juho Hanninen, Kaj Lindstrom)
View Image
Toyota
Apr 9, 2018 08:33 HKT/SGT
Toyota's Rally France (Tour de Corse): Day 3
Apr 6, 2018 13:06 HKT/SGT
Toyota Environmental Activities Grant Program Accepting 2018 Applications
Apr 5, 2018 22:23 HKT/SGT
TOYOTA GAZOO Racing Ready for New Challenge
Apr 3, 2018 13:01 HKT/SGT
Toyota and Park24 to Sign Agreement on Car Sharing Service Trial in Central Tokyo
Apr 2, 2018 15:28 HKT/SGT
Toyota to Merge Tokyo Sales Companies to Form New Company in April 2019
Mar 29, 2018 15:00 HKT/SGT
Toyota and Suzuki Reach Basic Agreement toward Mutual Supply of Hybrid and Other Vehicles in India
Mar 29, 2018 14:20 HKT/SGT
Toyota Announces Results for February 2018
Mar 23, 2018 13:09 HKT/SGT
Hatch is Back! All-New 2019 Toyota Corolla Hatchback Wows at the 2018 New York International Auto Show
Mar 22, 2018 13:07 HKT/SGT
Toyota Introduces Premium Class in Car Rental Line of Business
Mar 21, 2018 12:02 HKT/SGT
Toyota: Born to be Tough! 50 Years of Working to Be a Reliable Partner
More news >>