| | |
| --- | --- |
| Tuesday, 16 May 2017, 19:05 HKT/SGT | |


Source: Toyota



Toyota City, Japan, May 16, 2017 - (JCN Newswire) -

Toyota GAZOO Racing can confirm a modified driver line-up to optimise its competitive level in next month's Le Mans 24 Hours, the third round of the FIA World Endurance Championship (WEC).

Mike Conway and Kamui Kobayashi will now share the #7 TS050 Hybrid with Stephane Sarrazin for Le Mans, recreating the line-up which finished second last year at La Sarthe on its way to third in the drivers' World Championship.

http://www.acnnewswire.com/topimg/Low_Toyota7TS050.jpg
#7 TS050 Hybrid (Kamui Kobayashi, Mike Conway, Stephane Sarrazin)

Jose Maria Lopez has been able to complete only a handful of racing laps in WEC following his accident at Silverstone and resulting injury, which prevented him driving at Spa. He will now team up with Nicolas Lapierre and Yuji Kunimoto in the #9 car.

http://www.acnnewswire.com/topimg/Low_Toyota9TS050.jpg
#9 TS050 Hybrid (Yuji Kunimoto, Nicolas Lapierre, Jose Maria Lopez)

The line-up of the #8 TS050 Hybrid remains unchanged, with Sebastien Buemi, Anthony Davidson and Kazuki Nakajima competing together at Le Mans for the third successive year.

http://www.acnnewswire.com/topimg/Low_Toyota8TS050.jpg
#8 TS050 Hybrid (Kazuki Nakajima, Sebastien Buemi, Anthony Davidson)

After Le Mans, the team reverts to a two-car entry and Jose Maria will return to the cockpit of the #7 car, alongside Mike and Kamui, for the remainder of the season.

Toshio Sato, Team President:
"Our circumstances have changed over the last few weeks as a result of the injury to Jose Maria. He is in the unfortunate position of having completed very few racing laps this year in WEC, so we all felt it was appropriate to adjust the driver line-up. I am very confident that Stephane will fit well into a #7 line-up which can fight for the win. Jose Maria, like Yuji, will learn a lot at Le Mans this year, familiarising himself with the track and the event in general, and this is an important step for the future as well."


About Toyota

Supported by people around the world, Toyota Motor Corporation (TSE: 7203; NYSE: TM), has endeavored since its establishment in 1937 to serve society by creating better products. As of the end of December 2013, Toyota conducts its business worldwide with 52 overseas manufacturing companies in 27 countries and regions. Toyota's vehicles are sold in more than 170 countries and regions. For more information, please visit www.toyota-global.com.

Contact:

Public Affairs Division
Global Communications Department
Toyota Motor Corporation
Tel: +81-3-3817-9926

May 16, 2017 19:05 HKT/SGT
Source: Toyota
Topic: Press release summary
Sectors: Automotive
http://www.acnnewswire.com
From the Asia Corporate News Network
Copyright © 2017 ACN Newswire. All rights reserved. A division of Asia Corporate News Network.
Multimedia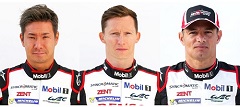 #7 TS050 Hybrid (Kamui Kobayashi, Mike Conway, Stephane Sarrazin)
View Image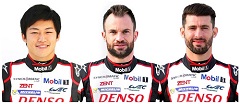 #9 TS050 Hybrid (Yuji Kunimoto, Nicolas Lapierre, Jose Maria Lopez)
View Image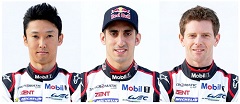 #8 TS050 Hybrid (Kazuki Nakajima, Sebastien Buemi, Anthony Davidson)
View Image
Toyota
Sept 25, 2017 12:41 HKT/SGT
NTT and Toyota Begin Joint Research Aimed at Promoting the Use of Lifestyle Support Robots
Sept 19, 2017 12:02 HKT/SGT
Toyota Launches New "GR" Sports Car Series in Japanese Market
Sept 19, 2017 11:03 HKT/SGT
Toyota GAZOO Racing Takes Texas Podium
Sept 12, 2017 18:35 HKT/SGT
Toyota Reintroduces Hilux into Japanese Market after 13 year Hiatus
Sept 4, 2017 15:06 HKT/SGT
Tough Race for Toyota GAZOO Racing in Mexico
Aug 31, 2017 13:34 HKT/SGT
Toyota Announces Partners Selected for Joint Development of Services for the TOYOTA NEXT Open Innovation Program
Aug 30, 2017 13:17 HKT/SGT
Toyota Announces Results for July 2017
Aug 30, 2017 10:37 HKT/SGT
Toyota Begins Collaboration with Grab on Ride-Hailing Service
Aug 28, 2017 16:38 HKT/SGT
Mexican Mission for Toyota GAZOO Racing
Aug 28, 2017 12:39 HKT/SGT
Toyota Announces Toyota Safety Sense and ICS Safety Support Technologies that Together Reduce Rear-End Collisions by 90%
More news >>