Garuda also reclaims rank in 'Top 10 Global Airlines'



LE BOURGET, FRANCE, June 22, 2017 - (ACN Newswire) -

Garuda Indonesia, the national flag carrier of Indonesia, has been awarded 'World's Best Cabin Crew 2017' by the Skytrax World Airline Awards, held at the Paris Air Show, Le Bourget, France. This marks the fourth consecutive year that Garuda has been recognized as world's best, the award being presented by Skytrax CEO Edward Plaisted to Garuda Indonesia President and CEO Pahala N. Mansury during the official ceremony, last night, Tuesday, June 16.

The President Director of Garuda Indonesia, Pahala N. Mansury, said, "The 'World's Best Cabin Crew' award is another remarkable milestone for our airline, and Garuda Indonesia proudly accepts the achievement for our beloved nation, Indonesia. Our dedication to continuously giving you the highest level of service has brought us to win the World's Best Cabin Crew now four years in a row. Thank you for trusting your journey with Garuda Indonesia.

"Being awarded World's Best Cabin Staff 2017 is certainly an honour for all Garuda's dedicated employees -- and in particular for our cabin crews, who have committed themselves wholeheartedly to the advancement of Garuda Indonesia and have together embraced the challenge to achieve a "Service of Excellence" level. I believe that this award will serve as further inspiration for Garuda and its employees, to remain committed and to improve even further, while it is also firm recognition of our sustained development in recent years, not only in terms of services, but throughout all aspects of our company," added Pahala.

Recognition of the 'World's Best Cabin Crew 2017' is based on an assessment by the"Customer Satisfaction Survey" conducted globally by Skytrax, involving more than 18 million passengers. The survey was conducted on more than 245 international airlines, and held annually by measuring 41 major aspects related to products and services provided by airlines.

Skytrax CEO Edward Plaisted said, "The 'World's Best Cabin Crew' award is one of the most prestigious honors in the world of aviation. To have secured this award for four consecutive years is remarkable and unprecedented, and the staff and management of Garuda should be enormously proud of this achievement. The Garuda Indonesia cabin crew deliver hospitality and efficiency at the highest level."

Indonesian Ambassador to France Hotmangaradja Pandjaitan expressed his appreciation for Garuda Indonesia's success in continuing with the title for a fourth time. "Maintaining best predicate is not an easy thing. We believe that everyone in Garuda Indonesia has worked hard especially in providing the best service to all passenger. This achievement will certainly bring out the name of Indonesia in the eyes of the world," explains Hotmangaradja.

In addition to winning World's Best Cabin Crew 2017, Garuda Indonesia re-entered the ranks of the 'Top 10 Global Airlines', ranking 10th among the world's best, including Qatar Airways, Singapore Airlines, ANA All Nippon Airways, Emirates, Cathay Pacific, Eva Air, Lufthansa, Ethiad Airways and Hainan Airlines.

"In line with the company's strategy through it's "5 Quick Wins Priority" program, Garuda Indonesia will continuously focus on service enhancement programs. Through our distinctive service concept, the "Garuda Indonesia Experience", which highlights Indonesia's warm hospitality and rich diverse culture, and combined with platform enhancement in digital services, we are optimistic that Garuda Indonesia will be even more developed in the future," said Pahala.

As Garuda Indonesia carries out its business development program along with continuous service enhancements, the airline's performance is increasingly being recognized at an international level. In February 2016, Garuda Indonesia was recognized as a 'Five Star Airline' by Skytrax for the second consecutive year. Perviously, Garuda Indonesia was awarded the 'World's Best Regional Airline' at the Farnborough International Airshow 2012, with the 'World's Best Economy Class' by Skytrax during the Paris Aishow 2013. Garuda Indonesia is now also included in the 'World's Top 10 Airlines' by Skytrax.

Since 2014, Garuda Indonesia has officially become part of SkyTeam's global alliance, a global airline alliance with 20 member airlines offering a global network of more than 17,343 flights per day to 1,062 destinations in 177 countries.


About Garuda Indonesia Group

Presenting a new level of service excellence in air travel, Garuda Indonesia, the national airline of Indonesia, seamlessly connects 83 destinations worldwide, including exotic locations across the beautiful archipelago of Indonesia. With more than 600 daily flights and a fleet of 196 aircrafts by January 2017, Garuda Indonesia proudly serves its passengers with the award-winning distinct service "Garuda Indonesia Experience", highlighting Indonesia's warm hospitality and rich diverse culture.

To provide better and more convenient services, Garuda Indonesia continuously strives through its ongoing transformation program. The progress of the transformation can be seen from the achievement of a Skytrax's 5-star Airline rating as well as the winning of the prestigious "The World's Best Cabin Crew" for four consecutive years in 2014 to 2017 and "The World's Most Loved Airline 2016", also from Skytrax. Please visit www.garuda-indonesia.com.

Contact:
GARUDA INDONESIA 
Corporate Communications
Soekarno Hatta International Airport
Email: 

[email protected]


Phone: +62 21 2560 1069 | Fax: +62 21 2560 1068
Website: www.garuda-indonesia.com | Twitter: @IndonesiaGaruda


June 22, 2017 10:00 HKT/SGT
Source: Garuda Indonesia Group
Topic: Awards received
Sectors: Airlines, Travel & Tourism
http://www.acnnewswire.com
From the Asia Corporate News Network
Copyright © 2019 ACN Newswire. All rights reserved. A division of Asia Corporate News Network.
Multimedia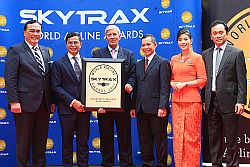 Garuda Indonesia awarded 'World's Best Cabin Crew' for Fourth Consecutive Year
View Image
Garuda Indonesia Group
Mar 28, 2019 18:41 HKT/SGT
Garuda Indonesia Enhances The Cooperation with Mitsubishi Motors
Feb 8, 2018 20:00 HKT/SGT
Garuda Indonesia maintains its 5-Star Airline Ranking by Skytrax
May 2, 2017 04:35 HKT/SGT
International Flight Services Launched in Terminal 3, Soekarno Hatta
Mar 22, 2017 18:00 HKT/SGT
Garuda Indonesia Group books Net Income of US$9.35 million for 2016, Maintaining Positive Performance
Mar 7, 2017 17:00 HKT/SGT
Garuda Indonesia Increases Seasonal Flight Frequency to Australia
Feb 15, 2017 10:00 HKT/SGT
Garuda Indonesia to launch direct flight Jakarta - Moscow in August 2017
Dec 7, 2016 10:30 HKT/SGT
Garuda Indonesia to Start New Service to Mumbai on December 12
Nov 10, 2016 23:40 HKT/SGT
British Embassy Jakarta and Garuda Indonesia Launch Partnership on Tourism and Education
Nov 3, 2016 01:00 HKT/SGT
Garuda Indonesia Books USD19.6 Mil Net Income in Q3 2016
Sept 11, 2016 04:00 HKT/SGT
Garuda Indonesia to Fly to US via Japan
More news >>