| | |
| --- | --- |
| Monday, 26 June 2017, 20:10 HKT/SGT | |


Source: HKTDC
New Consumer Fair to Feature Quality Products and Fun Activities



HONG KONG, June 26, 2017 - (ACN Newswire) -

The inaugural Hong Kong Sports and Leisure Expo, organised by the Hong Kong Trade Development Council (HKTDC), will be held 21-25 July at the Hong Kong Convention and Exhibition Centre. More than 90 exhibitors from Hong Kong, the Chinese mainland, Japan and Korea will showcase sports and leisure products as well as services from more than 120 brands. To provide visitors with a new shopping and leisure experience, the HKTDC will also organise over 40 on-site events. The new expo offers prime summer activities to cater for different age groups and interests.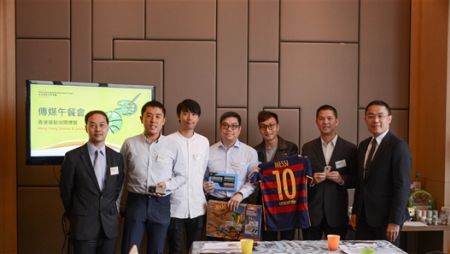 From left: Byron Lee, Senior Exhibitions Manager, HKTDC; Daniel Lam, Senior Exhibitions Manager, HKTDC; Terrence Zee, Sports Manager, The Hong Kong Federation of Youth Groups; Michael Yu, Marketing Manager, Futbol Trend; Leo Chan, General Manager, Leader Radio Technologies; John Law, Senior Manager of Product Research & Development Department, Sup Publishing Logistics; and Calvin Lai, Technical Manager, Nikon Hong Kong



- Six theme zones featuring sports and leisure products

"Stadium Live" is the theme of the first Hong Kong Sports and Leisure Expo, featuring six theme zones: Outdoor Adventure, Sports Hub, Health & Fitness, Photography World, Fun & Play and Handicraft Market, Visitors are welcome to explore the diverse products and activities on offer, as well as demo sessions given by selected exhibitors.

"This all-new expo showcases and sells sports and leisure products, arts and hobby supplies, as well as interest classes," said HKTDC Deputy Executive Director Benjamin Chau. "Members of the public can try some of the products and take part in experiential activities, such as indoor climbing, emerging sports and handicraft workshops. Exhibitors can collect valuable consumer insights on their products and services, launch new products and build their brands through this platform."

- Fun-filled activities

Among the exhibitors will be the Just Climb Association, which will set up a climbing wall on-site to allow free trials for a limited number of visitors. Another exhibitor, the Hong Kong Federation of Youth Groups, will stage a series of activities, including a rope-jumping competition and virtual reality (VR) workshops to encourage youths to participate in group activities. Football concept store Futbol Trend will showcase some of the latest brands and trendy sports collections and offer football classes, jersey printing and freestyle football performances. They are also co-organising with the HKTDC a "Hall of Fame" - Jersey Display to exhibit autographed jerseys by football stars such as Lionel Messi, Neymar Jr., Cristiano Ronaldo and more.

In addition to the many shopping choices and interest classes offered by exhibitors and the various demos and experiences, the expo will also feature an array of over 40 on-site activities including handicraft and photography workshops, emerging sports try-outs, sportswear fashion shows, magic performances, music competitions and artificial intelligence (AI) Go competitions.

- Celebrity sharing

The HKTDC will also invite local elite athletes to share their stories, including, swimmer Yvette Kong and 5,000m and half-marathon athlete Gi Ka Man. Climbing expert John Tsang, the first Hongkonger to complete the Pacific Crest Trail Wong Wai Po, calligrapher Wendy Tang and Commercial Radio Programme Host Maria Tang will also share their experience and insights into their respective sports and leisure activities.

On the second day (22 July) of the expo, Getting Your Shot Right - 2017 National Geographic Photography Forum will be organised. National Geographic Operation Director (HK) Ivan Tsoi and National Geographic Magazine Chinese Edition Editor-in-Chief Yungshih Lee, as well as the winning photographers of the National Geographic International Photo Contest in 2015 and 2016 will share their stories behind their images and offer photography tips.

- One ticket, two fairs

The new expo (21-25 July) will run concurrently with the 28th edition of the Hong Kong Book Fair (19-25 July) at the Hong Kong Convention and Exhibition Centre. Visitors need only purchase one ticket for admission to both fairs. The arrangement offers engaging summer activities for visitors, especially youths, to cultivate diverse interests in reading, sports, outdoor activities and handicrafts.

The first Hong Kong Sports and Leisure Expo

- Date: 21-25 July 2017 (Friday to Tuesday)
- Opening Hours: 21-24 July: 10am-8pm; 25 July: 9am-5pm
- Venue: Grand Hall, Hong Kong Convention and Exhibition Centre
- Admission:
Adult Ticket: HK$25
Child Ticket: HK$10 (for primary school students / children under 1.22m tall)
* Children under 3 and adults over 65 will be admitted free of charge
- Admission
Visitors with valid Hong Kong Book Fair tickets dated 21-25 July can also visit the Hong Kong Sports and Leisure Expo.
Hong Kong Book Fair tickets
Adult: HK$25
Child: HK$10 (primary school students / children under 1.22m tall)
* Children under 3 and elderly over 65 will be admitted free of charge
- Ticketing
Tickets are available now at Hong Kong Ticketing and designated 7-11 and Circle K stores. Visitors can also purchase tickets on-site at the fairground ticket office.
Admission e-tickets will also be available via Tap & Go mobile wallet starting from early July. More information will be available on Tap & Go's website later.

Fair Websites
Hong Kong Sports & Leisure Expo: www.hktdc.com/hksportsleisureexpo
Hong Kong Book Fair: www.hkbookfair.com

Photo Downlad: http://bit.ly/2scXp7Y

Media Registration:
Media representatives wishing to cover the event may register on-site with their business cards and/or media identification.

To view press releases in Chinese, please visit http://mediaroom.hktdc.com/tc


About HKTDC

The Hong Kong Trade Development Council (HKTDC) is a statutory body established in 1966 to promote, assist and develop Hong Kong's trade. With 50 offices globally, including 13 in Mainland China, the HKTDC promotes Hong Kong as a two-way global investment and business hub. The HKTDC organises international exhibitions, conferences and business missions to create business opportunities for companies, particularly small and medium-sized enterprises (SMEs), in the mainland and international markets. The HKTDC also provides up-to-date market insights and product information via trade publications, research reports and digital news channels. For more information, please visit: www.hktdc.com/aboutus. Follow us on Twitter @hktdc and LinkedIn.

Contact:
HKTDC
Communication and Public Affairs Department
Joe Kainz
Tel: +852 2584 4216
Email: 

[email protected]



June 26, 2017 20:10 HKT/SGT
Source: HKTDC
Topic: Trade Show or Conference
Sectors: Trade Shows, Travel & Tourism
http://www.acnnewswire.com
From the Asia Corporate News Network
Copyright © 2020 ACN Newswire. All rights reserved. A division of Asia Corporate News Network.
HKTDC
Feb 26, 2020 20:00 HKT/SGT
Hong Kong Trade Development Council welcomes new Budget
Feb 13, 2020 16:00 HKT/SGT
HKTDC helps SMEs amid unprecedented challenges
Feb 4, 2020 09:00 HKT/SGT
HK designers unveil collections at London Fashion Week
Jan 24, 2020 11:00 HKT/SGT
Fashion Hong Kong arrives at New York Fashion Week
Jan 21, 2020 19:00 HKT/SGT
HKTDC Education & Careers Expo opens early February
Jan 15, 2020 19:00 HKT/SGT
3,500+ finance, business leaders join Asian Financial Forum
Jan 13, 2020 21:00 HKT/SGT
13th Asian Financial Forum opens today
Jan 9, 2020 19:00 HKT/SGT
Close to 108,000 buyers visit first four HKTDC fairs of 2020
Jan 8, 2020 19:00 HKT/SGT
Hong Kong International Licensing Show draws to a close
Jan 8, 2020 16:00 HKT/SGT
Toys Conference examines latest industry trends
More news >>