| | |
| --- | --- |
| Monday, 3 July 2017, 12:28 HKT/SGT | |


Source: Toyota



TOKYO, July 3, 2017 - (JCN Newswire) -

The TOYOTA GAZOO Racing World Rally Team ended a challenging event at Rally Poland by taking the win in the Power Stage with Jari-Matti Latvala. It was his fourth stage win of the weekend and gave him five points to add to his championship score, lifting him up into third in the standings. Latvala had retired from Saturday but before that he was involved in a close battle for the win, and led in wet and slippery conditions on the first day. Juho Hanninen also scored, finishing in 10th position.

http://www.acnnewswire.com/topimg/Low_Toyota7317Car11.jpg
Car 11 (Juho Hanninen, Kaj Lindstrom)

The final day was made up of four stages, ending with the Paprotki Power Stage. After having to stop during Saturday afternoon with a mechanical issue, Latvala restarted with the target of picking up points on the Power Stage, which he won by 4.9 seconds. Delayed by issues on Saturday, Hanninen moved back into the top 10 on the final day to score points for the sixth time this season.

http://www.acnnewswire.com/topimg/Low_Toyota7317Car10.jpg
Car 10 (Jari-Matti Latvala, Miikka Anttila)

Tommi Makinen (Team Principal)

Quotes:

Tommi Makinen (Team Principal)
"Today we achieved the objectives we had the beginning of the day, with Jari-Matti taking maximum points on the Power Stage and Juho completing the rally in the top 10. Jari-Matti came back well from the disappointment of retiring yesterday. He again showed great speed, like he did earlier in the weekend. Overall, the result wasn't what we expected but the pace we had here was a positive going on to Finland."

Jari-Matti Latvala (Driver car 10)
"Of course, it was disappointing to retire on Saturday but it was important that we came back and managed to win the Power Stage. I was focusing a lot before the stage, going through all the corners and the braking points in my mind, and it paid off. We scored five more points and it gives me the confidence again that our car is very fast and we can challenge our rivals in the rallies that are coming up. Thanks to the team for the work to prepare my car to restart today and ensure we could get these five points. They could still be very valuable in the championship."

Juho Hanninen (Driver car 11)
"It has been a challenging weekend. The conditions were very difficult. When it was really slippery, on the harder ground, we actually had decent pace, but in the softer ground with the deep ruts we were losing quite a bit of time and it was frustrating. We will try to improve this for the future. Luckily, Rally Finland is next and I am sure this will be better, as we will have a good test beforehand."

What's next?:
The next round of the World Rally Championship is Rally Finland from July 27-30. The gravel event is perhaps the most famous event on the calendar, popular for its spectacular high-speed stages along gravel forest roads lined by trees and featuring numerous jumps. All three Yaris WRCs will start the rally, which is based in the city of Jyvaskyla, with Latvala, Hanninen and Lappi all taking part on home soil.

Results as of 17:00 on Sunday local time, for the latest results please visit www.wrc.com


About Toyota

Toyota Motor Corporation (TMC) is the global mobility company that introduced the Prius hybrid-electric car in 1997 and the first mass-produced fuel cell sedan, Mirai, in 2014. Headquartered in Toyota City, Japan, Toyota has been making cars since 1937. Today, Toyota proudly employs 370,000 employees in communities around the world. Together, they build around 10 million vehicles per year in 29 countries, from mainstream cars and premium vehicles to mini-vehicles and commercial trucks, and sell them in more than 170 countries under the brands Toyota, Lexus, Daihatsu and Hino. For more information, please visit www.toyota-global.com.

Contact:

Public Affairs Division
Global Communications Department
Toyota Motor Corporation
Tel: +81-3-3817-9926

July 3, 2017 12:28 HKT/SGT
Source: Toyota
Topic: Press release summary
Sectors: Automotive
http://www.acnnewswire.com
From the Asia Corporate News Network
Copyright © 2018 ACN Newswire. All rights reserved. A division of Asia Corporate News Network.
Multimedia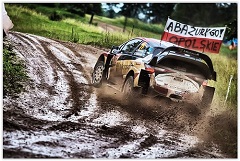 Car 11 (Juho Hanninen, Kaj Lindstrom)
View Image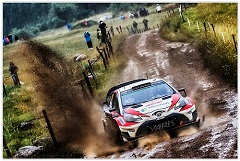 Car 10 (Jari-Matti Latvala, Miikka Anttila)
View Image
Toyota
Apr 9, 2018 08:33 HKT/SGT
Toyota's Rally France (Tour de Corse): Day 3
Apr 6, 2018 13:06 HKT/SGT
Toyota Environmental Activities Grant Program Accepting 2018 Applications
Apr 5, 2018 22:23 HKT/SGT
TOYOTA GAZOO Racing Ready for New Challenge
Apr 3, 2018 13:01 HKT/SGT
Toyota and Park24 to Sign Agreement on Car Sharing Service Trial in Central Tokyo
Apr 2, 2018 15:28 HKT/SGT
Toyota to Merge Tokyo Sales Companies to Form New Company in April 2019
Mar 29, 2018 15:00 HKT/SGT
Toyota and Suzuki Reach Basic Agreement toward Mutual Supply of Hybrid and Other Vehicles in India
Mar 29, 2018 14:20 HKT/SGT
Toyota Announces Results for February 2018
Mar 23, 2018 13:09 HKT/SGT
Hatch is Back! All-New 2019 Toyota Corolla Hatchback Wows at the 2018 New York International Auto Show
Mar 22, 2018 13:07 HKT/SGT
Toyota Introduces Premium Class in Car Rental Line of Business
Mar 21, 2018 12:02 HKT/SGT
Toyota: Born to be Tough! 50 Years of Working to Be a Reliable Partner
More news >>