| | |
| --- | --- |
| Thursday, 20 July 2017, 18:00 HKT/SGT | |


Source: HKTDC
Forum Addresses "Crisis or Opportunities" in Digital Era



HONG KONG, July 20, 2017 - (ACN Newswire) -

Book publishing is facing increasing challenges posed by the Internet, which has become the font of most reading and knowledge in the digital era. The trend and possible solutions were discussed at a 19 July seminar held during the 28th edition of the HKTDC Hong Kong Book Fair.

Entitled "Crisis or Opportunities - Latest Global Trends of Publishing," the International Publishing Forum was jointly organised by the Hong Kong Trade Development Council (HKTDC) and the Hong Kong Publishing Federation.

Sharing valuable insights into the latest trends and the future of the publishing industry were three East-meets-West industry insiders: Victor Wang, co-founder of Beijing-based seed fund ZhenFund and leading Chinese mainland private education provider New Oriental Education & Technology Group; Florian Poppe, former Production Director of Lonely Planet Publications Pty Ltd; and Zhao Zheng-min, Chairman and General Manager of the China Times Publishing Company in Taiwan and Chairman of the Taipei Book Fair Foundation.

Opening the forum, Dr Elvin Lee, Chairman of the Hong Kong Publishing Federation, underlined the historic challenge the Internet poses to book publishers. "The industry must find new ways to reach the new generation of readers," he said.

The Harry Potter magic

A famous collector of rare books, Mr Wang pointed to the Harry Potter phenomenon as a possible inspiration. He argued that the success of the Harry Potter franchise stemmed from its uniqueness, which publishers initially failed to identify.

He reminded the packed audience that only after eight other publishers rejected The Philosopher's Stone did Bloomsbury offer author JK Rowling a meagre GBP 2,500 (about HK$25,000) advance for its publication. The series has since been translated into 67 languages, giving rise to highly successful films, video games and hundreds of products estimated to be worth as much as US$25 billion, making Ms Rowling among the most translated authors in history, and the world's first billionaire author.

"It's about being different, unique and finding a niche market; understanding the public mood and creating products for it," said Mr Wang. "In the end, publishing is a business, and in order to succeed, you have to serve readers and connect with them."

Going places

When it comes to connecting with readers, Lonely Planet did it better than most, inspiring a generation to backpack the world with step-by-step advice from its iconic 1970s and 80s guides, such as Across Asia on the Cheap and South East Asia on a Shoestring. But those glory days were before the Internet, smartphones and laptops, said the brand's former Production Director, Mr Poppe.

Acquired initially by the British Broadcasting Corp (BBC) and subsequently by the United States-based NC2 Media, Lonely Planet remains the world's leading travel media company, extending from travel guide books to its own TV channel, magazines and an online community of millions worldwide. However, today's world travellers no longer depend on once-ubiquitous travel guides to find their way around the world and the market is dwindling, said Mr Poppe.

"We're all more seasoned travellers these days and information on the Internet is free on Google and TripAdvisor with tips on Snapchat," he said. "It's a crowded market."

Mr Poppe said the Chinese mainland tourism boom offers the greatest potential, while travel publishers should explore "cross-platform" initiatives, such as packaging guide books with mobile applications and handy waterproof destination maps that travellers can keep in their pockets and unfold for general information at a glance. "Travel is always growing," he said. "The question is how publishers can appeal to the younger generation?"

Lower costs and prices, wider distribution

Meanwhile, Mr Zhao lamented the publishing industry's significant slump in Taiwan. "When there's a bestseller, the writer becomes famous. Nobody knows or respects the publisher," he noted.

In his discussion on "timing and sizing-up the situation," along with prospects for Chinese language and literature platforms, Mr Zhao said that the industry "must adapt" to the new era. Citing a recent survey indicating that the average Taiwan reader spent six hours a day online, he recounted an anecdotal question on the types of books they read. "The answer was Facebook and Notebook," he said. "It used to be a joke, but it's not now."

To counter the trend, Mr Zhao suggested reducing publishing costs and book prices, as well as wider and more creative distribution channels; from novel events and exhibitions to book fairs and celebrity involvement. "We have to be more reader-oriented," he said. "It's about redefining the old and the new market. It used to be said that content was king, or the writer was king. But today the reader is king, so we need to change our mindset."

But great potential remains, he said, not least in the "huge" Chinese-language market of 1.5 billion, representing about a quarter of the world's population. Ultimately, he insisted: "Books will never become extinct. They're irreplaceable."

A strong international line-up of speakers are scheduled to speak at upcoming seminars and forums during the week-long Hong Kong Book Fair. The 19-25 July event, happening at the Hong Kong Convention and Exhibition Centre features a record 670 exhibitors from 37 countries and regions.

Hong Kong Book Fair Website: www.hkbookfair.com/en

Photo Download: http://bit.ly/2gM8j3Y

Media Registration:
Media representatives wishing to cover the event may register on-site with their business cards and/or media identification.

To view press releases in Chinese, please visit http://mediaroom.hktdc.com/tc


About HKTDC

Established in 1966, the Hong Kong Trade Development Council (HKTDC) is a statutory body dedicated to creating opportunities for Hong Kong's businesses. With more than 40 offices globally, including 13 on the Chinese mainland, the HKTDC promotes Hong Kong as a platform for doing business with China, Asia and the world. With more than 50 years of experience, the HKTDC organises international exhibitions, conferences and business missions to provide companies, particularly SMEs, with business opportunities on the mainland and in international markets, while providing business insights and information via trade publications, research reports and digital channels including the media room. For more information, please visit: www.hktdc.com/aboutus. Follow us on Google+, Twitter @hktdc, LinkedIn.
- Google+: https://plus.google.com/+hktdc
- Twitter: http://www.twitter.com/hktdc
- LinkedIn: http://www.linkedin.com/company/hong-kong-trade-development-council

Contact:

HKTDC
Communication and Public Affairs Department
Billy Ng
Tel: +852 2584 4393
Email: billy.km.ng@hktdc.org

July 20, 2017 18:00 HKT/SGT
Source: HKTDC
Topic: Trade Show or Conference
Sectors: Trade Shows, Retail/eCommerce, Daily News
http://www.acnnewswire.com
From the Asia Corporate News Network
Copyright © 2018 ACN Newswire. All rights reserved. A division of Asia Corporate News Network.
Multimedia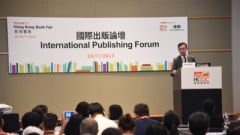 At the International Publishing Forum held on 19 July 2017 at the HKTDC Hong Kong Book Fair, Dr Elvin Lee, Chairman of Hong Kong Publishing Federation, underlines the historic challenge facing book publishers posed by the Internet.
View Image
HKTDC
July 18, 2018 20:00 HKT/SGT
29th Hong Kong Book Fair Opens with Record 680 Exhibitors from 39 Countries
July 18, 2018 16:00 HKT/SGT
Hong Kong Sports and Leisure Expo Opens Today
July 13, 2018 12:00 HKT/SGT
Hong Kong Fashion Week Unveils the Next Wave in Technology
July 12, 2018 19:30 HKT/SGT
"Belt and Road Journey" Youth Exchange Programme Kicks Off
July 12, 2018 19:00 HKT/SGT
Hong Kong Fashion Week for Spring/Summer Concludes
July 9, 2018 20:30 HKT/SGT
Readers Invited to Explore the World at Hong Kong Book Fair
July 9, 2018 20:00 HKT/SGT
Hong Kong Fashion Week for Spring/Summer Opens
July 3, 2018 18:00 HKT/SGT
Young Writers to Share Creative Journeys at Hong Kong Book Fair
June 28, 2018 20:00 HKT/SGT
Third Belt and Road Summit Held in Hong Kong
June 27, 2018 20:00 HKT/SGT
Belt and Road Global Forum Inaugurated Today
More news >>