| | |
| --- | --- |
| Wednesday, 26 July 2017, 22:00 HKT/SGT | |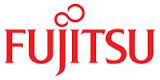 Source: Fujitsu Ltd
The two companies to start digital co-creation businesses that utilize IoT and other cutting-edge technologies with the goal of developing a digital society



TOKYO, July 26, 2017 - (JCN Newswire) -

Fujitsu Limited has yesterday signed a Memorandum of Understanding (MoU) with PT. Telekomunikasi Indonesia, Tbk. regarding a two-year strategic partnership, in which they will pursue the co-creation of digital businesses that leverage advanced network infrastructure in Indonesia.

Based on the MoU, the two companies will move forward to apply cutting-edge technologies, such as the Internet of Things (IoT), to various fields, including smart cities, healthcare, manufacturing and logistics. Their joint initiatives will start from market research, planning and review of digital solutions that utilize the companies' respective strengths, and based on this groundwork, the development, verification, and co-creation of digital businesses.

The prevalence of smartphones and broadband networking that enables high-capacity communications have in recent years led to an enormous expansion in Internet usage in Indonesia. Being a country with a population of over 250 million, even further growth in the digitalization of society as a whole is expected.

Now, working toward this development of Indonesia's digital society, Fujitsu, which continues to provide information and communication technology (ICT) solutions worldwide with the knowledge cultivated from 80 years of experience in network systems, and Telekomunikasi Indonesia, the largest telecommunications services company in the country, have agreed to co-create digital businesses.

Based on this MoU, Fujitsu Limited and PT. Fujitsu Indonesia (Managing Director: Odi Handoko) will work together in partnership with Telekomunikasi Indonesia on the following initiatives:

1. Verification of technical specifications, systems, and service performance related to advanced technology and solutions, such as IoT
2. Assessment of business and service models, including market research
3. Concept verification
4. Service co-creation based on research and review


About Fujitsu Ltd

Fujitsu is the leading Japanese information and communication technology (ICT) company, offering a full range of technology products, solutions, and services. Approximately 155,000 Fujitsu people support customers in more than 100 countries. We use our experience and the power of ICT to shape the future of society with our customers. Fujitsu Limited (TSE: 6702) reported consolidated revenues of 4.5 trillion yen (US$40 billion) for the fiscal year ended March 31, 2017. For more information, please see http://www.fujitsu.com.

* Please see this press release, with images, at:
http://www.fujitsu.com/global/about/resources/news/press-releases/

Contact:

Fujitsu Limited
Public and Investor Relations
Tel: +81-3-6252-2176
URL: www.fujitsu.com/global/news/contacts/

July 26, 2017 22:00 HKT/SGT
Source: Fujitsu Ltd
Fujitsu Ltd (TSE: 6702)
Topic: Business Tieup
Sectors: Telecoms, Enterprise IT, Digital
http://www.acnnewswire.com
From the Asia Corporate News Network
Copyright © 2018 ACN Newswire. All rights reserved. A division of Asia Corporate News Network.
Multimedia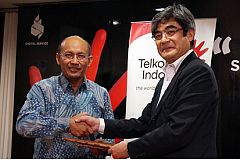 Arief Musta'in, Executive General Manager of Digital Service Division, PT. Telekomunikasi Indonesia, Tbk; Fumihiko Tezuka, Corporate Executive Officer, SVP, Head of Social Infrastructure Business, Fujitsu Limited
View Image
Fujitsu Ltd
July 23, 2018 11:48 HKT/SGT
Fujitsu and NPO SEEDS Asia in AR-Enabled Mobile App Trial to Measure Indian Flood Waters, Visualize Urban Flooding
July 20, 2018 09:13 HKT/SGT
Fujitsu Joins RE100, a Global Renewable Electricity Initiative
July 19, 2018 19:07 HKT/SGT
Academic, Corporate Collaboration Succeeds at World's Most Efficient Solar Power-Generated Hydrogen Production
July 12, 2018 19:49 HKT/SGT
AEON and Fujitsu Launch Field Trial of Cardless Payments Using Biometric Authentication Technology
July 12, 2018 19:37 HKT/SGT
Fujitsu Identifies Six Success Factors for Digital Transformation
July 12, 2018 19:07 HKT/SGT
Fujitsu Presents 'Digital Transformation of Banking Services' to Propose Future Banking Sector Business Models
June 26, 2018 09:24 HKT/SGT
Fujitsu-Developed "ABCI" System Takes 5th Place in TOP500, 8th in Green500 Supercomputer Rankings
June 22, 2018 10:17 HKT/SGT
Fujitsu Enhances Cloud Services Portfolio to Support the Digital Transformation of Customer Businesses
June 21, 2018 13:19 HKT/SGT
Fujitsu Completes Post-K Supercomputer CPU Prototype, Begins Functionality Trials
June 20, 2018 09:33 HKT/SGT
Fujitsu Launches Edge Product Certification Program for "COLMINA" Manufacturing Solution
More news >>