Renovation to Extend Service Life of the 400 tpd MSW Facility



TOKYO, Aug 31, 2017 - (JCN Newswire) -

Mitsubishi Heavy Industries Environmental & Chemical Engineering Co., Ltd. (MHIEC) has received an order from the Clean Authority of TOKYO, a local government authority, to refurbish core components at the Ariake Waste-to-Energy (WtE) Plant, a municipal solid waste (MSW) incineration plant. The order is for refurbishment of stoker type incinerators(1) to extend their service life and enhance energy efficiency.

http://www.acnnewswire.com/topimg/Low_MHIEC83117Ariake.jpg
Ariake Incineration Plant / Courtesy of Clean Authority of TOKYO

The Ariake WtE Plant is the first facility for which the Clean Authority of TOKYO has ordered a refurbishment of core components. The project is valued at 3,203 million Japanese yen (excluding tax), and scheduled for completion in February 2020. The plant was designed and built by MHI, and completed in December 1995. It comprises two stoker incinerators each with capacity of 200 tpd, and can generate up to 5,600 kilowatts (kW) of electricity.

The order covers the replacement and upgrading of superannuated components at the facility, including equipment for refuse feeding, ash treatment, waste water treatment, draft fan, duct, and dust collection, as well as electric instrumentation and water supply systems. The project will also enhance energy efficiency through the use of an exhaust gas treatment system that incorporates MHIEC's proprietary technologies to lower power consumption by reducing the load of bag filters, as well as the use of high-efficiency motors and inverters. These measures will reduce total annual CO2 emissions by more than 3%.

The Clean Authority of TOKYO was established in April 2000 to take over management and operation of waste and night soil treatment facilities from the Tokyo Metropolitan Government. The organization currently manages 21 plants in the city, including facilities undergoing renovation.

Renovation and upgrades to WtE plants are increasing, aiming to extend service life as well as reduce environmental impact. The introduction of a related subsidy system in 2015 by the Japanese national government has also accelerated this trend.(2)

MHIEC assumed responsibility of MHI's waste treatment plant business in 2008, acquiring MHI's accumulated technological development capabilities in environmental protection systems, and its abundant expertise in the construction and operation of waste management facilities both in Japan and overseas. Based on this strong track record, MHIEC is well placed to provide comprehensive solutions from plant construction to operation.

(1) A stoker furnace is the main type of MSW incineration plant. MSW is combusted as it moves along on a fire grate made of heat-resistant castings.
(2) This program, administered by Japan's Ministry of the Environment, promotes effective use of existing waste treatment facilities to address the issue of global warming. Local governments seeking to extend the operational life of their MSW facilities are eligible for subsidies covering one-third to one-half of project costs, depending on the degree of CO2 reduction.


About Mitsubishi Heavy Industries, Ltd.

Mitsubishi Heavy Industries, Ltd. (MHI), headquartered in Tokyo, is one of the world's leading industrial firms with 80,000 group employees and annual consolidated revenues of around 38 billion U.S. dollars. For more than 130 years, the company has channeled big thinking into innovative and integrated solutions that move the world forward. MHI owns a unique business portfolio covering land, sea, sky and even space. MHI delivers innovative and integrated solutions across a wide range of industries from commercial aviation and transportation to power plants and gas turbines, and from machinery and infrastructure to integrated defense and space systems.
For more information, please visit the MHI Group website: http://www.mhi-global.com.
For Technology, Trends and Tangents, visit MHI's new online media SPECTRA: http://spectra.mhi.com.

Contact:

Joseph Hood, PR Manager
Mitsubishi Heavy Industries, Ltd.
Email: mhi-pr@mhi.co.jp
Tel: +81-(0)3-6716-2168
Fax: +81-(0)3-6716-5860

Aug 31, 2017 14:43 HKT/SGT
Source: Mitsubishi Heavy Industries, Ltd.
Topic: Press release summary
Sectors: Energy
http://www.acnnewswire.com
From the Asia Corporate News Network
Copyright © 2018 ACN Newswire. All rights reserved. A division of Asia Corporate News Network.
Multimedia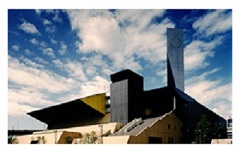 Ariake Incineration Plant/Courtesy of Clean Authority of TOKYO
View Image
Mitsubishi Heavy Industries, Ltd.
Apr 25, 2018 14:48 HKT/SGT
MHI and NTT Group Begin Sales of "InteRSePT" Cyber Security Technology Providing Safe and Secure Operation of Control Systemse
Apr 20, 2018 17:29 HKT/SGT
Mitsubishi Heavy Industries-Haier (Qingdao) Air-Conditioners Co., Ltd., Joint Venture with Haier
Apr 19, 2018 14:32 HKT/SGT
Mitsubishi Shipbuilding Holds Christening Ceremony for Diamond Gas Orchid, Next-Generation LNG Carrier
Apr 2, 2018 11:04 HKT/SGT
MHI Holds Welcoming Ceremony for New Employees in 2018
Mar 26, 2018 12:21 HKT/SGT
Mitsubishi Corporation to Participate in Offshore Wind Farm Project in the UK
Mar 13, 2018 10:43 HKT/SGT
MHI Thermal Systems Concludes Agreement with Beijer Ref to Collaborate in Air-Conditioning and Heat Pump Business in UK and Ireland
Mar 12, 2018 10:46 HKT/SGT
MHI: H-100 Gas Turbine and Low NOx Combustion System Receives Full Mechanical Drive Qualification by Shell
Mar 5, 2018 10:25 HKT/SGT
MHIEC Receives Order to Build Waste to Energy Plant in Kawasaki
Feb 28, 2018 08:21 HKT/SGT
MHI Thermal Systems and Chubu Electric Power Jointly Develop "Q-ton Circulation" Heat Pump, Launching Set for August
Feb 28, 2018 08:04 HKT/SGT
MHI Completes Investment in Orano (formerly "New AREVA Holding")
More news >>