| | |
| --- | --- |
| Thursday, 7 September 2017, 17:30 HKT/SGT | |


Source: HKTDC
Celebrities Add Glamour to Gala Fashion Show



HONG KONG, Sept 7, 2017 - (ACN Newswire) -

A major fashion spectacular, CENTRESTAGE ELITES, took to the stage last night (6 September), showcasing the latest Spring/Summer 2018 collections of Hong Kong brand FFIXXED STUDIOS and Korean label JUUN.J.

The opening gala show was a highlight of CENTRESTAGE, which is organised by the Hong Kong Trade Development Council (HKTDC), and continues through 9 September at the Hong Kong Convention and Exhibition Centre (HKCEC). The event aims to further reinforce Hong Kong's position as an international fashion capital.

CENTRESTAGE ELITES showcased Kain Picken and Fiona Lau's FFIXXED STUDIOS, as well as the works of Juun.J. The Korean designer staged his first Hong Kong runway show, which was made possible through a collaboration with the brand's partner JOYCE and the HKTDC. JUUN.J's 2017 Fall/Winter collection is also currently on offer at JOYCE.

Top models showcased the designers' collections during the gala fashion show, which was attended by nearly 1,000 guests, including celebrities Hilary Tsui, Vincent Wong, Owen Cheung and Janet Ma.

Asia's fashion promotion and launch platform, CENTRESTAGE runs from 6-9 September at the HKCEC. The trade show features more than 210 fashion brands from 22 countries and regions, as well as nearly 40 spectacular events, including some 20 other runway shows. Designer sharing sessions, industry seminars, networking events and other activities have also been arranged during the fair period.

About FFIXXED STUDIOS: http://bit.ly/2eu0CiN
About JUUN. J: http://bit.ly/2xC1BC5

CENTRESTAGE website: http://centrestage.com.hk
The Hong Kong Young Fashion Designers' Contest webpage: http://www.fashionally.com
CENTRESTAGE activity schedule: http://centrestage.com.hk/en/event/schedule.php
Photo Download: http://bit.ly/2gIO0Bz
Celebrities at CENTRESTAGE ELITES: http://bit.ly/2gJqkwU
FFIXXED STUDIOS' 2018 Spring/Summer collection: http://bit.ly/2xcA6Cd
JUUN. J's 2018 Spring/Summer collection: http://bit.ly/2wanDdv

For Media:
Media representatives wishing to cover the event may register on-site with their business cards and/or media identification.


About HKTDC

Established in 1966, the Hong Kong Trade Development Council (HKTDC) is a statutory body dedicated to creating opportunities for Hong Kong's businesses. With more than 40 offices globally, including 13 on the Chinese mainland, the HKTDC promotes Hong Kong as a platform for doing business with China, Asia and the world. With more than 50 years of experience, the HKTDC organises international exhibitions, conferences and business missions to provide companies, particularly SMEs, with business opportunities on the mainland and in international markets, while providing business insights and information via trade publications, research reports and digital channels including the media room. For more information, please visit: www.hktdc.com/aboutus. Follow us on Google+, Twitter @hktdc, LinkedIn.
- Google+: https://plus.google.com/+hktdc
- Twitter: http://www.twitter.com/hktdc
- LinkedIn: http://www.linkedin.com/company/hong-kong-trade-development-council

Contact:

HKTDC
Communication and Public Affairs Department
Sam Ho
Tel: +852 2584 4569
Email: sam.sy.ho@hktdc.org

Agnes Wat
Tel: +852 2584 4554
Email: agnes.ky.wat@hktdc.org

Sept 7, 2017 17:30 HKT/SGT
Source: HKTDC
Topic: Trade Show or Conference
Sectors: Fashion/Apparel
http://www.acnnewswire.com
From the Asia Corporate News Network
Copyright © 2018 ACN Newswire. All rights reserved. A division of Asia Corporate News Network.
Multimedia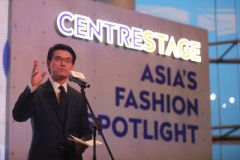 Edward Yau Tang-wah, HKSAR Secretary for Commerce and Economic Development, officiates at the opening of CENTRESTAGE ELITES.
View Image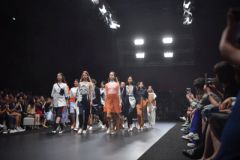 FFIXXED STUDIOS' 2018 Spring/Summer collection
View Image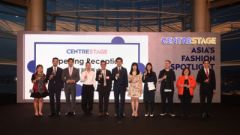 Toasting the opening of CENTRESTAGE ELITES.
View Image
HKTDC
July 13, 2018 12:00 HKT/SGT
Hong Kong Fashion Week Unveils the Next Wave in Technology
July 12, 2018 19:30 HKT/SGT
"Belt and Road Journey" Youth Exchange Programme Kicks Off
July 12, 2018 19:00 HKT/SGT
Hong Kong Fashion Week for Spring/Summer Concludes
July 9, 2018 20:30 HKT/SGT
Readers Invited to Explore the World at Hong Kong Book Fair
July 9, 2018 20:00 HKT/SGT
Hong Kong Fashion Week for Spring/Summer Opens
July 3, 2018 18:00 HKT/SGT
Young Writers to Share Creative Journeys at Hong Kong Book Fair
June 28, 2018 20:00 HKT/SGT
Third Belt and Road Summit Held in Hong Kong
June 27, 2018 20:00 HKT/SGT
Belt and Road Global Forum Inaugurated Today
June 27, 2018 16:00 HKT/SGT
Inter-regional Collaboration Explored at Lifestyle Expo in Dubai
June 26, 2018 18:30 HKT/SGT
29th Hong Kong Book Fair Opens Next Month with Record 680 Exhibitors
More news >>