HONG KONG, Sept 20, 2017 - (ACN Newswire) -

The leading global provider of energy-based medical aesthetic treatment systems - Sisram Medical Ltd ("Sisram Med" or the "Company"; stock code: 1696.HK), was officially listed and commenced trading on the Main Board of The Stock Exchange of Hong Kong Limited ( "SEHK") on 19 September.

The Management of both Fosun International Limited ("Fosun Intl", together with its subsidiaries, "Fosun Group", stock code: 656.HK) and Shanghai Fosun Pharmaceutical (Group) Co., Ltd. ("Fosun Pharma", stock code: 2196.HK), the controlling shareholders of Sisram Med, attended the listing ceremony to show their support on the Company's listing.

Mr Guangchang Guo, the Chairman of Fosun Intl, said, "Fosun Group aims to be a technology-led enterprise, while Israel is a world-famous state of innovation. We are pleased to work with this outstanding Israeli technology company and have it successfully listed on the Main Board of SEHK. Being customer-oriented focus, Sisram Med is able to catch up with market demands, and together with its strong R&D strength, the Company is in line with Fosun Group's development strategy. We believe that the greater transparency in operation Sisram Med has after listing will further aid its business growth and development in China. Besides, China and Israel are two economic entities strongly complementary with each other. Under the "Belt and Road" initiative, we hope Sisram Med could become an exemplar of Chinese-Israeli cooperation in future.

Mr Qiyu Chen, Co-president of Fosun Intl and Chairman of Fosun Pharma, said "Being the first Israeli company being listed in Hong Kong, Sisram Med needs to undergo a get-to-know process from the market and investors. As the Company's major shareholder, we are optimistic about its industry prospects, sustainable R&D strength and profitability. We have full confidence in Sisram Med's future development. "

Mr. Yi Liu, Chairman and Executive Director of Sisram Med, said on the listing ceremony: "The listing of Sisram Med today marks an important milestone for our Company to enter into the international capital market. Sisram Med aims to become the largest global provider of energy-based medical aesthetic treatment systems. In the future, we will keep pace on meeting the evolving market demands with innovative products driven by our reinforcing research and development strength. Furthermore, we will continue to increase our market share, and particularly our position as the largest provider in the PRC through the cooperation and support with our parent company Fosun Pharma ."

About Sisram Medical Ltd
Sisram Medical Ltd (stock code: 1696.HK) is a leading global provider of energy-based medical aesthetic treatment systems, with comprehensive in-house capability to design, develop and produce such systems, which often feature the Company's innovative and proprietary technologies. "Alma" brand, as well as the brands of many of the Company's products such as "Soprano", "Harmony", "Accent" and "FemiLift", are widely recognized and well regarded among treatment providers and treatment recipients internationally. The Company has also been the largest provider of energy-based medical aesthetic treatment systems in the PRC market and one of the leaders in the medical aesthetic treatment system market globally, in terms of revenue in 2016, according to the Medical Insight Report. The company sells its treatment systems in approximately 80 countries and jurisdictions worldwide. Sisram Med, incorporated in 2013 in Israel, is a non-wholly owned subsidiary of Fosun Pharma. Fosun Pharma is a leading healthcare group in China with businesses covering the whole healthcare industry chain.



Sept 20, 2017 12:34 HKT/SGT
Topic: Press release summary
Sectors: Daily Finance, Daily News
http://www.acnnewswire.com
From the Asia Corporate News Network



Copyright © 2018 ACN Newswire. All rights reserved. A division of Asia Corporate News Network.



Multimedia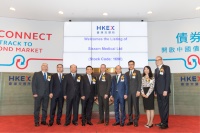 The Management of Fosun Intl, Fosun Pharma and Sisram Med on the listing ceremony
View Image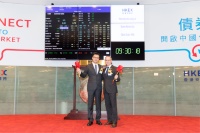 Mr Lior M Dayan, CEO of Sisram (Right) and Mr Yi Liu, Chairman and Executive Director of Sisram, (Left) hit the gong to announce the start of trading
View Image