| | |
| --- | --- |
| Sunday, 15 October 2017, 16:00 HKT/SGT | |


Source: HKTDC
Industry Keen on Working with Government on "Connected Living"



HONG KONG, Oct 15, 2017 - (ACN Newswire) -

The 37th HKTDC Hong Kong Electronics Fair (Autumn Edition), organised by the Hong Kong Trade Development Council (HKTDC), and the 21st electronicAsia, jointly organised by the HKTDC and MMI Asia Pte Ltd, kicked off on Friday and will continue through 16 October at the Hong Kong Convention and Exhibition Centre (HKCEC). One of the flagship events at the Fairs was the Symposium on Innovation & Technology on 13 October. Under the theme "Connected Living", the Symposium featured speakers from technology giants such as Microsoft and Tencent to share the latest technology developments. The industry was especially interested in the role of the HKSAR Government in promoting innovation and technology, and discussed how the Government could work with the industry to build a world of "Connected Living".

Carrie Lam: Technology creates opportunities for the next generation

Organised by the HKTDC and the Hong Kong Electronics & Technologies Association, the Symposium opened with the Chief Executive of the HKSAR Government Carrie Lam as the officiating guest. She said that innovation and technology create quality jobs for young people, opportunities for young entrepreneurs, improve people's livelihood and help power Hong Kong's future economy. She said the Government would adopt the right policies, invest the necessary resources and connect with talents and renowned research institutions in the face of the highly competitive global environment and fast advances in the Chinese mainland.

Carrie Lam also outlined eight major areas which her government will step up efforts in her first Policy Address. These included doubling the R&D expenditure as a percentage of the Gross Domestic Product from the current 0.73 per cent to 1.5 per cent in five years, establishing studentships and talent schemes, as well as encouraging young people to commit to R&D and product development. Carrie Lam also explained how the Government would take the lead in promoting innovation and technology, reviewing existing legislation and regulations, removing out-dated provisions, adjusting government procurement, and the opening up government data for use as data in the development of smart city.

Industry: open data push technology development

During the forum, the industry is particularly concerned about the role of the Government in driving forward innovation and technology. Andy Cheung, Technology Evangelist, Microsoft Hong Kong Limited, said that the public is interested in the convenience and efficiency that technology brings. But as technological development requires a massive amount of data and computing, enterprises can only introduce better services by obtaining more precise data. As the Government has the largest database, if it is willing to speed up its sharing with industry, it will lead to more cooperation with companies and benefit the society as a whole.

On the issue of smart city, Yi Haiyan, President, gd.qq.com, Tencent, also shared their experience in the Chinese mainland. She said that Tencent now provides a range of services using big data in a wide variety of real-life applications. Through the use of mobile phones and apps, there are solutions ranging from paying public transport fees to claiming medical insurance and paying old-age pensions. One of Tencent's major positions in the future will be providing infrastructure capabilities such as cloud computing, big data and Internet-of-Things (IoT) to partners and promote smart city.

Besides sharing data, Tony Tung, Sales Manager, Mobileye Automotive Products & Services (Shanghai) Company Limited, said that the Government should be more proactive in monitoring trends in innovation and technology, and should also review current legislation and regulations from a global perspective. He said he understood the HKSAR Government has been conducting a range of research, and suggests that the Government should collaborate with industry to roll out pilot programmes, collect more specific data and improve various technological applications.

Charles Mok, Legislative Councillor representing the Information Technology Functional Constituency, and Lo Wai-kwok, Legislative Councillor representing the Engineering constituency, were also guests in the Symposium. They agree that the Government should take up a more active role in boosting innovation and technology. Charles Mok said it was a good sign that the new Policy Address admitted that resistance towards technology advances came partly from within the Government. He said he hoped that the Government would continue to listen to the industry and build a world of "Connected Living" together.

Electronics Fair showcases state-of-the-art technology

The Symposium also featured speakers from technology giants such as Google, Amazon Web Services and Huawei to discuss topical issues including machine learning, artificial intelligence and autonomous driving. The Electronics Fair (Autumn Edition) features the Tech Hall once again to spotlight the market favourite high-end technology products. The Virtual Reality zone provides a range of gaming products and smart eyeglasses using virtual reality and augmented reality technologies. The Robotics & Unmanned Tech zone presents the latest drones and service robots. The Smart Tech zone gathers smart IoT products. The 3D Printing zone features the most recent 3D printers and related supplies. The Startup zone also features close to 100 start-ups from Hong Kong and other countries and regions.

The Hong Kong Electronic Forum will be held tomorrow (16 October) to discuss artificial intelligence and flexible electronics. Speakers include American artificial intelligence company NVIDIA, Qualcomm, the Industrial Technology Research Institute of Taiwan, German software development consultancy company MSWTech, China Academy of Science and the Nano and Advanced Materials Institute of Hong Kong.

Fair Website
Hong Kong Electronics Fair (Autumn Edition): www.hktdc.com/hkelectronicsfairae/
electronicAsia: http://electronicasia.com
Photo Download Link: http://bit.ly/2ibjm8j


About HKTDC

Established in 1966, the Hong Kong Trade Development Council (HKTDC) is a statutory body dedicated to creating opportunities for Hong Kong's businesses. With more than 40 offices globally, including 13 on the Chinese mainland, the HKTDC promotes Hong Kong as a platform for doing business with China, Asia and the world. With more than 50 years of experience, the HKTDC organises international exhibitions, conferences and business missions to provide companies, particularly SMEs, with business opportunities on the mainland and in international markets, while providing business insights and information via trade publications, research reports and digital channels including the media room. For more information, please visit: www.hktdc.com/aboutus. Follow us on Google+, Twitter @hktdc, LinkedIn.
- Google+: https://plus.google.com/+hktdc
- Twitter: http://www.twitter.com/hktdc
- LinkedIn: http://www.linkedin.com/company/hong-kong-trade-development-council

Contact:

HKTDC
Communication and Public Affairs Department
Billy Ng
Tel: +852-2584-4393
Email: billy.km.ng@hktdc.org

Oct 15, 2017 16:00 HKT/SGT
Source: HKTDC
Topic: Trade Show or Conference
Sectors: Enterprise IT, Daily News, Venture Capital, ASEAN
http://www.acnnewswire.com
From the Asia Corporate News Network
Copyright © 2018 ACN Newswire. All rights reserved. A division of Asia Corporate News Network.
Multimedia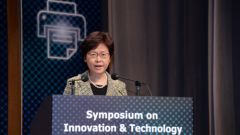 HKSAR Government Chief Executive Carrie Lam is the officiating guest of the HKTDC Symposium on Innovation & Technology. She outlines eight measures regarding innovation and technology in the latest Policy Address.
View Image
HKTDC
May 18, 2018 20:30 HKT/SGT
Record 18,300+ Visitors Attend 10th Entrepreneur Day
May 17, 2018 18:30 HKT/SGT
HKTDC Entrepreneur Day Opens
May 17, 2018 18:00 HKT/SGT
HKTDC Entrepreneur Day Opens
May 14, 2018 15:30 HKT/SGT
Czech Republic Showcased as Medical Devices Innovator
May 11, 2018 12:00 HKT/SGT
HKTDC Entrepreneur Day helps Start-ups to Scale Up
May 10, 2018 20:30 HKT/SGT
HKTDC April Fairs draw 230,000 Buyers, up nearly 3%
May 9, 2018 19:00 HKT/SGT
Hong Kong International Medical Devices and Supplies Fair Concludes
May 9, 2018 05:00 HKT/SGT
The 10th HKTDC Entrepreneur Day opens next Thursday
May 9, 2018 02:00 HKT/SGT
Top Hong Kong Films to be Screened in Cannes
May 7, 2018 18:00 HKT/SGT
Largest-ever HKTDC Hong Kong International Medical Fair Opens
More news >>