Toyota City, Japan, Oct 30, 2017 - (JCN Newswire) -

Jari-Matti Latvala and Esapekka Lappi both secured points finishes on Wales Rally GB, the penultimate round of the World Rally Championship, with Latvala also taking additional points thanks to a third-fastest time on the Power Stage. Latvala ended the rally in fifth place, less than a second behind the fourth-placed finisher, after winning two stages. Lappi was ninth, while Juho Hanninen was forced into retirement after a small mistake in tricky conditions on Saturday.

http://www.acnnewswire.com/topimg/Low_ToyotaGAZOO103017Car10.jpg
Car 10 (Jari-Matti Latvala, Miikka Anttila)

The final day in Wales consisted of five stages run consecutively with no service halt, including the Power Stage that concluded the rally. Latvala was locked into a tight battle with his closest rival and pushed hard to try and make up a position. With Lappi having a larger gap in front and behind him, he concentrated on bringing the car home and collecting more data that will be vital for future development of the Yaris WRC

http://www.acnnewswire.com/topimg/Low_ToyotaGAZOO103017Car12.jpg
Car 12 (Esapekka Lappi, Janne Ferm)

Quotes:

Tommi Makinen (Team principal)
"I can't really be happy with our performance here, but on the positive side we know what was holding us back and how to rectify it. During the pre-event test, we had some grippier conditions than we found on the rally. We know that we have made some big improvements in high-grip conditions, also from Rally Finland. But in Spain we made a few changes that were in the wrong direction, so next time we will make use of this experience to prepare slightly differently. Our drivers did a good job and of course we have to talk especially about Juho, who was doing his last rally of the year with us. It was a shame his rally ended the way it did, with a very small mistake that led to big consequences, especially as he had been setting such good times, but that's motorsport. Juho has been a vital part of our test and development programme, and if we have been able to make some good achievements this year, it's also thanks to him. So 'thank you, Juho' from all of us. And also congratulations to Sebastien Ogier and M-Sport for winning the titles here in Wales."

Jari-Matti Latvala (Driver car 10)
"I couldn't have gone any quicker than I did on the Power Stage: I gave it absolutely everything! This has not been a perfect rally for us, but we're happy to score some points, we know what we can do to improve, and it doesn't take anything away from the fact that the Toyota Yaris WRC is the best car that I've ever driven. Conditions between the rally and the test were not exactly the same and that was one of the problems we experienced: on the polished stages today it was impossible to get the car to turn, so that was frustrating. But I've still enjoyed the rally: it was fantastic to see so many spectators out on the stages. Wales is always one of the most difficult events of the year, but after Finland it is definitely my second home rally: I'm always very happy to be competing here."

Esapekka Lappi (Driver car 12)
"For me the most important thing was to get to the finish, so I made sure that I concentrated on that above everything else, in order to improve my experience of these challenging conditions. Today we had a good run through the first loop of stages and set some promising times, but on the second run when the roads were cleaner, it was more difficult and I struggled to find the grip. We learned a lot on this rally, so even though it wasn't the result that we wanted, it was very valuable experience that will help us for the future. I'm learning all the time and so is the team."

For the latest results please visit www.wrc.com

What's next?:

The final round of this year's World Rally Championship will be Rally Australia, held from 16-19 November and based in Coffs Harbour, halfway between Sydney and Brisbane on the New South Wales Coast. Two examples of the Yaris WRC will contest the all-gravel event, to be driven by Latvala and Lappi. Hot and dusty conditions are expected.


About Toyota Motor Corporation

Toyota Motor Corporation (TMC) is the global mobility company that introduced the Prius hybrid-electric car in 1997 and the first mass-produced fuel cell sedan, Mirai, in 2014. Headquartered in Toyota City, Japan, Toyota has been making cars since 1937. Today, Toyota proudly employs 370,000 employees in communities around the world. Together, they build around 10 million vehicles per year in 29 countries, from mainstream cars and premium vehicles to mini-vehicles and commercial trucks, and sell them in more than 170 countries under the brands Toyota, Lexus, Daihatsu and Hino. For more information, please visit www.toyota-global.com.

Contact:
Public Affairs Division
Global Communications Department
Toyota Motor Corporation
Tel: +81-3-3817-9926

Oct 30, 2017 09:19 HKT/SGT
Source: Toyota Motor Corporation
Topic: Press release summary
Sectors: Automotive
http://www.acnnewswire.com
From the Asia Corporate News Network
Copyright © 2018 ACN Newswire. All rights reserved. A division of Asia Corporate News Network.
Multimedia
Car 10 (Jari-Matti Latvala, Miikka Anttila)
View Image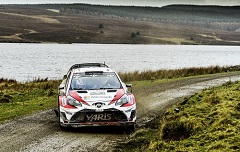 Car 12 (Esapekka Lappi, Janne Ferm)
View Image
Toyota Motor Corporation
Oct 18, 2018 12:57 HKT/SGT
Toyota to Host 2018 Classic Car Festival at Meiji Jingu Gaien Park
Oct 17, 2018 16:14 HKT/SGT
TOYOTA GAZOO Racing Confirms WRC Driver Line-Up for 2019
Oct 15, 2018 11:57 HKT/SGT
Fantastic Fuji One-Two for TOYOTA GAZOO Racing
Oct 9, 2018 13:29 HKT/SGT
TOYOTA GAZOO Racing Increases its Lead with Another Double Podium
Oct 5, 2018 16:37 HKT/SGT
Home Race Beckons for TOYOTA GAZOO Racing
Oct 5, 2018 12:59 HKT/SGT
Toyota Brings "Mobility for All" Concept to the Youth Olympic Games Buenos Aires 2018
Oct 4, 2018 13:25 HKT/SGT
Toyota Opens Biotope Tsutsumi at Its Tsutsumi Plant
Oct 4, 2018 12:35 HKT/SGT
Toyota and SoftBank Agreed on Strategic Partnership To Establish Joint Venture for New Mobility Services
Sept 28, 2018 19:28 HKT/SGT
TOYOTA GAZOO Racing Aims to Continue Winning Ways in Wales
Sept 27, 2018 19:28 HKT/SGT
Toyota Considers Hydrogen-based Mobility Partnership between Railways and Automobiles
More news >>