| | |
| --- | --- |
| Thursday, 7 December 2017, 21:00 HKT/SGT | |


Source: HKTDC
Connecting SMEs to Global Opportunities since 1967



HONG KONG, Dec 7, 2017 - (ACN Newswire) -

The Hong Kong Trade Development Council's (HKTDC) flagship magazine, HKTDC Enterprise, marked its 50th anniversary with a cocktail reception held today during the SmartBiz Expo. The event was hosted by HKTDC Deputy Executive Director Benjamin Chau and attended by executives from hundreds of local enterprises.

Launched in 1967, Enterprise has since expanded into some 20 product magazines, serving as an effective platform connecting buyers and suppliers in Hong Kong and around the world. For decades, the publication has been in close partnership with local suppliers in their product promotion and brand building endeavours by showcasing products and services to a worldwide audience, helping to forge numerous business partnerships.

Together with local small and medium-sized enterprises (SMEs), HKTDC product magazines have been moving with the times. Apart from constantly evolving and strengthening their content to reach new readers, the magazines embrace the digital era with interactive online versions and the HKTDC Marketplace mobile app, which consolidates sourcing information from the Council's fair websites, product magazines and hktdc.com. The award-winning app offers personalised functions for buyers to obtain information and services according to their industry and interests, and to send enquiries to suppliers anytime and anywhere.

An e-Badge function was added to the app last month during the HKTDC Hong Kong Optical Fair. From January 2018, HKTDC trade fair websites will feature enhanced sourcing functions. These services will provide buyers with added convenience and comprehensive information, while assisting Hong Kong suppliers to promote their products and services and expand customer base through multiple channels.

At the reception, Mr Chau thanked Enterprise readers and advertisers for their long-term support that contributed to the publication's success. "We are proud that Enterprise has been in business for half a century, an achievement that would not have been possible without the support of our readers and advertisers," he said. "While there is now a much wider range of channels for export promotion, the HKTDC will continue to innovate and go hand in hand with SMEs in their quest to rise to new challenges in global markets."

Long-term Enterprise advertisers who attended today's reception include: Brilliant Rich Electronics Ltd, Eastcolight (HK) Ltd, GPI International Ltd, Fung Tat Leather FTY Ltd, Heroka Industries Ltd, Hip Lik Packaging Products FTY Ltd, Kinox Trading Limited, Lee Tat Handbags MFY O/B Lexsun Ltd, Maxwell Electronics Ltd, Minwa Electronics Co Ltd, Sunnex Products Ltd, Win-Chance Metal FTY Ltd, Yee Hing Metal FTY and Yee On Gems & Jewellery FTY Co Ltd.

Enterprise Yearbook 2018 published
The HKTDC Enterprise Yearbook 2018 was published today. It contains details of more than 300 suppliers and over 500 pages of buyer-centric content. With a readership of over 500,000 buyers from more than 200 countries and regions, the publication helps suppliers reach potential customers from around the world. It offers insightful content for international buyers, featuring global export outlook and market analysis for 2018, as well as a special article named "Hong Kong Legends" marking the 50th anniversary of Enterprise. The Yearbook also spotlights budding designers and start-ups, as well as their design ideas and stories. There is also a feature on the Belt and Road Initiative, detailing the latest developments and related opportunities for businesses.

Websites:
HKTDC Enterprise: www.hktdc.com/magazines
HKTDC Marketplace mobile app: www.hktdc.com/mobile
Photo Download: http://bit.ly/2k76ld7


About HKTDC

Established in 1966, the Hong Kong Trade Development Council (HKTDC) is a statutory body dedicated to creating opportunities for Hong Kong's businesses. With 50 offices globally, including 13 on the Chinese mainland, the HKTDC promotes Hong Kong as a platform for doing business with China, Asia and the world. With more than 50 years of experience, the HKTDC organises international exhibitions, conferences and business missions to provide companies, particularly SMEs, with business opportunities on the mainland and in international markets, while providing business insights and information via trade publications, research reports and digital channels including the media room. For more information, please visit: www.hktdc.com/aboutus. Follow us on Google+, Twitter@hktdc, LinkedIn.

Contact:

HKTDC
Communications and Public Affairs Department
Agnes Wat
Tel: +852 2584 4554
Email: agnes.ky.wat@hktdc.org

Dec 7, 2017 21:00 HKT/SGT
Source: HKTDC
Topic: Press release summary
Sectors: Trade Shows, Retail/eCommerce, Travel & Tourism
http://www.acnnewswire.com
From the Asia Corporate News Network
Copyright © 2018 ACN Newswire. All rights reserved. A division of Asia Corporate News Network.
Multimedia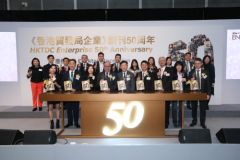 Executives from hundreds of Hong Kong enterprises attend the 50th anniversary reception of HKTDC Enterprise, hosted by HKTDC Deputy Executive Director Benjamin Chau (front row centre).
View Image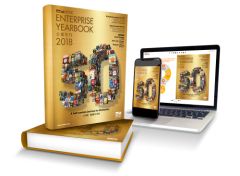 The Enterprise Yearbook 2018 is published today. Buyers can read it online or download a mobile version to their smartphones through the HKTDC Marketplace app.
View Image
HKTDC
Nov 19, 2018 18:00 HKT/SGT
HKTDC "RetroInnovations" Exhibition Opens at Times Square, Causeway Bay
Nov 15, 2018 19:00 HKT/SGT
HKTDC to Host Four Major Events in December
Nov 14, 2018 20:00 HKT/SGT
Seven HKTDC Autumn Fairs Attract Record 195,000+ Buyers
Nov 13, 2018 17:00 HKT/SGT
Hong Kong Optical Fair Seminar Examines Asia's Contact Lens Market
Nov 12, 2018 18:00 HKT/SGT
Hong Kong Wine & Spirits Fair: Flourishing Asia Wine Market Driving Global Growth
Nov 11, 2018 14:00 HKT/SGT
Hong Kong Wine & Spirits Fair Closes
Nov 9, 2018 20:00 HKT/SGT
26th Hong Kong Optical Fair Draws 16,800+ Buyers, up 4%
Nov 8, 2018 18:00 HKT/SGT
11th Hong Kong Wine & Spirits Fair Opens Today
Nov 7, 2018 20:00 HKT/SGT
11th Hong Kong Wine & Spirits Fair Opens Tomorrow
Nov 7, 2018 17:00 HKT/SGT
26th Hong Kong Optical Fair Opens Today
More news >>