SINGAPORE, Jan 10, 2018 - (Media OutReach) -

Twitter today announced a partnership with SportsFix, ASEAN's first and only OTT platform that delivers LIVE and VOD sports content via mobile devices, to live stream the inaugural Boost SportsFix Super Cup (@SportsFixTV).

The live content on Twitter will be available free to logged-in and logged-out users on Twitter via @SportsFixTV and on connected devices globally. Football fans can keep up with the latest game updates on Twitter by following these hashtags: #BSFSupercup and #SportsFix.

Tournament Schedule:
13th January, 2018 (Saturday), 8PM KL Time: Ratchaburi FC vs Persija Jakarta (#RATvPER)
16th January, 2018 (Tuesday), 8PM KL Time: Kelantan FA vs Persija Jakarta (#KELvPER, #TRWFC, #GomoKelateGomo)
20th January, 2018 (Saturday), 8PM KL Time: Kelantan FA vs Ratchaburi FC (#KELvRAT, #TRWFC, #GomoKelateGomo)
*all games played at Malaysia's National Stadium, KL Sports City. Each team plays each other once, 3 games in total (Round Robin Format)

Taking place 13-20 January at the National Stadium at Kuala Lumpur Sports City, the Boost SportsFix Super Cup pre-season football tournament will see three of the Southeast Asian region's premier professional clubs - Kelantan FA of Malaysia, Persija Jakarta of Indonesia and Ratchaburi FC from Thailand - battling for supremacy. The tournament will be the first football action at the National Stadium after it was completely renovated for the recent 29th SEA Games.

"Footballers and club-related hashtags were among the most discussed sports terms on Twitter in Southeast Asia and globally in 2017, so we know football is a huge driver of conversation on Twitter. This collaboration is a great way to tap into the engaged audience of football fans across the region who are already using Twitter as a primary source of content," said Maurizio Barbieri, Head of Sports Partnerships SEA, Twitter. "By partnering with leading broadcasters like SportsFix, we look forward to bringing the best of live football video and conversations together on Twitter."

"I have worked with Twitter successfully in the past and I am excited to deepen this relationship to stream and monetize live events via Twitter's innovative streaming platform, starting with the Boost SportsFix Super Cup," said Carl Kirchhoff (@CarlKir), CEO, SportsFix. "Twitter and its live streaming solutions are a perfect fit for us to enhance our growing social following and fan engagement in the ASEAN region and beyond."

In addition to the live broadcast on Twitter, football fans will also have the chance to experience the games live at the impressive National Stadium at KL Sports City. Tickets, on sale now, are priced from RM 10 (Students) to RM15 to RM120 for adults, available via http://sportsfixcup.com.

About SportsFix

SPORTSFIX is owned by SF Media Holdings Sdn Bhd, a subsidiary of TSA (Total Sports Asia), Asia's global leader in sports content. SPORTSFIX is ASEAN's first and only LIVE and VOD sports content OTT platform. SPORTSFIX is streaming popular local, regional and international sports content on its platform and works closely with Telecom operators across the region to deliver the content directly to millions of mobile devices. Anytime, anywhere, now everyone can watch their favorite sports. Check out www.sportsfix.tv

About Twitter

Twitter is what's happening in the world and what people are talking about right now. From breaking news and entertainment to sports, politics, and everyday interests, see every side of the story. Join the open conversation. Watch live streaming events. Available in more than 40 languages around the world, the service can be accessed via twitter.com, an array of mobile devices, and SMS. For more information, please visit about.twitter.com, follow @TwitterSG, and download both the Twitter and Periscope apps at twitter.com/download and periscope.tv.

Twitter Media Contact
Deborah Ng
Communications, Twitter India and Southeast Asia


[email protected]



Golin Singapore for Twitter APAC


[email protected]




Jan 10, 2018 13:30 HKT/SGT
Topic: Press release summary
Sectors: Enterprise IT, Broadcast
http://www.acnnewswire.com
From the Asia Corporate News Network



Copyright © 2019 ACN Newswire. All rights reserved. A division of Asia Corporate News Network.



Multimedia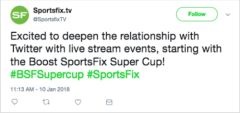 Embeddable Tweet: https://twitter.com/SportsfixTV/status/950928569093431297
View Image
Twitter, Inc.
Dec 5, 2018 14:30 HKT/SGT
Capillary Technologies hosts #ready18' summit in Singapore, empowering brands and businesses to be 'Consumer-ready'
June 14, 2018 16:30 HKT/SGT
When history was made in Singapore, the world watched and talked about the #TrumpKimSummit on Twitter
June 11, 2018 16:30 HKT/SGT
Follow and Watch the #TrumpKimSummit Through a Wide Range of News Partners on Twitter
Apr 17, 2018 10:10 HKT/SGT
Nearly 42 Million Tweets For #TWITTERBESTFANDOM Category At 13th Annual #SOOMPIAWARDS
Apr 11, 2018 13:10 HKT/SGT
Twitter Celebrates Songkran Water Festival With Custom Emoji
Mar 15, 2018 10:50 HKT/SGT
Twitter Introduces Nine New Premium Video Sports Content Partnerships To Asia Pacific Advertisers
Mar 6, 2018 22:40 HKT/SGT
#SheInspiresMe: Twitter Celebrates Inspirational Women Across the Asia Pacific Region for International Women's Day 2018
Feb 12, 2018 13:00 HKT/SGT
Celebrate the #LunarNewYear with Year of the Dog Emoji on Twitter
Jan 24, 2018 13:30 HKT/SGT
The 13th Annual Soompi Awards to Feature a New Award Category for #TwitterBestFandom
May 31, 2016 06:20 HKT/SGT
Cpop goes Global with @KKBOX and Twitter
More news >>