| | |
| --- | --- |
| Wednesday, 10 January 2018, 19:00 HKT/SGT | |


Source: HKTDC
Toys, Baby Products, Stationery Fairs Feature 2,940+ Global Exhibitors



HONG KONG, Jan 10, 2018 - (ACN Newswire) -

The HKTDC Hong Kong Toys & Games Fair, HKTDC Hong Kong Baby Products Fair and the Hong Kong International Stationery Fair are underway at the Hong Kong Convention and Exhibition Centre (HKCEC). The three fairs feature more than 2,940 global exhibitors, showcasing a broad selection of innovative and high-tech products. A series of special events are being held throughout the fair period to facilitate market information exchange among industry players.

Under the theme "Evolving with the industry: Hot Trends in Toys Industry," this year's Hong Kong Toys Industry Conference, held yesterday (9 January), featured industry experts from various markets who shared their insights on the trends in 2018, with frequently mentioned keywords such as "Chinese mainland customers," "Big Data", "GenZ" and "IP."

- Five key industry trends and implications

One of the speakers, Richard Gottlieb, CEO, Global Toy Experts & Publisher Global Toy News, pointed to five major trends and their implications on the toy industry. The first trend relates to a finding from Matt Hudak, the author at Euromonitor International Blog, who said that the Chinese mainland will be the world's top toy consumer market by 2022 with double-digit sales growth.

Mr Gottlieb emphasised the different target consumers when designing toys to creating the intelligent property (IP). "The Kung Fu Panda movie captured the common languages and gained huge popularity globally. The Chinese elements made it successful in the mainland," he said.

Another trend Mr Gottlieb noted was the implication of self-driving car on the toy industry. With greater interaction among family members inside self-driving cars, he said that portable games and toys such as board games, scrabble, puzzles and soft toys, which are easy to play and good for kids, will have big market potential.

He added that Generation Z (born in or after 2000) will comprise the largest generation in the United States, with the age group exceeding 60 million. This generation, he said, has grown up with five screens (TVs, desktop and laptop, tablets, smartphones and smart watches) and is comfortable with online shopping and social media platforms. As they are knowledge seekers with little patience, members of this generation should be catered for by the industry by creating games and toys integrated with new technology and experiences as well as building a community for them to communicate with others.

While speed to market is key to all industries, Mr Gottlieb concluded that a closer relationship between suppliers and retailers should be established when small inventory, quick turnaround and speedy delivery are expected. He noted that the US currently has an oversupply of stores particularly due to the growth of online shopping. He noted that limited Internet access among lower-income consumers means they would shop at low-price point shops, and that industry players should ensure their products go to the right sales channel.

- Most wanted toys

Chris Yang, Senior Business Development Manager, Amazon Global Selling, revealed that one-third of sales at Amazon come in the fourth quarter, which is the traditional peak season while toys are among the most popular gifts during the peak season.

He added that action and toy figures such as Batman, arts and craft for kids, dolls and accessories, learning and educational video games, as well as stuffed brands and plush, are among the popular toy categories in the US market. "Building sets with Lego and creative building sets are the most wanted and toys and outdoor toys engaging everyone together will be the fastest-growing category," he said.

- Future retail trend

Calvin Yum, COO, Hamleys Toys (Nanjing) Co, Ltd. shared his what he called retail 4.0 experience on the Chinese mainland. He explained that retail 1.0 was when retailers in the 1990s decided what to sell, whereas from the 1990s to 2000 (retail 2.0), more choices of merchandises became available. Retail 3.0 phase was from 2000 to 2010, when branded toys and games were sold in various channels.

Thanks to the Internet, Mr Yum stressed, the retail market has entered stage of 4.0, where shoppers search and compare information before making their purchase. With three stores in the mainland, Hamley is responding to trends in the retail 4.0 stage. "We are not only a toy shop. We organise shows, parades, events and we include F&B and clothing in our store," he said, adding that the Hamley Toys store in Beijing has a total floor space of 11,000 square metres with a daily traffic of 8,000 to 48,000 shoppers.

For the next step, Mr Yum revealed that Hamley plans to integrate its online (e-commerce) and offline channels. "By building big data, we will gain information such as how often consumers buy and what they buy. This will be the future for all the retailers."

- Big data helps identifying the unknowns

Eliza Wong, co-founder and co-CEO of MaLogic Holdings Ltd, agreed that big data these days help retailers understand who to target, where to expand, how to promote and what IP to license. She pointed out that, in particular, big data helps uncover new information. "From big data, we learned that men in Xinjiang like to buy bikinis for their girlfriends, while friends comprise one in four toy buyers, in addition to parents, grandparents and self-users," she said. "Interestingly, there's a forever-young group in their 50s who love buying toys."

Mr Wong added that big data could supplement CRM (customer relationship management) and help identify and reach untapped customers. "For example, a customer bought a four-year-old boy a pair of size 4 shoes, and never came to the shop again. After locating that customer, CRM could send out a message and offer a free pair size 7 shoes within two hours. The customer may then go to the shop for the free pair of shoes," which she said would be the responsibility of frontline sales to persuade customers to buy more. She said that big data can also help evaluate an IP, noting that the Hollywood blockbuster movie Iron Man serves as an effective example for analyzing big data, which suggested using a tycoon and a beautiful actress as leading roles would be the formula for box office success.

- Understanding the pros and cons of IP

Marilu Corpus, CEO, Click! Licensing Asia, Inc, who has been in the licensing industry for more than 30 years, reminded industry players to understand the objectives and benefits as well as the cost of obtaining an intellectual property (IP). While licensed toy products add value compared to regular toys and raises the retailer's credibility, she said that it was equally important to understand the sustainability and market potential of the IP.

Ms Corpus recommended that industry players study the market, the strengths and weaknesses of the IP as well as its potential competitors. "Do the maths," she added, noting that the cost of the IP, which includes royalty fees (ranging from 10-20 percent of the FOB), advances and minimum guarantees, should not be ignored.

Upon selection of the IP, Ms Corpus said issues such as market support (proper style guide including packaging) from the IP owner, the agreement period (sale period and markets) and the granting of rights (product categories and distribution channels) should all be considered in detail.

- HKTDC Hong Kong Toys & Games Fair
Edition: 44th
No of Exhibitors: 2,100 exhibitors from 45 countries and regions
Fair Websites: hktoyfair.hktdc.com
Product Highlights: Click here http://bit.ly/2CeSvxd

- HKTDC Hong Kong Baby Products Fair
Edition: 9th
No of Exhibitors: Over 580 exhibitors from 27 countries and regions
Fair Websites: hkbabyfair.hktdc.com
Product Highlights: Click here http://bit.ly/2CxQgJy

- Hong Kong International Stationery Fair
Edition: 18th
No of Exhibitors: Some 260 exhibitors from 15 countries and regions
Fair Websites: www.hkstationeryfair.com
Product Highlights: Click here http://bit.ly/2iZDyVI

Photo download: http://bit.ly/2mlmzRJ


About HKTDC

Established in 1966, the Hong Kong Trade Development Council (HKTDC) is a statutory body dedicated to creating opportunities for Hong Kong's businesses. With 50 offices globally, including 13 on the Chinese mainland, the HKTDC promotes Hong Kong as a platform for doing business with China, Asia and the world. With more than 50 years of experience, the HKTDC organises international exhibitions, conferences and business missions to provide companies, particularly SMEs, with business opportunities on the mainland and in international markets, while providing business insights and information via trade publications, research reports and digital channels including the media room. For more information, please visit: www.hktdc.com/aboutus. Follow us on Google+, Twitter@hktdc, LinkedIn.

Contact:

HKTDC
Communications & Public Affairs Department
Sam Ho
Tel: +852 2584 4569
Email: sam.sy.ho@hktdc.org

Katherine Chan
Tel: +852 2584 4537
Email: katherine.cm.chan@hktdc.org 

Jan 10, 2018 19:00 HKT/SGT
Source: HKTDC
Topic: Trade Show or Conference
Sectors: Trade Shows, Retail/eCommerce, Travel & Tourism
http://www.acnnewswire.com
From the Asia Corporate News Network
Copyright © 2018 ACN Newswire. All rights reserved. A division of Asia Corporate News Network.
Multimedia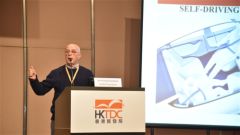 Richard Gottlieb, CEO, Global Toy Experts & Publisher Global Toy News, points to five major trends and their implications on the toy industry.
View Image
HKTDC
Dec 13, 2018 17:30 HKT/SGT
Hong Kong Exports Tipped to Grow 5% in 2019
Dec 10, 2018 15:30 HKT/SGT
New Technologies Enhance Franchise Management
Dec 7, 2018 19:00 HKT/SGT
SmartBiz Expo and Franchising Show Close Today
Dec 7, 2018 17:00 HKT/SGT
DesignInspire Puts the Fun into Innovation
Dec 6, 2018 19:00 HKT/SGT
DesignInspire Opens Today
Dec 6, 2018 19:00 HKT/SGT
Over 1,400 E-tailers Join Asian E-tailing Summit
Dec 6, 2018 19:00 HKT/SGT
BIP Asia Forum Opens Today
Dec 5, 2018 21:00 HKT/SGT
SmartBiz Expo and Franchising Show Open Today
Dec 5, 2018 21:00 HKT/SGT
Asian E-tailing Summit Held Today
Dec 5, 2018 21:00 HKT/SGT
DesignInspire Opens Tomorrow in Hong Kong
More news >>